Given the recent spate of commercial flops, has Bollywood become immune to star power, asks Urvi Malvania.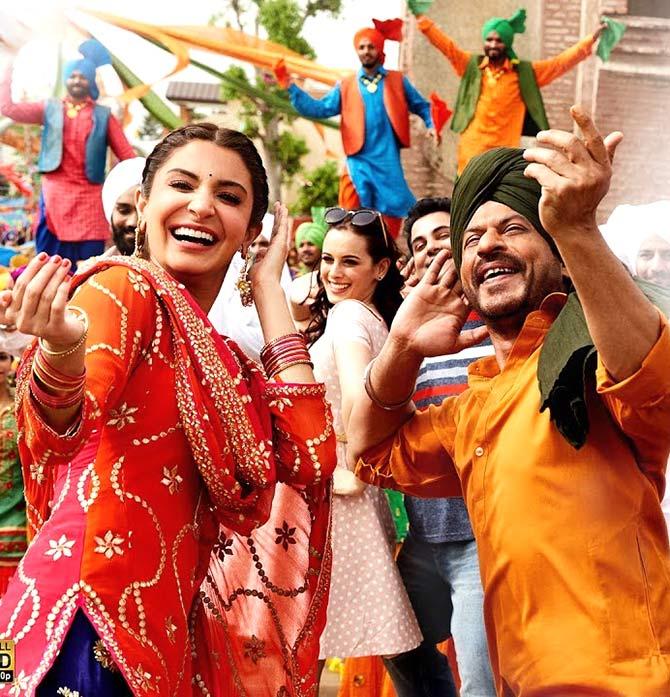 IMAGE: Anushka Sharma and Shah Rukh Khan in Jab Harry Met Sejal.
To say that Bollywood is going through a tough time at the box office would be an understatement.
Month after month for the past couple of years, the Hindi film industry has seen movies come and go without making much at the cash register.
In 2017 alone, only four Bollywood films (not counting the Hindi dub of Baahubali 2, since it is not a product out of Bollywood) have breached the Rs 100 crore mark and only one of them has been profitable for everyone involved in making and releasing it.
Jolly LLB 2, starring Akshay Kumar and Annu Kapoor in lead roles, collected Rs 117 crore (it cost approximately Rs 35 crore) and achieved super-hit status, with a return on investment at little more than double for the producers.
Akshay's latest release -- Toilet Ek Prem Katha -- seems to be following the same path.
Made at around Rs 30 crore, the film clocked close to Rs 55 crore in the first four days of its release.
The film seems to be doing well despite mixed reviews. While some critics have panned the film, others have called it average to good.
Kumar seems to be the only one able to wield some kind of power at the box office.
His peers have seen a steady decline in their popularity at the box office as movie after movie from different 'A-listers' finds itself in the red.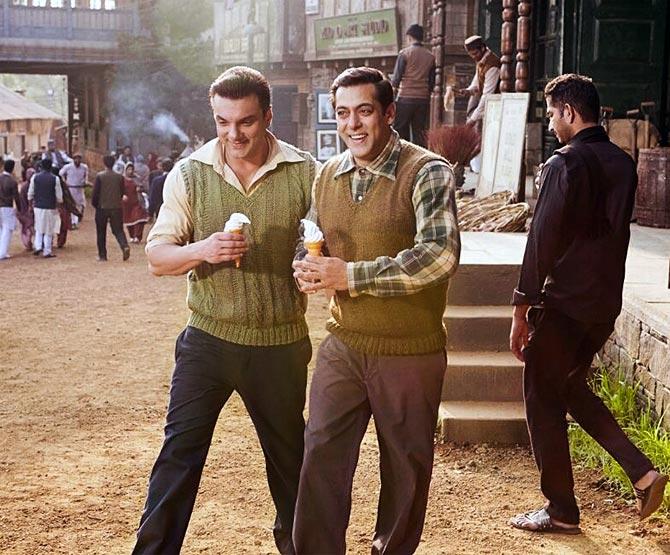 IMAGE: Salman Khan and Sohali Khan in Tubelight.
From Bombay Velvet (2015; Ranbir Kapoor) to Mohenjo Daro (2016; Hrithik Roshan), and, more recently, Tubelight (2017; Salman Khan) and Jab Harry Met Sejal (2017; Shah Rukh Khan), the hitherto 'bankable' leading men seem to be floundering when it comes to raking in the moolah.
"The bankability of most A-listers is definitely under fire. We've been saying that stories and not stars will make movies eventually, and it's finally happening. The audience wants good content," says Komal Nahta, trade analyst and publisher of Film Information.
"Gone are the days when fans would flock the theatres just to see their favourite superstar on screen,"" Nahta adds. "People demand better now and if its not delivered, no matter who is in the film, the audience will reject (the movie)."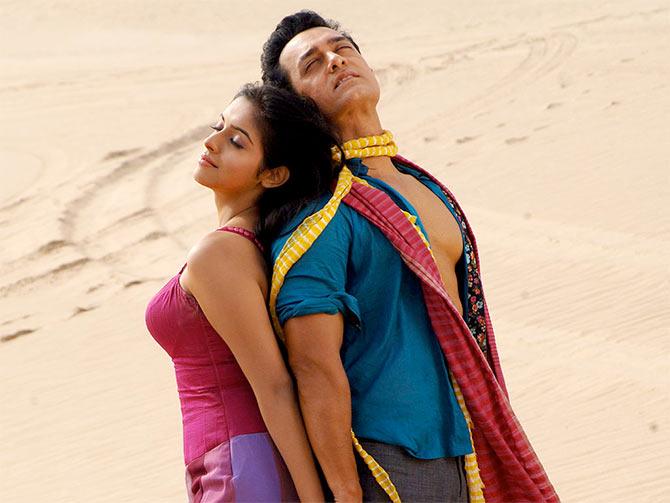 IMAGE: Asin and Aamir Khan in Ghajini.
The only exception to this trend is Aamir Khan, who has consistently delivered super hits at the box office.
However, analysts point out that with one film in two years, Aamir Khan does not make as many films as the others, and it may not be best to compare.
Having said that, Aamir Khan's films have been turning a profit for almost a decade now, starting with Ghajini in 2008.
Aamir also produces most of his films and has gone on record to say that he will not frontload a film and increase the cost. He would rather take a share of profits.
The string of duds at the box office has brought back the issue of budgeting films to the fore.
"Budgeting a film has always been important. When it comes to the big stars, it becomes even more important because they do not come cheap. The reason they can demand such a high price for being in a film is that they assure returns. That is no longer true and so, both the talent and the producers/studio need to revise the strategy of costing," says a studio executive.
While many actors have started producing or co-producing their own films, others have started sharing profits instead of taking an exorbitant outright fee.
Some, like Kumar, have a hybrid model of remuneration where part of the fee is upfront and the rest is a share of the profits.
"This way, the actor and the producer both share the risk," explains the studio executive.
Interestingly, it is not only leading actors who seem to have lost their mojo when it comes to the box office.
Even acclaimed directors have faltered recently, with names like Imtiaz Ali, Anurag Kashyap, Vishal Bhardwaj and Anurag Basu all failing to deliver at the box office.