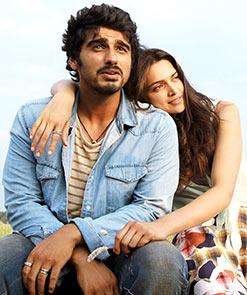 'I am 29. I have a long way to go.'
Arjun Kapoor claims he's not insecure in Bollywood.
Arjun Kapoor is in a happy place, enjoying the kind of movies that he's doing, and hoping to survive in the film industry in the long run.
We will see him next in Finding Fanny, where he plays an angst-ridden Goan character. The film also stars Deepika Padukone, Pankaj Kapur, Naseeruddin Shah and Dimple Kapadia.
Arjun talks to Patcy N/ Rediff.com about the film, and discusses the similarities he has with the character. He also clears the air about his equation with Ranveer Singh.
Are there any similarities between your character in Finding Fanny and you?
Yes, but I am not exactly like him.
When I look back, I see that Homi (Adajania) has used facets of me -- like the sarcasm, the deadpan humour, inability to express sometimes... We both are vulnerable, emotional, and sensitive.
The differences are that I can't be rude to women even though in all my films, I have ended up being rude and obnoxious to them.
I am better than my character Savio when it comes to expressing myself.
Savio is rough, I am more polished. He has a loser kind of attitude which I don't relate to.
He finds reason to blame everybody but himself. He doesn't move on, but I have always made peace and moved on.
I have made my mistakes my strengths instead of looking at whose fault it is. My experiences made me strong and his experiences made him weak.
What is Savio like?
My character Savio Da Gama is a bitter man. There is a lot of angst in him, but he is not a villain.
Savio has a lot of emotions but he doesn't know how to convey them. Whenever he wants to do good to anyone, it ends up in a mess because he doesn't know how to express himself.
He is upset with his life and blames his family and friends. He doesn't realise that he has to pick up the pieces and move ahead.
When you meet him in the film, he is at a very interesting phase of his life. You don't know his back story. But you discover it and you understand what made him the kind of person he is in the course of the film.
What was your reaction when Homi Adajania narrated the script to you?
I was very excited because I had to play the character with a certain vulnerability. He must not come across as a harsh and unattractive or repulsive person.
I was excited to play that thin line.
Secondly, Homi had seen Ishaqzaade and then offered me the role. When a director sees that kind of role and then offers you Savio, it showed that he has a vision for you.
I honestly wasn't sure that I could play the character because of the language used in the film.
I was also still finding my feet. I had just finished Ishaqzaade and was shooting for Gunday and 2 States.
In was a possibility for me but I was still not sure. But Homi had faith in me and that encouraged me.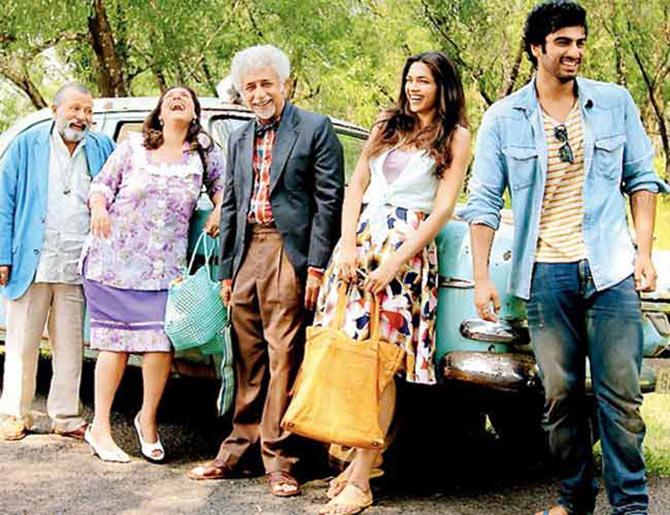 Pankaj Kapur, Dimple Kapadia, Naseeruddin Shah, Deepika Padukone, Arjun Kapoor in Finding Fanny
With all these stalwarts around, did you feel insecure?
It was fun working with all of them. They improve you, they guide you, and they teach you by not telling you, but by being around. Naseer sir would improvise with me.
If I feel insecure then I am in the wrong profession. I have to trust my director and the material he has given me.
He is not making a film for Naseeruddin Shah, or for Deepika or for me. He is making a film because he has a story to tell.
I keep telling Homi it's a free acting class for me.
We spent so much time together. The off camera interaction will always be more memorable than the on camera.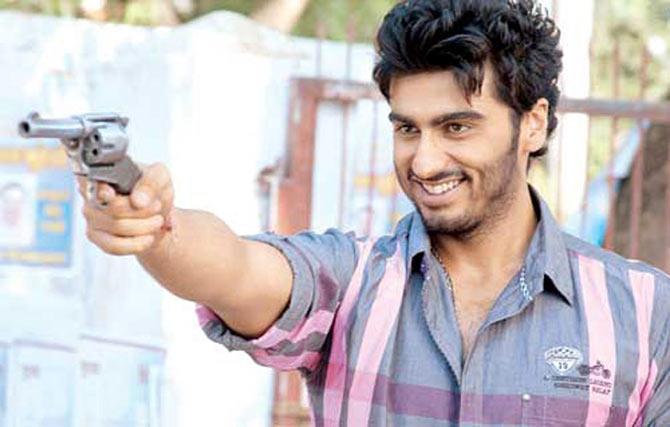 Arjun Kapoor in Ishaqzaade
What have you taken away from this film?
It was very therapeutic. I was just cut away from the world.
I had done Ishaqzaade in one schedule and I had found that experience very nice.
I lived in Goa when I was shooting, and just before that, and I became Savio in the best possible way.
I got my hair cut, and got my goatee, I got the tattoos done.
Homi gave me the Dodge and I learnt to drive.
I never took a phone or laptop. There were no meetings, it was stress free. We all lived in the same hotel, we went for the shoot, we hung out together, we went out for meals, to the gym, did whatever we wanted.
In this profession you have to get away from work to get calm and peace in your life, but while I was shooting this film I got a break. I loved that experience. We got to meet so many people.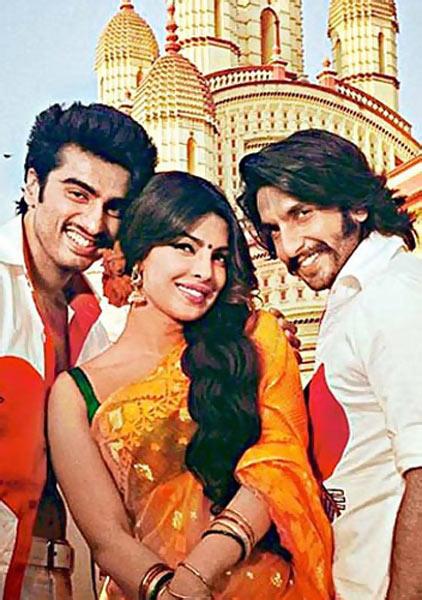 Arjun Kapoor, Priyanka Chopra and Ranveer Singh in Gunday
Do you choose your films with care or do these unconventional films just happen?
It would be nice to say I planned it, but that is not true. I went on impulse and signed films.
I did not sign Ishaqzaade, the film chose me. I told Adi (Aditya Chopra, producer) that (director) Habib Faisal doesn't want me in the film, he wants an animal and I am not that animal.
I did not think I was capable of doing it. But then I worked hard for it and enjoyed doing it. I could play someone I am not and really enjoyed it. I loved playing Parma.
I signed Aurangzeb because I loved the story. I thought it was an untold tale. For whatever reason, the audience did not like the film. Fair enough, but I still enjoyed the process.
Who would say no to a film like Gunday?
2 States happened because I loved the character. He was someone I related to.
Finding Fanny I did because I was not sure how to play it, so I took it.
So my choices have been personal, not planned. I have just gone with the flow.
I am fortunate to have come at a time when people are writing interesting characters.
You have great chemistry with all your co-stars…
I don't think about it like that, but it's good that you think so.
I think it is because I have known all the girls from before. Also, the material allows you to create certain equations with your fellow actor.
I am not difficult to deal with. I am just having fun while working. I don't sign a second film with the same star thinking that my first film did well with her so let me do a second one too.
The second film should happen when a director gets a good script and he approaches both of you.
So you don't feel insecure?
I am just happy to be here. Lots of people would die to be in the position that I am in.
I cannot predict what is going to happen. I want to survive for the long run. I want to enjoy myself and work with everybody.
I have enjoyed my experience so far and the appreciation I have got, so why should I be insecure?
I am 29. I have a long way to go. I have grown up in this profession and I want to die in this profession.
I just don't want to act; I want to make films, I want to direct. I am very passionate about cinema.
I have always wanted to be a director and that's how I started working as an assistant. That's why I like being on the sets so that I can absorb more.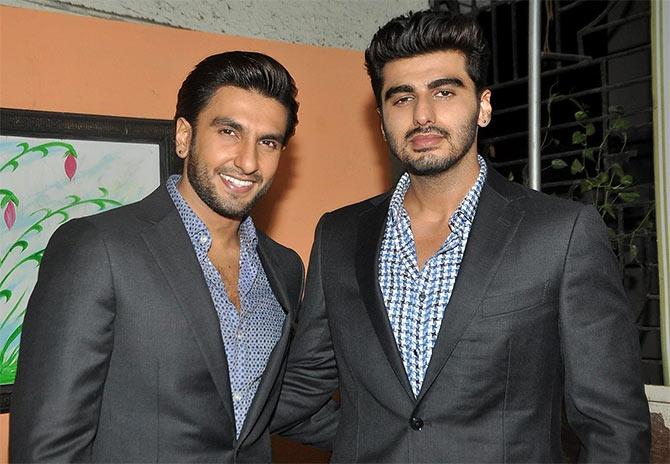 Ranveer Singh and Arjun Kapoor
Ranveer has a special appearance in the film…
Ranveer mailed us his photograph. He got ready for the role by getting his look right.
He hardly shot for two days; he spent more time dancing!
There are rumours that there is a conflict between you two?
This is what media writes about; you all decide what is happening between us.
A newspaper article said we had refused to do an ad together. It was because our dates did not match. He was shooting for Dil Dhadakne Do and I was shooting for Tevar. We did the ad after a month.
There are no issues between us.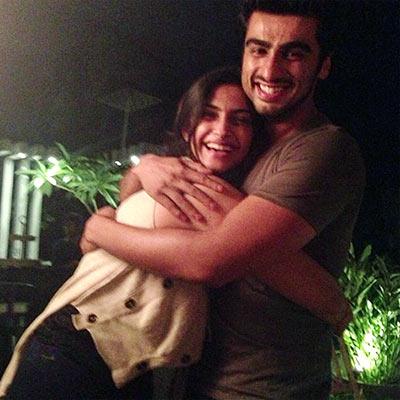 Sonam Kapoor and Arjun Kapoor
Your cousin Sonam Kapoor's Khubsoorat is releasing…
I am excited for her. It is a refreshing change to see her having fun, being herself and enjoying herself.
We have not had time to chat. She has seen Finding Fanny but we couldn't talk as she is busy promoting her film. I am happy for her.