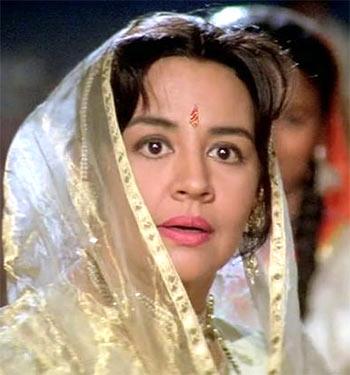 'DDLJ gave my career a boost, and placed me on a pedestal.'
Farida Jalal relives the DDLJ moments.
We continue our special series on Dilwale Dulhaniya Le Jayenge, Hindi cinema's longest-running film that will complete 1,000 weeks on December 12.
Farida Jalal, who played Kajol's mother in the film, calls the film one of her biggest career milestones.
She tells Sonil Dedhia/ Rediff.com why.
On DDLJ completing 1,000 weeks
I am on cloud nine! It's such an emotional moment and I am really happy to be a part of a film that has created history in Indian cinema. It is one of the biggest milestones in my career.
DDLJ gave my career a boost, and placed me on a pedestal. In a way, the film was a turning point in my career. I got a lot of films after DDLJ released, and I could quote any price. The placement of my name in the film credits also changed, and this means a lot for a character artist like me.
Working with director Aditya Chopra
Adi (Aditya Chopra) is the most humble human being I have ever met. Before every shot, he would come and narrate the entire scene. He would read my dialogues and tell me what exactly he wanted from me.
I still remember when we were shooting that window scene, where I tell my daughter (Kajol) that she has to sacrifice everything because women are made to do that.
We did that scene at Rajkamal studios in Mumbai. Before the scene, Adi came to my make-up room and sat with me. He was so articulate about what he wanted me to do. I haven't worked with such a positive and confident director in my career since.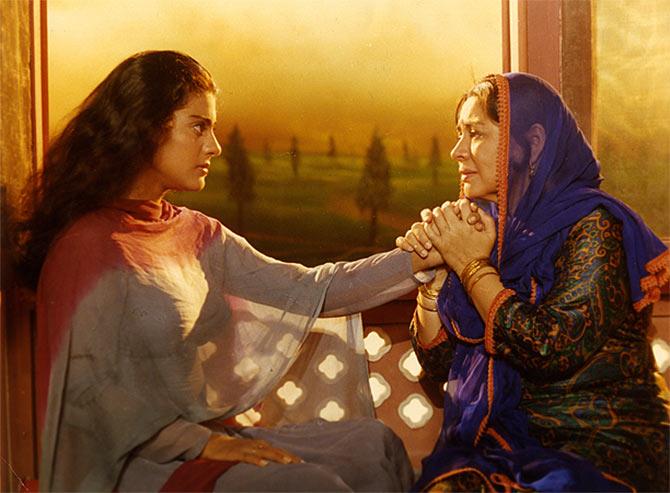 Image: Kajol and Farida Jalal in the 'window scene' in Dilwale Dulhaniya Le Jayenge
How she became a part of DDLJ
I was shooting for Loafer in Hyderabad. I was in my hotel room, when my phone rang.
'Farida, main Yash bol raha hoon.'
I just stood up and said, 'Yashji, boliye, what can I do?'
He said his son was making a film, and he wanted to cast me. 'Should I send him to Hyderabad for a meeting?' he asked me.
I told him it wasn't necessary, as we were wrapping up the shoot the next day and returning to Mumbai.
I was called for a narration at Yash Chopra's bungalow in Juhu. They had a room called the 'Gadda room' where all the script-reading sessions would happen.
He narrated the entire story with such detail, and believe it or not, it turned out exactly how he narrated that day. Right from the lyrics to the dialogues to the dance sequences, he had everything in place.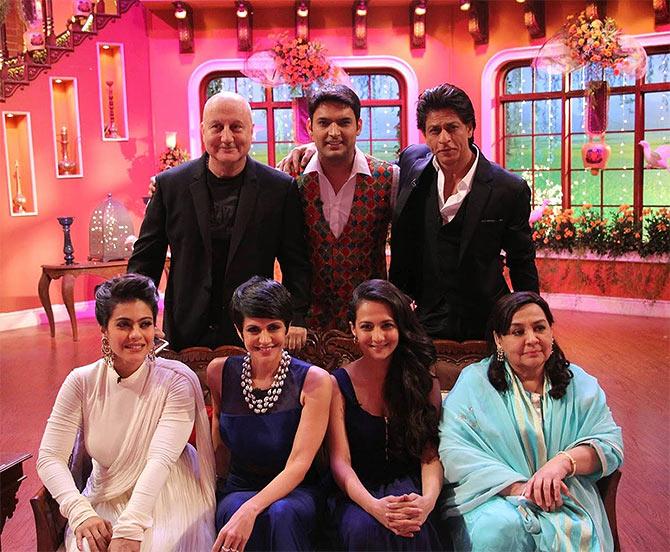 Image: The DDLJ reunion on Comedy Nights With Kapil. Standing: Anupam Kher, host Kapil Sharma and Shah Rukh Khan. Sitting: Kajol, Mandira Bedi, Pooja Ruparel and Farida Jalal
Shooting DDLJ
Most of the film was shot at Filmistan studios, including our London house, the song Mehdni laga ke rakhna and so many other scenes. I never went to London to shoot the film.
When we wrapped up the film, I told Adi, 'I am not saying this because you are Yash Chopra's son but I really had a great time working with you. You are one of the greatest directors Indian cinema will ever see.'
I worked with him again in Dil Toh Pagal Hai, and enjoyed myself again.
Despite being a father and a producer, Yashji never interfered. He would just stand in a corner and watch the shooting. He had complete faith in Adi.
At times, his directorial instincts would surface, and he would make some suggestions to Adi.
There was a scene when Amrishji (Puri), Kajol, Pooja Ruparel (who played Chutki) and I are travelling in a train. We were shooting at Panvel station. Yashji was on the platform, running backwards and forwards, asking Adi whether the speed of the train was right (laughs).
At that moment, a great director like Yash Chopra is actually looking at the minute details, leaving no stone unturned to give his son the best debut possible. I was flabbergasted to see how father and son were making the film.
Yashji's wife Pamela was also involved with the film. She would make sure everyone on the sets had eaten food. She was involved with the costumes also. She lent her lovely voice to the song, Ghar aaja pardesi.
Karan Johar, who has become such a successful director today, was a part of DDLJ as well. He was assisting Adi and also acting in the film. I would see him running and shouting between shots sometimes, as he was in the costume department. I later worked with him in his directorial films, Kuch Kuch Hota Hai and Kabhi Khushi Kabhie Gham. He is such a sweetheart. I cherish all these moments from DDLJ.
DDLJ is relevant even today because of its freshness. I don't think there is any film that has such an epic climax. Normally, you would like a boy eloping with the girl. No film made before DDLJ had a boy asking the girl's father's permission to marry her.
You would never see a mother promise her daughter that she will not let you suffer as she did.
Also, the pairing of Shah Rukh Khan and Kajol was bang on. They looked so beautiful together on screen. No other actor could have pulled off this film.
Amrishji's classic dialogue, 'Jaa jee le apni zindagi' may have been used by so many fathers in real life. This line made a difference in so many people's lives.
Watching DDLJ today
I watch DDLJ whenever it is shown on television. One cannot enough of the film. And whenever I watch the film, I relive all those moments again.