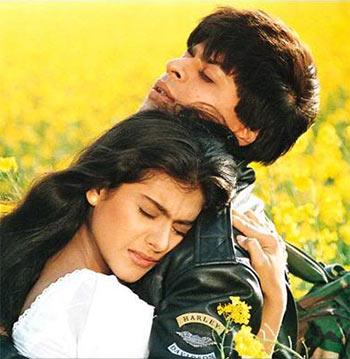 'Aditya Chopra thought the climax was too cliche but he still wanted to end the film on that note. He was adamant about it.'
Cinematographer Manmohan Singh takes us behind the scenes of Dilwale Dulhaniya Le Jayenge.
We continue our special series on Dilwale Dulhaniya Le Jayenge, Hindi cinema's longest-running film that will complete 1,000 weeks on December 12.
Cinematographer Manmohan Singh captured the film so well, DDLJ is almost always associated with yellow mustard fields and Switzerland.
Post DDLJ, Singh has done cinematography for films like Maachis (1996), Dil To Pagal Hai (1997) and Mohabbatein (1999), among many others. He has directed quite a few Punjabi films, the most recent being this year's big hit, Aa Gaye Munde UK De.
He looks back at DDLJ, in this interview with Sonil Dedhia/ Rediff.com
How he became a part of DDLJ

My association with Yash Raj Films goes back many years.
Aditya Chopra wanted me to do the cinematography for DDLJ.
I remember Yashji had called me and offered me the film. I immediately said yes.
What I feel proud about is that Adi was a young guy and could have easily worked with a new cinematographer and come up with a new team. But he wanted someone experienced and insisted on me.
Later, I worked with him on Dil Toh Pagal Hai and Mohabbatein.
Working with the Chopras
I have worked with Yashji on films like Chandni, Lamhe and Darr. He likes to improvise a lot. If he found something which would enhance the look of the film, he would immediately include it.
Aditya, on the other hand, gets his script completely ready -- right from shot-taking to where the camera will move to where we will cut the scene, he has everything in his mind. His planning is impeccable and he is thoroughly prepared.
He is also sure about what he wants from his actors. Sometimes, he performs the scenes and shows the actors.
Shooting the climax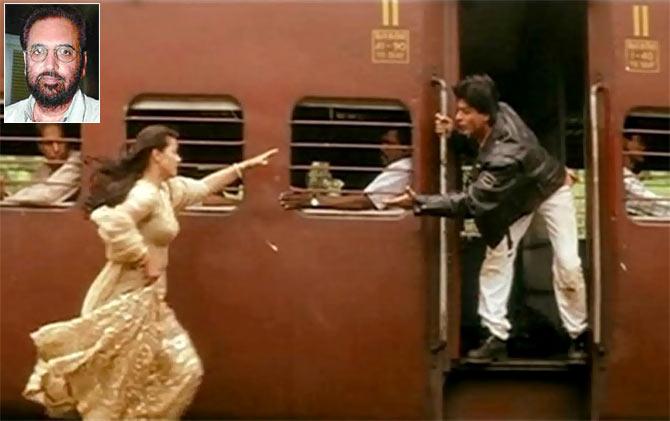 Image: Kajol and Shah Rukh Khan in Dilwale Dulhaniya Le Jayenge. Inset: Manmohan Singh.
There was a clash of ideas while we were planning the climax of DDLJ. Yashji and I weren't convinced, as we thought it was very cliche.
Adi thought so too, but he still wanted to end the film on that note, where Amrish Puri lets Kajol go with Shah Rukh Khan. He was adamant about it.
He asked us to give him a better climax but Yashji and I could not come up with any other ideas.
Today, when I look back, it is one of the best climaxes in Indian cinema.
Shooting in Switzerland
The unique part of shooting DDLJ in Switzerland was that most of it is captured through the train and the road journey that Kajol and Shah Rukh undertake.
Normally, in Yash Chopra films, you would see songs being shot in Switzerland. But there weren't any songs in DDLJ that we particularly shot there.
For a change, I enjoyed capturing Tujhe dekha toh yeh jaana sanam in the mustard fields in Gurgaon more than Switzerland (laughs). Even today, filmmakers try to emulate it.
Favourite scenes of DDLJ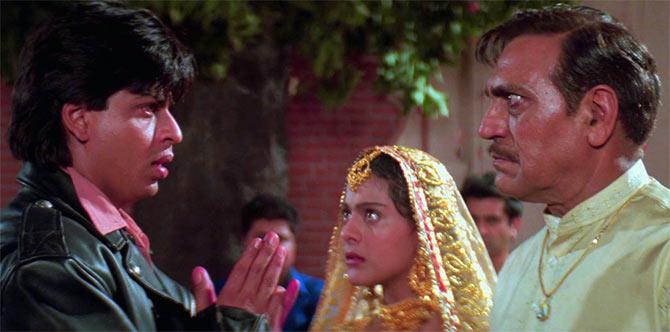 Image: Shah Rukh Khan, Kajol and Amrish Puri in Dilwale Dulhaniya Le Jayenge.
I have so many favourite scenes.
On the surface, DDLJ may look like just another Bollywood love story but according to me, one particular scene made it iconic.
The scene is where Farida Jalal is scared for her daughter (Kajol) and asks Shah Rukh to elope with her. If you see the films that released before DDLJ, the actor would run away with the actress. But here, you see Shah Rukh telling Faridaji that I will only marry your daughter with her father's permission.
I guess that is also the reason why it is relevant even today. The freshness remains intact.
I also love the scene where Shah Rukh and Kajol first meet.
And as I said before, the climax.
The last time he saw DDLJ

I saw DDLJ a few weeks back.
I was just swapping channels on television and suddenly I came across the film and started watching it. I was seeing it after many years, and relished every moment.