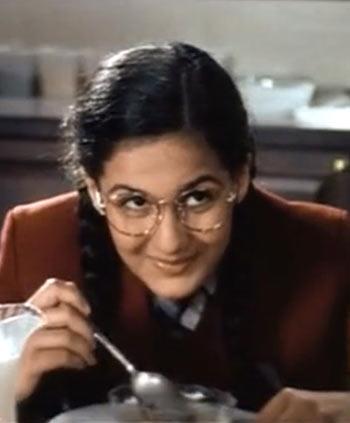 'After King Uncle and DDLJ, I had a dedicated mailbox at the post office, and would get so many fan mails from all over the world!'
Pooja Ruparel, better remembered as Chutki, goes back in time.
One of Hindi cinema's longest-running movies Dilwale Dulhaniya Le Jayenge completes 1,000 weeks in Mumbai's Maratha Mandir theatre.
The 1995 film threw its lead cast Shah Rukh Khan and Kajol into super stardom, and is one of the most loved movies even today.
In the run-up to the landmark day on December 12, we present a special series, where we present the characters that helped make the film so big.
We start with Pooja Ruparel, who played Kajol's kid sister Chutki.
Pooja, who has done several television commercials and theatre post-DDLJ, was last seen in Anil Kapoor's 24.
She discusses her fondest DDLJ memories with Sonil Dedhia/ Rediff.com
On Dilwale Dulhaniya Le Jayenge completing 1,000 weeks
Time flies so fast.
Back in 1995, I was in school, and going through those weird teenage years. I was a very dramatic kid.
My debut film King Uncle (1993) had been a success. After King Uncle and DDLJ, I had a dedicated mailbox at the post office, and would get so many fan mails from all over the world! I also got so many marriage proposals. (Laughs)
Even today, when I go for auditions, I meet guys who tell me they had a huge crush on me and wanted to marry me post-DDLJ. (Laughs)
How she became a part of DDLJ
Frankly, at that point of time, I wasn't interested in doing the film because I had played the central character in King Uncle and the same thing was being offered to me. I did not want to be stereotyped.
But working in DDLJ was like a fairy tale. I didn't audition for my role in the film.
I got a call from Yash Raj Films' office, and so I met them. I had a photo session with Kajol because they wanted to see how we looked as sisters.
I shared my room with Mandira Bedi, who had made her debut in the film. I recently worked with her again in 24.
I never thought DDLJ would become so huge.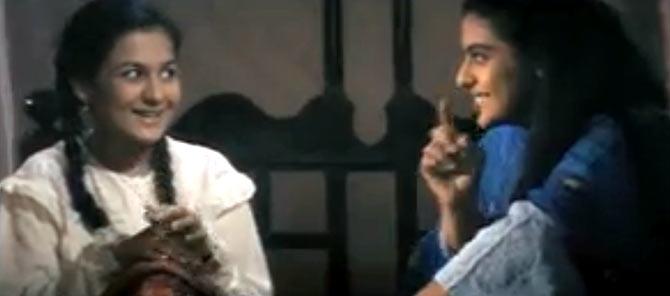 Image: Pooja Ruparel and Kajol in Dilwale Dulhaniya Le Jayenge.
Memories of working in DDLJ
I have fond memories of the film. I remember Amrishji (Puri) singing songs composed by KL Saigal.
Before DDLJ, I was scared of Amrishji as I would remember him as Mogambo (his popular character in Mr India). DDLJ gave me the opportunity to work with India's best villain, who became India's best onscreen father. For me, the best line from the film was 'Jaa Simran, jee le apni zindagi.' In Amrishji's voice, that line sounded even better.
Another fond memory is with Satishji (Shah). He is a man of few words. But one afternoon, we were all having lunch and he made us laugh so much. We were rolling on the floor! It was one of those impromptu moments that I will cherish forever.
There is a scene in the film when Satishji and Amrishji are playing chess and Shah Rukh comes in and helps Satishji with a winning move, to which Satishji says, 'You are not genius, but indigenous.' This was improvised by Satishji.
Once, I remember Kajol mentioned Baskin Robins ice cream (Baskin Robbins was first introduced in India in 1993) and the next moment I see tubs of Baskin Robins ice creams on the sets. It was very rare for me to have such expensive ice cream.
My favourite scene from the film is when I tell Kajol, 'Didi, mujhe woh chatt wala bahut pasand hai. (Didi, I like the guy on the terrace very much)'
My make-up was done by Pandhari Juker, one of the best make-up artists. For him to work on my face was a wow experience.
On the sets, I spent a lot of time with Shah Rukh since I had worked with him in King Uncle too. He taught me how to use my father's camera. He is very charming and I had a good working relationship with him. Even today, he is so humble. A few years ago, I shot a commercial with him and he was so warm.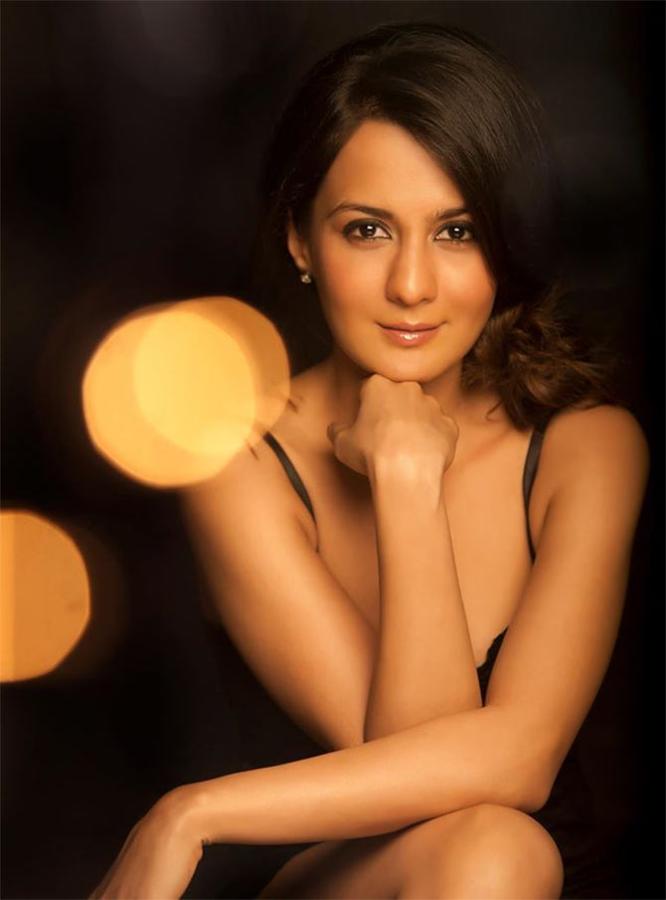 Image: Pooja Ruparel. Image:

Amit Ashar.
Working with YRF and director Aditya Chopra
Working with YRF was a treat because it was very organised, and lavish. I would go shopping for clothes with Pamela Aunty (Pamela Chopra). We would shop for the best brands like United Colours of Benetton and other designer stores. I was treated like a princess.
Pamela Aunty is such a nice and warm person, and so intelligent. She would solve crossword puzzles on the sets and she would get these really difficult words!
Aditya (Chopra) was so much fun to work with. He is such a grounded, humble and soft-spoken person. He would be open for suggestions.
I remember he was quite nervous. I would hardly see him eating. All he would eat is a slice of bread and drink a bottle of Coca Cola. At the same time, he would be very excited with the film. He would come thoroughly prepared. I never saw him lose his temper.
Present work
I did Anil Kapoor's television show 24 (Pooja was seen in 13 episodes).
I am currently marketing my stand-up comedy show, which is a light-hearted take on my life and experiences. I am also planning to write scripts and produce them.