While Pa Ranjith proved yet again to be the salt of the earth in his land mafia film, Zoya Akhtar took a haphazard route to make something that was hardly rooted in Asia's biggest slum, feels J Jagannath.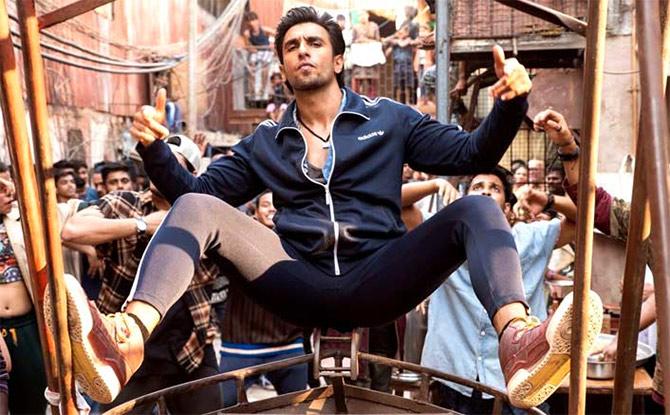 A glaring omission in all the gushing reviews of Gully Boy in the mainstream Indian press is the comparison of the way rap and Dharavi have been juxtaposed in Kaala.
While Pa Ranjith proved yet again to be the salt of the earth in his land mafia film, Zoya Akhtar took a haphazard route to make something that was hardly rooted in Asia's biggest slum.
I don't expect Akhtar to be a political animal like Ranjith, but she shouldn't have plucked the lowest hanging fruit either.
In the ravishingly shot Azadi song, privileged south Mumbai kids (including Kalki Koechlin) drive around Lower Parel at night, painting graffiti.
With them is Murad (Ranveer Singh), an upcoming rapper from Dharavi who gets to paint 'roti, kapda aur makaan + internet'.
Even though his lyrics are strewn around with khoon, paseena, majboori, aansoo, he belongs to the aspirational class that wants to be on the information super highway and is content with racking up lakhs of views on YouTube.
Murad is no Ambedkarite for sure.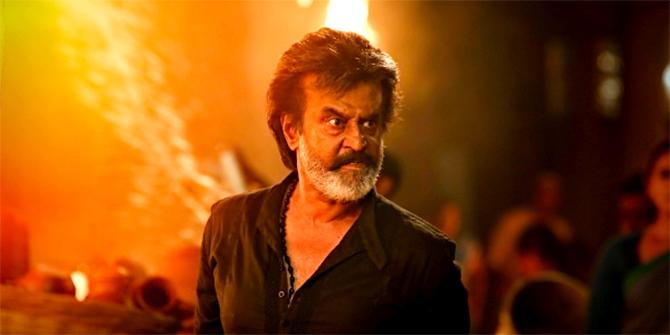 In Kaala, Rajinikanth adamantly stood up to the scheming politician (a snarling Nana Patekar) with 'Nilam unakku adhikaaram, nilam enakku vaazhkkai (For you land is power, for me land is life).'
A tweet (by @SevenDeviled) shows the stark difference between both these movies: 'See how #GullyBoy imagines rap exploding out in enforced solitude. Compare with #Kaala where rap is a community celebration ('Semma Weightu'). The difference in the politics of rap-as-escape vs rap-as-communal-ritual is illuminating.'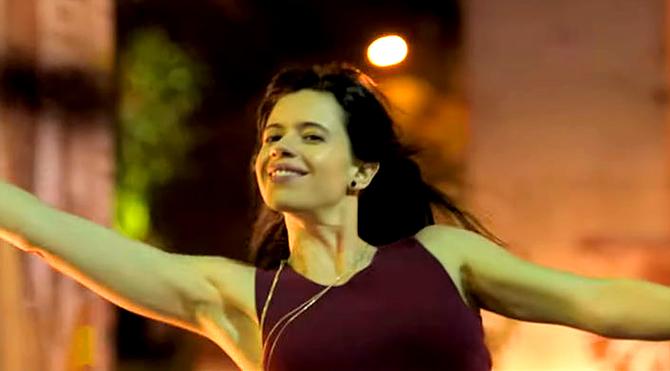 Akhtar's upper-class sensibilities kick in when Koechlin, a filthy rich person and a student at Berklee College of Music, turns into a Marie Antoinette in her high-end Mercedes when she tells Murad that he shouldn't be chasing money and must actually follow his passion and that money will automatically follow.
She should have said this in front of Murad's father Vijay Raaz, a car driver whose rule of thumb for survival is to be obsequious to the rich.
Murad detests his father for not aiming high and snaps ties with him, an Americanism that seems grossly misplaced in lower middle-class Indian families.
There is a beautiful scene in the second half of Gully Boy when Murad measures Koechlin's house with his feet and is awestruck by how big her bathroom is. This is the Akhtar I crave for in her cinema. She is the anti-Karan Johar, the Edward St Aubyn of Hindi cinema when it comes to depicting rich Indian families on screen.
That part in Dil Dhadakne Do where Shefali Shah devours a large brownie to get over a fight with her husband (Anil Kapoor) is seared into my brain. That's why it rang even more hollow in Gully Boy when the privileged people spray 'Brown and Beautiful' on a fairness cream hoarding.
This, in a country where the ads purport to rid the not-so-fair-skinned of their melanin content with such creams that fly off the shelves.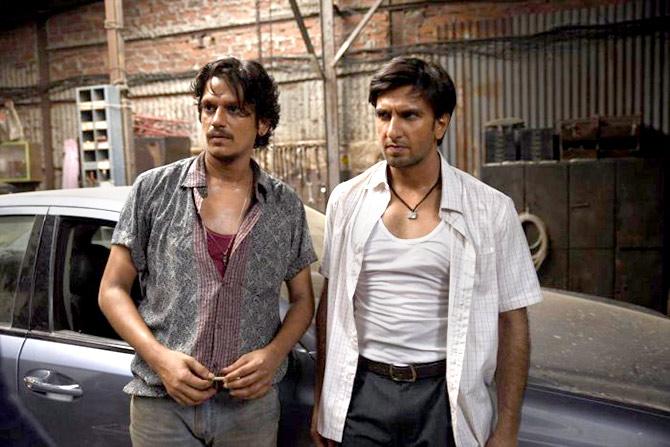 More than Siddhant Chaturvedi as M C Sher, it was Vijay Verma as Moeen who struck me as the most authentic character in this otherwise largely flawed movie.
As a small-time criminal who sells marijuana and steals cars, he knows that no amount of YouTube love for a slick music video will alleviate the lives in Dharavi.
Unlike him, even though Murad claims in his lyrics that he is not aspiring to be a slumdog millionaire, there's a mile-high grin on his face when he gets to own high-end sneakers.
Even his rap lyrics sound like someone who has been devouring reams of Anand Bakshi and Sameer than something straight out of Compton.
All the lyrics, barring Apna Time Aayega, sound like there's more emphasis on rhyming than on innovation.
Let's commend Akhtar though for casting Singh who infuses his role with a boyish charm that was last seen in Band Baaja Baaraat.
Ignore the chiseled body that suggests he spends more time in the gym than bringing brio to his musings and concentrate on the downright infectious child-like grin on his face in the initial portions.
Alia Bhatt has been needlessly lionised for her act that is more irritating than feisty. The episode of her breaking a bottle on Koechlin's head had me squirming in my seat.
If you need a recommendation for a recently released true-blue rap movie set under trying circumstances look no beyond Patti Cake$.