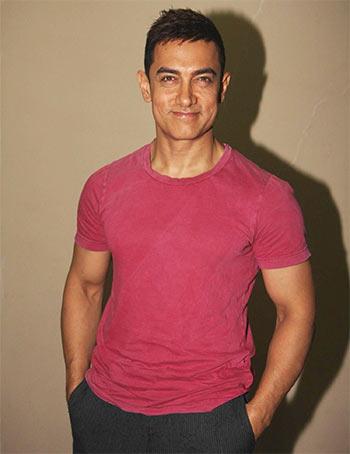 'For Aamir Khan, the producer of Delhi Belly, to shame these boys -- and the celebrities involved -- for swearwords and insults, is the most hypocritical thing in the world.'

Raja Sen calls out Aamir Khan on his criticism of the controversial AIB Roast.

Truth alone triumphs.

That's what Satyameva Jayate -- a motto India's founding fathers chose for her from the Upanishads, and one that has since been co-opted by Aamir Khan as a name for his philanthropic, awareness-building television show -- means. This is why this piece should be one of fact over opinion.

And because that is a motto that bears repeating.
The fact is that All India Bakchod (AIB), a collective of four stand-up comedians with more foresight than their peers, got together and had a Bollywood Roast with several film folk participating and in attendance.

This is not, by any standard, a new or particularly original idea; the format of peers trading insults goes back a long, long way, and the first Roast to call itself that was held by The Friar's Club in 1910.

Dean Martin made the format popular with an NBC series through the 1970s where he'd boozily wink and slay a group of celebrity friends. In the more recent past, the television channel Comedy Central made the format their own with a set of increasingly profane (and, as a result, increasingly harmless) shows.

The recent Comedy Central shows are what the AIB show is closest to in terms of tone and content and texture, and bully to them -- as I said in a previous column celebrating the Roast -- for pulling it off in the middle of a stuffy Hindi film industry too fearful of its self-image to actually have a good laugh.

"Pulling it off," alas, turned out to be an unfortunately ominous bit of phrasing, considering that the comedians have since yanked the roast off YouTube, bowing to pressure from various easily-offended/politically-motivated extremist groups.

They have apologised repeatedly and tried to explain their lack of malicious intent, but the video stays removed while every talking head in the country has an opinion -- mostly to do with what they thought of the roast, as opposed to how important it is to be able to do something like this, to keep the possibility of it alive.

The reaction to AIB's removal of the roast and their heartfelt apologies, one of which specifically and puzzlingly singled out the entire Christian community, has been two-pronged, with most of their most-vocal supporters seemingly stung by this compliance.

'How dare they?' asks this incensed, self-righteous line of thinking. 'We made them the posterboys for free-speech and look, they didn't stand by their work.'

That is an argument so dunderheaded it hardly deserves an answer, but it is becoming increasingly clear we live in a country where we need to patiently explain our points as if reasoning with a dull six-year-old.

Just because they have "All India" in their name does not make AIB a political party. They were not voted into power and they have not made any pre-election promises; they have never asked for themselves to be made into these icons of free speech.

They're just four funny boys who got together and tried to see how far Bollywood can take a joke; four boys who have formerly found themselves thwarted by Bollywood in the past, when they tried to write gags for the Filmfare Awards and were told each joke on a star must be approved by said star, and when they went to Yash Raj Films to make a spoof on Dhoom 3 and were told to go home, leading to AIB's first huge viral success.

So these four yuksters, these eye-rolling oft-retweeted one-liner superstars, managed to get Bollywood to laugh out loud and say some very rude things.

You may or may not like the roast, but by golly, these nuts managed to get away with a lot.

Or so it seemed.

Now, under political threat, threat from muscular Bollywood stars, possible physical threats of violence to the boys and their families, they backed down and took the video down.

Fair enough.

It's their call, and before you start wishing for a martyr, take a minute to picture just how patently depressing the inside of a Mumbai police station is. These boys are shuttling between cops and lawyers and reading clauses and justifying themselves when all they'd rather do is tweet snarky things about how tremendously the BJP bungled up the Delhi election.

Our journalists, of course, are having a field day asking everyone they can see about the Roast and 'freedom of expression'; yesterday afternoon at a press conference, they asked Sant Gurmeet Ram Rahim Singh Ji Insan -- the leader of the Dera Sacha Sauda and the actor-director of the upcoming MSG -- what he thought of AIB and he, quite convincingly said he hadn't seen any such video, but just hoped they didn't show naked women or shameful activities.

In this, the Insan's clearly personal opinion made more sense than that of Aamir Khan, who appeared out of the woodwork to condemn AIB, saying he didn't find swearwords funny and that he found insult comedy 'violent' and that celebrities have a certain responsibility.

If this were just another fuddy-duddy actor, we'd have laughed it off.

He can't stand swearing, we couldn't stand Fanaa; he finds insult-comedy 'violent', we find his Christopher Nolan plagiarism 'violent', and so on.

But for Aamir Khan, the producer of Delhi Belly, to shame these boys -- and the celebrities involved -- for swearwords and insults, is the most hypocritical thing in the world.

It's Kanye-level self-delusion.

Khan knew Delhi Belly would be brought up, and said, 'I applied for an A certificate. I went out of my way during promotions to tell everyone that ours is an adult film, and don't come watch it.'

But, Mr Khan, you didn't do that with the songs, your very catchy Bhaag Bhaag DK Bose song -- masking a profane term by breaking it down and switching it up, literally like making a song called Hole-***, Hole-***, Hole-*** -- took a foul gaali and handed it to schoolkids via music videos and radio.

It became a massive sensation, you marketing genius you, and parents around the country ashamedly pretended they didn't hear it.

Where was that responsibility then?

For someone like you to not shun the offended and instead take offence at the content, well, Mr Khan, is wholly asinine.

As for the fellows at AIB, I hope they're silent because they're keeping their heads down and using these trying times to generate new material.

I only hope they make it out mostly unscathed -- and funnier than ever.

Photograph: Abhijit Mhamunkar