Syed Firdaus Ashraf explains why the Bollywood legend will remain an eternal part of his life.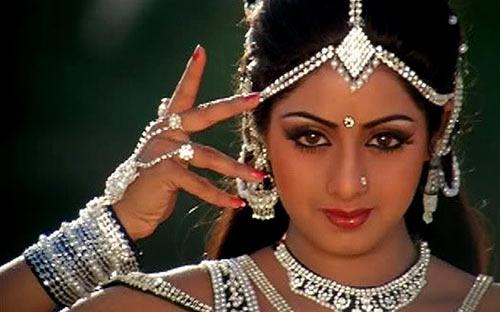 IMAGE: Sridevi in Himmatwala.
1985. I was 13 years old.
When I stepped out to play cricket one evening, I discovered that that none of my friends were on the playground.
This was an India where landline phones were yet to become ubiquitous and mobile phones were a distant dream. The only way to get in touch with someone was to physically meet them or through a letter.
Just then, I spotted a friend. He was clearly trying to avoid me. And he didn't want to play. After hedging for about five minutes, he told me no one was around because they were planning to watch a movie on the VCR.
I had no idea what a VCR was; I had only seen a black and white television set. In fact, we bought our first television set four years later, in 1989.
My friend explained that a video cassette recorder allowed us to watch movies at home and this technology was now available in our little corner of Mumbai, Malad.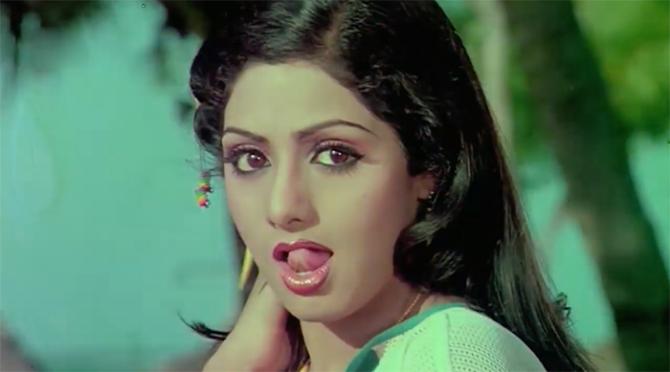 IMAGE: Sridevi in Mawaali.
It would cost Rs 10 to enter the video parlour and watch the movie.
But I had only Rs 5 with me.
My friend warned me that Rs 5 wouldn't get me in. I wanted to try my luck even though I had no idea which movie would be playing or who the actors were.
To put this in context, you must remember this was an India deprived of everything from rations to sex. Scarcity was the order of the day and no one complained; we didn't know better.
In that age of scarcity, I walked to the video parlour with my Rs 5.
As soon as my friend and I reached the parlour, the door opened and a man called Tejas asked us what we wanted.
My friend said we wanted to watch the movie.
"Rs 10 each," Tejas said.
I told him I had only Rs 5.
"No," Tejas said curtly.
I pleaded with him. "I will give you Rs 5 the next time I come, but please let me watch this movie."
Tejas, clearly, had an eye for potential clients. "Next time," he warned me, "bring Rs 5 extra, or I won't allow you to enter."
I had not even asked Tejas which film he was showing; all I wanted to see a colour television set and a VCR.
As I entered that 10x10-foot room -- Tejas' home doubled as the VCR parlour -- I saw my friends seated on the ground watching the movie.
I was late, but had no complaints as I had finally located my friends.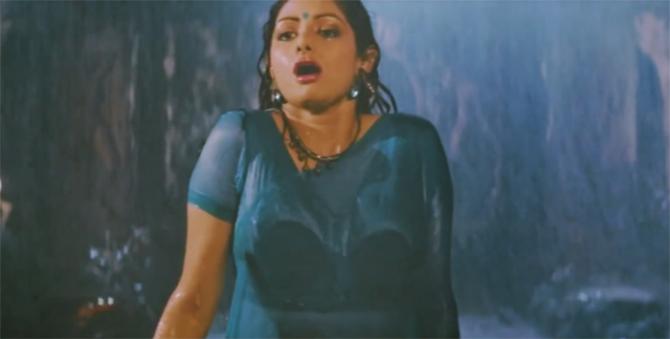 IMAGE: Sridevi in Mr India.
As soon as I joined them on the floor, the song Mujhe kya hua yeh bata from the film, Justice Chowdhury, began.
It was a passionate song, and our jaws dropped.
For the next few minutes, as the song played across the screen, there was pindrop silence punctuated by a few nervous giggles as the temperature on the screen increased.
It was a long time before we could stop talking about this song.
It was the moment when we all came of age.
Soon, we were watching as many Sridevi films as we could afford to at the Tejas video parlour -- Himmatwala, Mawaali, Maqsad...
I would wonder how many times this stunning actress caught a cold because she was soaked in the rain in her films.
As a journalist, I nearly got the opportunity to ask her that question in 1996.
I was in Hyderabad to spend some time on the sets of Judaai, starring Sridevi, Anil Kapoor and Urmila Matondkar.
It was a Boney Kapoor production and I requested his secretary for an interview with Sridevi.
I did interview Anil Kapoor and Urmila Matondkar, but the Sridevi interview didn't happen.
I only saw her at the media party, where Sridevi looked so stunning that no one could tear their eyes off her.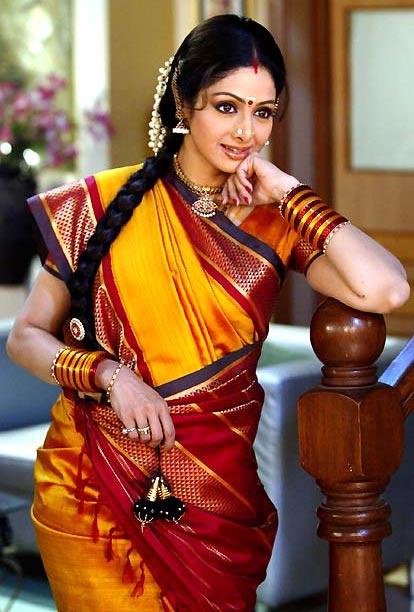 IMAGE: Sridevi in the television series, Malini Iyer.
The next time I saw Sridevi was a few months later.
I bumped into Boney Kapoor's secretary at the airport and asked him if his boss and Sridevi were having an affair.
He denied it. "Tum journalists log kuch bhi likhte ho! (You journalists write anything!)," he said angrily.
Ten minutes later, I saw Sridevi and Boney Kapoor drive away in the same car.
In 2004, I got the opportunity to meet Sridevi on the sets of Malini Iyer, her first attempt at television.
She was now married to Boney Kapoor and they had two children, Janhvi and Khushi.
After waiting for five hours, I was told that she could not give a long interview.
In our two minute tete-a-tete, she said she had not missed the glitz and glamour after taking a break from Bollywood.
"My family has always been my priority. When my films are shown on television, they (her daughters) tell me about it. They both love to dance on my songs. Beyond that, there has never been a conscious effort (by the family) to watch my films together."
I never got to ask her about the rain and the cold. But Sridevi has left behind a body of work that can be watched again and again.
---
What does Sridevi mean to you, dear reader?
Write in and tell us at moviesdesk@rediff.co.in (Subject line: Favourite Sridevi moment) with your NAME, AGE and HOMETOWN.
We'll publish them right here on Rediff.com
---