'This film is a product of a dangerous trend to take just a sprinkling of truth, mix it with free-flowing speculation and present it as historical facts, says Manavi Kapur.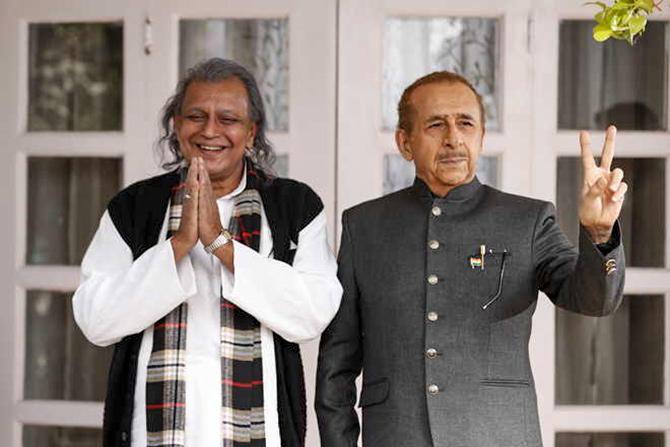 If you follow Vivek Agnihotri on Twitter, you're not going to get very much more out of The Tashkent Files.
Falsehood that is bent out of shape to resemble truth, controversial 'facts' and convenient and catchy tags for people who don't agree with you -- all put together in a film that is likely to leave you with a headache.
If you're ideologically aligned with Agnihotri, you'll probably applaud the film's dramatic 'takedowns' of history, rationality and even democracy.
I am almost tempted to give out spoilers so that one is spared the misery of sitting through the two-and-a-half hours of the film.
The Tashkent Files raises a popular Google question: Did India's second prime minister, Lal Bahadur Shastri, die of a heart attack or was there 'foul play'?
What has sustained the conspiracy theory that Shastri was probably assassinated is the fact that the Indian government has declined requests to declassify files pertaining to Shastri's death in Tashkent.
Mithun Chakraborty plays the role of Shyam Sunder Tripathi, a dhoti-clad politician who seems to be on a crusade to uncover the mystery behind Shastri's death.
His crusade is certainly not bigger than Raagini Phule's (played by Shweta Basu Prasad), a journalist who has been flagrantly writing fake news stories and miraculously getting them published on the news portal she works for.
After she writes a report questioning the circumstances of Shastri's death, the ruling party, represented by P K R Natarajan (Naseeruddin Shah), forms an inquiry committee to debate and possibly answer this five-decade-old question.
In my opinion, a bigger mystery is how a film-maker like Agnihotri, who has been known more for his divisive political views than his substandard craft, was able to convince actors like Shah and Prakash Belawadi, both on the opposite end from Agnihotri in all aspects, to participate in this propagandist project.
Phule, the journalist, is the star of the film.
Not only does she broker deals with Tripathi ('Cash or favour?' he asks her.
'Depends on the offer,' she says), she is able to track down spies in present-day Uzbekistan, meet informants in broad daylight at India Gate and go about Googling factoids from her ultra-expensive Apple products.
Somewhere down the line, she transforms into a weeping activist, visiting 'Shastriji's' tombstone and busts and asking him to help her between shrieking wails.
I covered my ears whenever she started speaking.
The film's villains are clear.
They never feature in the film, but 'terrorists' of various kinds -- intellectual, social, political, TRP -- are destroying the country according to Tripathi.
The Congress, the Left, liberals, journalists and even historians are all villainous, exemplified through incidents in the films rather than as obvious characters.
For instance, Mandira Bedi's character as a fashionable NGO worker is termed a 'kattar virodhi' (staunch opponent) of the government.
Pallavi Joshi, also Agnihotri's wife, as the wheelchair-bound, beedi smoking historian, is reduced to a fumbling, easily incensed and royalty-hungry academic.
As a historian, she is unable to counter any of the ludicrous claims made in the film, despite having written an entire book on the subject.
Any historian worth her salt would have been able to separate propaganda from facts, but in diminishing her merit, Agnihotri makes a comment on the entire intellectual class.
There's even a news anchor who looks like The Caravan's Hartosh Singh Bal and he interviews Phule for Zee News.
Irony does a record-breaking number of surya namaskars in The Tashkent Files.
Filmed shoddily, written carelessly and fit not even for the daytime soap opera slot, this film is a product of a dangerous trend to take just a sprinkling of truth, mix it with free-flowing speculation and present it as historical facts.
But this version of this truth also, quite unfortunately, sells.
When a character in the film says 'Secularism ne is desh ka bantadhaar kiya hua hai (secularism has ruined this country)', people in the theatre laughed appreciatively.
Perhaps Agnihotri has forgotten that the Congress has not been in power at the Centre for five years and there was nothing stopping the current administration from declassifying the Shastri files.
But even that is a minor issue as far as I am concerned.
The larger question: Will I ever recover the brain cells I lost to The Tashkent Files?