The passing of Satyajit Ray's renaissance man feels like the snapping of the last connection with a generation that built a nation and defined grace while facing everything life had to throw at them, says Sumit Bhattacharya.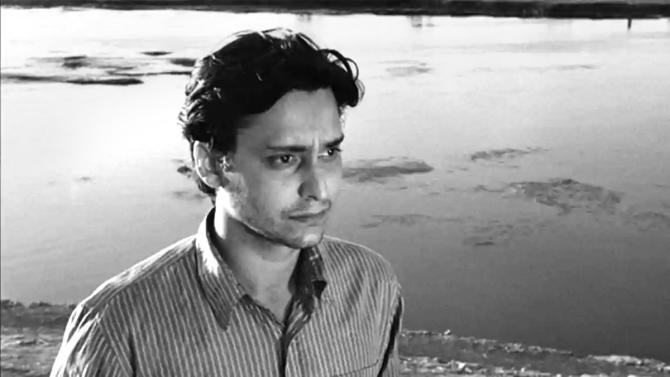 As Tagore's Aguner Parashmani played and the body of Soumitra Chatterjee, Satyajit Ray's renaissance man who lit up 14 of the master director's movies, lay wreathed on a south Kolkata street, my mother turned to me, her eyes filled with tears.
"Switch off the TV, I can't take it anymore. I am reminded of your father," she said.
My father died in April, a week into the nationwide lockdown that was meant to stop COVID-19 in its tracks.
She has not even been able to grieve.
No relative has come.
No gathering has been held.
Her son has lost his job.
She almost lost her mind, and is taking baby steps on recovery road aided by heavy antipsychotic medicines.
Losing Soumitra was like losing my father all over again.
Baba looked like Soumitra a lot; my sister used to say Baba looked like a cross between Navin Nischol and Soumitra.
Baba and Soumitra were contemporaries, in very different fields. And their stories were mirrored in Apu, Bibhutibhushan Bandopadhyay's protagonist whom Satyajit Ray brought to immortal life.
Apu symbolises a generation that came from poor families in villages, had their minds opened by education, Calcutta and the world, and made their mark.
Like Soumitra himself, and my father.
My father was no movie star, but he was a rock star academic of his time who advised many governments. Even now, his books are like gospel for the study of Public Administration, and those who take exams like the IAS.
When Soumitra brought the adult Apu, a creation of Ray beyond where Bibhutibhushan's book ends, to life, he mirrored that generation of nation builders.
Like Apu, my father lost his sibling, albeit younger one, while growing up.
Like Apu, he came from a very poor family, from a placed called Gobordanga (literally, cow-dung land).
Like Soumitra, he left his village and travelled the world but never lost his roots.
Like Soumitra, his political leaning was towards where the heart is.
Oder shaathe melao jara choraye tomar dhenu (be with those who graze your cattle), were Tagore's words that he lived by.
He refused to shop at malls.
Soumitra, too, was an avowed Leftist till his last days and he always showed up for political causes, be it protests against the Citizenship (Amendment) Act or the National Register of Citizens, or against the West Bengal government's alleged clampdown on a film criticising Mamata Banerjee.
In West Bengal, politics has a vice-like grip over all aspects of life and ideological suppleness is demanded of artistes, too, but Soumitra never abandoned his Left leanings.
Although my father did, calling in his later days the Left a gerontocracy.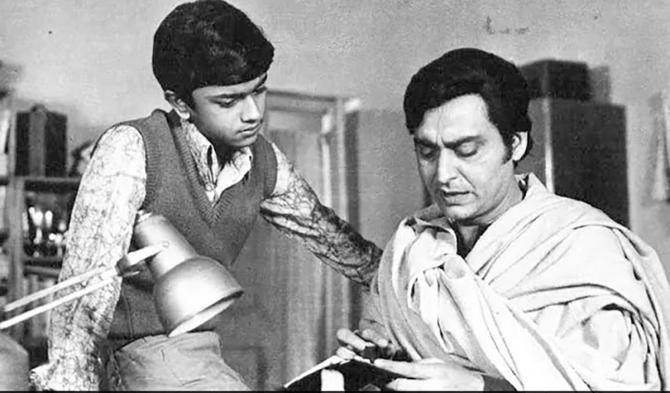 The feeling of personal loss -- I never met Soumitra Chatterjee, and the closest I came to any association with him was playing guitar on a song in a movie in which he featured in the late 1990s -- is not by any means unique to me, or our family.
Probably, everyone in Bengal feels connected to Soumitra Chatterjee in a way that transcends the real.
As a senior Kolkata-based journalist put it, 'We were, to a great extent, Apus of our time.'
Because that is how deep a mark Soumitra Chatterjee left in the Bengali psyche.
That is how deeply embedded he has become in a people's consciousness, as characters he played, as the person he was.
He will forever be the Apu who wants to write an autobiographical book, only to throw away the pages.
He will forever be Feluda, Ray's handsome detective who relies on his magajastra (brain as weapon).
He will forever be those characters that defined generations.
He will forever be the erudite thespian.
Movie stars lie to us, we see their scripted self.
But Soumitra's scripted and real self were entwined in their honesty.
That's what shone through even as he kept doing film after unwatchable film to support his family in his later years.
No one cared, because he would always be Feluda with his careless swag.
He would always be Apu, who lights up describing his book which he never gets to finish and eventually finds peace in reconnecting with his son and completing the circle of life.
Losing Soumitra feels like snapping the last connection with a generation that defined grace in the face of everything life threw at them.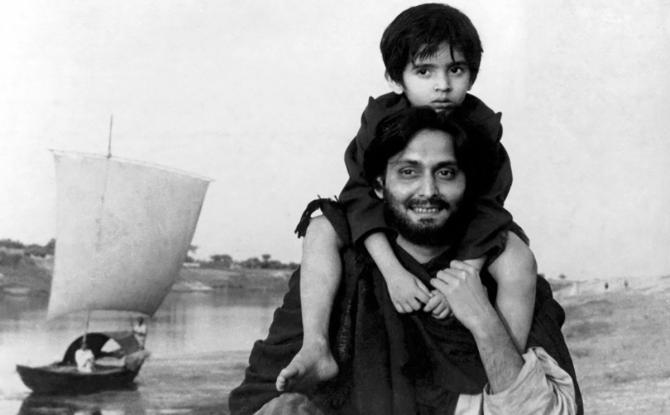 It's not like a movie star has passed.
I remember as a child my family heading to the roof of our nine-story apartment block to watch the funeral of Uttam Kumar.
Undoubtedly, Uttam Kumar was a star, and even Ray chose him for Nayak, the searing spotlight on fame.
But, at the risk of mobs at my door, Uttam Kumar was too aloo-sheddho (boiled potato).
Soumitra was bigger than a star; he is the face of memories.
Sumit Bhattacharya is a Kolkata-based journalist and musician.