Soumitra Chatterjee -- one of the finest Indian actors of our time -- meant so much to Aseem Chhabra.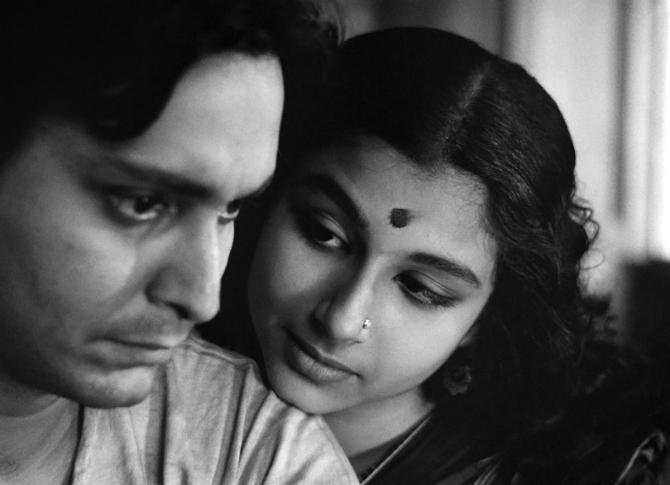 He had a thick mop of black hair, a perfect chin, warm gentle smile and a very handsome face.
He was our Apu, Umaprasad, Amulya, Amal, Ashim and Feluda.
And he defined the phase in my life when I began to watch good cinema.
As a teenager and college student, my life in Delhi had restricted my film viewing to mostly popular Hindi and English language cinema.
Bengali and other regional language films would play in theatres in morning shows and sometimes on Doordarshan, but they were rarely subtitled.
And yet, Soumitra Chatterjee -- one of the finest Indian actors of our time -- meant so much to me.
The film lover in me could not have asked for a better life where time and again, I saw Chatterjee on the big screen, especially after I moved to New York in 1981.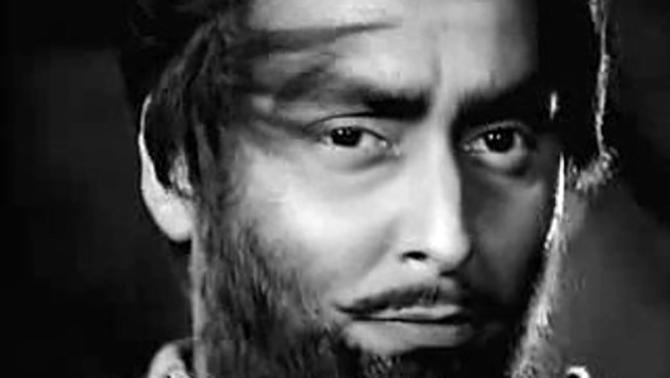 In the late 1970s, I was a university student in Delhi when some friends informed me that the film society at the Lady Shri Ram College was screening Satyajit Ray's Apu Trilogy.
For three consecutive days, I saw Pather Panchali (1955), Aparajito(1956) and Apur Sansar (1959) and my world changed.
My friends and I wept, laughed and bonded over understanding of Ray's humanist cinema.
But more importantly, it was on the last day at the screening of Apur Sansar that I discovered the very charming Soumitra Chatterjee.
Watching Ray's films was easier in New York.
The city had a long tradition of art-house cinemas where on any given day, movie lovers could see works by Akira Kurosawa, Ingmar Bergman, Francois Truffaut, Luis Buñuel or the Bengali master.
And that is how I saw a range of Ray's films, all starring Soumitra Chatterjee in black and white -- Devi (1960), Teen Kanya (1961, released in the West as Two Daughters), Abhijan (1962), Charulata (1964), Kapurush (1965) and Aranyer Din Ratri (1970).
Later, when Ray transitioned to using colour in his films, I saw a new image of Soumitra Chatterjee in Ashani Sanket (1973), Sonar Kella (1974), Joi Baba Felunath (1979), Hirak Rajar Deshe (1980) and Ghare Baire (1984).
I even saw him in Ray's last few films, Ganashatru (1989) and Shakha Proshakha (1990), where the master film-maker's magic touch seemed to slipping, possibly because of ill health.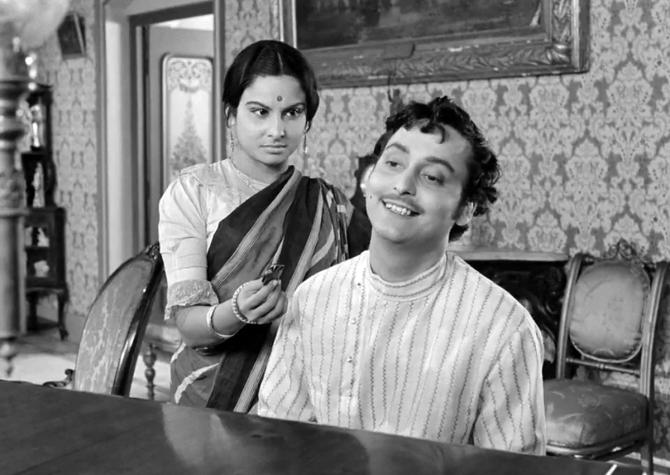 In all of these films, Chatterjee appeared as a strong upright character.
Even when he was somewhat weak, such as in Kapurush or Devi, he had a definite moral centre that guided him.
And then there was the romantic, playful and charming side to some of the characters -- Amal, who breaks into the delightful song Ami Chini Go Chini in Kishore Kumar's voice in Charulata and the cool detective Feluda in Sonar Kella and Joi Baba Felunath.
In all, Chatterjee acted in 14 films with Ray.
And while he worked with many other film-makers, including Mrinal Sen and Tapan Sinha, he was almost always known as Ray's actor.
This was perhaps because many of the Chatterjee's films with other directors did not travel outside Bengal. They were not subtitled and did not get invited to international film festivals.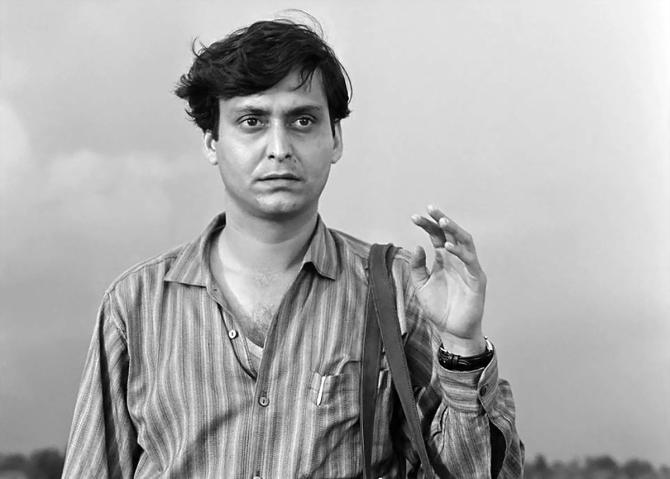 Writing in The New Yorker, Pauline Kael referred to Chatterjee as Ray's 'one-man stock company'.
Chatterjee was always indebted to Ray for giving him a break and then casting him in a number of classic films.
'Had he asked me to be the doorman for a single scene, I would have agreed,' Chatterjee once said about Ray. 'Such was my love, respect and trust in him.'
The soft, gentle actor that Chatterjee appeared in his films may have been different from the man in real life.
At least, on one occasion, he got so angry that he hit the Bengali director Ritwik Ghatak at a public event.
In the 1960s, there was a meeting organised by the Bengali film industry where Chatterjee was seated next to Ghatak. This is how Chatterjee described the incident to LiveMint:
'He (Ghatak) had some very cheap habits; he would manipulate and rib people. He kept on abusing Satyajit Ray. I didn't get provoked since I didn't hold a brief to defend Ray. Maybe he got frustrated at my nonchalance and he used an expletive at me.'
'I jumped at him, held him by his collar and planted a huge blow on him. One blow.'
'I said I'll bury him right there and that I'm not Satyajit Ray and not a bhoddorlok like him.'
'I had a foul mouth too.'
'People like Mrinalda had to intervene and stop me by force.'
Naturally, Chatterjee never worked with Ghatak.
There was one chance when Ghatak was making Komal Gandhar, but Chatterjee did not join the project since he thought the money offered to him was low.
Although he received number of awards during the 60 plus years he was part of the film industry, it was only late in his career that he was recognised with the prestigious National Film Awards -- two special jury mentions for Antradhan (1991, director Tapan Sinha) and Dekha (2000, director Goutam Ghosh).
He received the best actor National Film Award only once -- for Suman Ghosh's 2006 film Podokkhep.
He did receive other major honours, like a Padma Bhushan in 2004, a Dadasaheb Phalke Award in 2012, and the Legion d';Honneur awarded by the French government in 2018.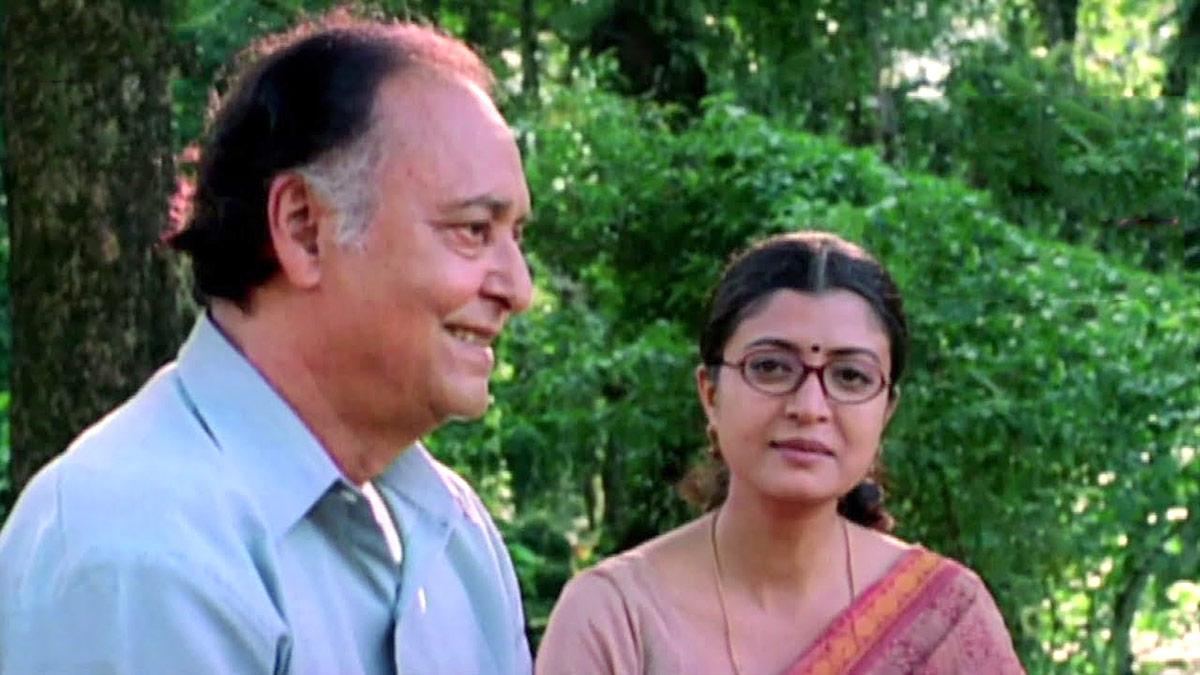 Chatterjee never acted in films outside the Bengali industry.
There was that one chance, but Chatterjee missed it.
When Shashi Kapoor set out to produce Shyam Benegal's Kalyug (1981), he considered offering the role of Karan Singh to Soumitra Chatterjee. But the Bengali actor was unwell at that time and finally, Kapoor himself played the role.
Chatterjee continued to work in films and even theatre long after Ray passed away in 1992.
The new generation of film-makers gave him ample opportunity to explore his acting skills.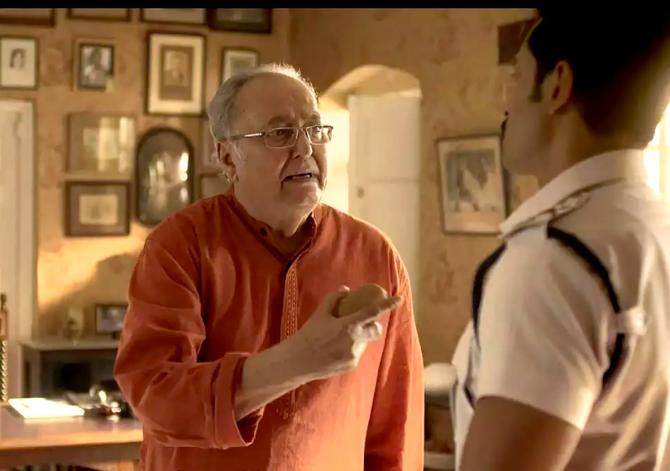 In the last 10 years that I programmed the New York Indian Film Festival, I got to see a few new Bengali films starring Chatterjee, including Suman Ghosh's Nobel Chor (2011), Peace Haven (2016), Basu Poribhar (2019), Srijit Mukherjee's Hemlock Society (2012) and the delightfully creepy short directed by Sujoy Ghosh, Ahalya (2015) where he acted opposite Radhika Apte.
I loved Chatterjee's heartbreaking role of a man struggling with dementia in Atanu Ghosh's Mayurakshi (2017).
This past week I saw him in Director Anik Datta's new film Borunbabur Bondhu (2020), a charming satire where Chatterjee plays an octogenarian whose childhood friend becomes the president of India.
Earlier this year, I visited Kolkata for the first time to attend the Arthouse Asia Film Festival.
One evening I met Suman Ghosh for drinks and quite by chance, he asked if I would like to meet Soumitra Chatterjee.
I jumped at the opportunity.
A quick phone call was placed and Chatterjee agreed to see the us the next day.
But then he called back and changed the date to the day after.
Ghosh was busy that day, so I agreed to go on my own.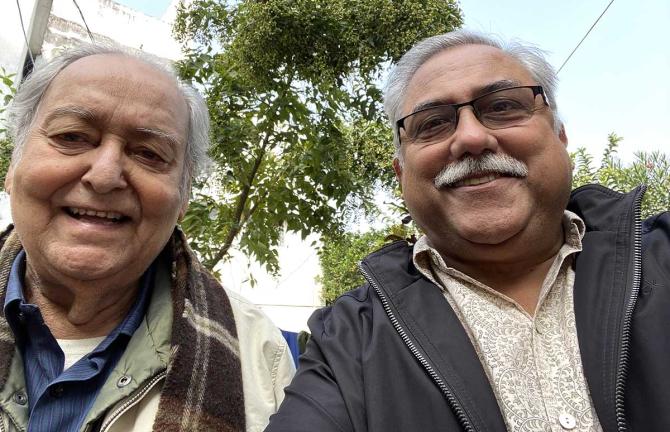 It was hard for me to find Chatterjee's home in the Golf Green neighborhood of the city.
Finally, the Uber driver dropped me in front of a large corner house.
A man was sitting by the gate.
He only spoke Bengali, but from what he said I figured that Chatterjee was not home.
I was disappointed, since I had very limited time in Kolkata.
Just then, a car pulled up.
Chatterjee stepped out looking confused and frazzled. He apologised for being late and said his wife had taken ill in the morning and had been admitted to hospital.
He escorted me to a corner room separate from the house.
It must have been his study.
We spoke briefly and I gave him a signed copy of my book on Irrfan Khan.
Chatterjee seemed happy and said that he had liked Irrfan's performance in The Lunchbox (2013).
In fact, after he saw the film, he called Irrfan to congratulate him. But the two actors had never met.
I left soon after, but Chatterjee obliged me with a selfie.
His last words to me were that when I speak to Irrfan, I should tell him Soumitra Chatterjee was a big fan of his.
Alas! I never got a chance to meet or speak to Irrfan.
I can only hope the two actors will finally meet in the after life.