'There will never be another like her,' notes Subhash K Jha.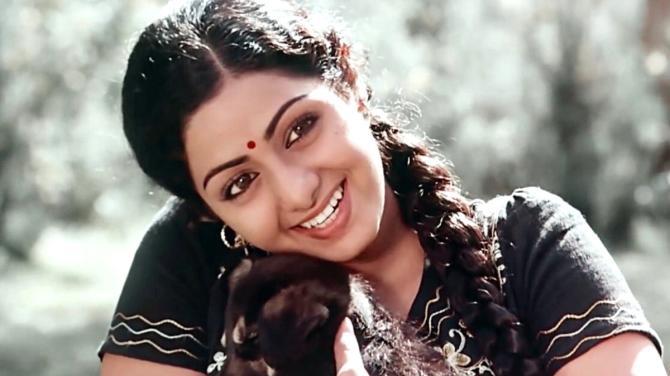 Three years have gone by since we lost Sridevi, but not a day passes when we are not reminded of her.
That snatch of a song from Sadma...
The cute quirky clipping from Judaai...
That melodramatic confrontation scene with the late Smita Patil in the long-forgotten Nazrana, which Raveena's dad Ravi Tandon directed...
I know of no other actor in the world who could rise so much above the script.
How did she do it?
The great Kamal Haasan once told me it was the art of mimicry: "She is a fantastic observer. Whenever she worked with me, she would observe and absorb and then use the quirks and punctuation from my performance to create her own grammar."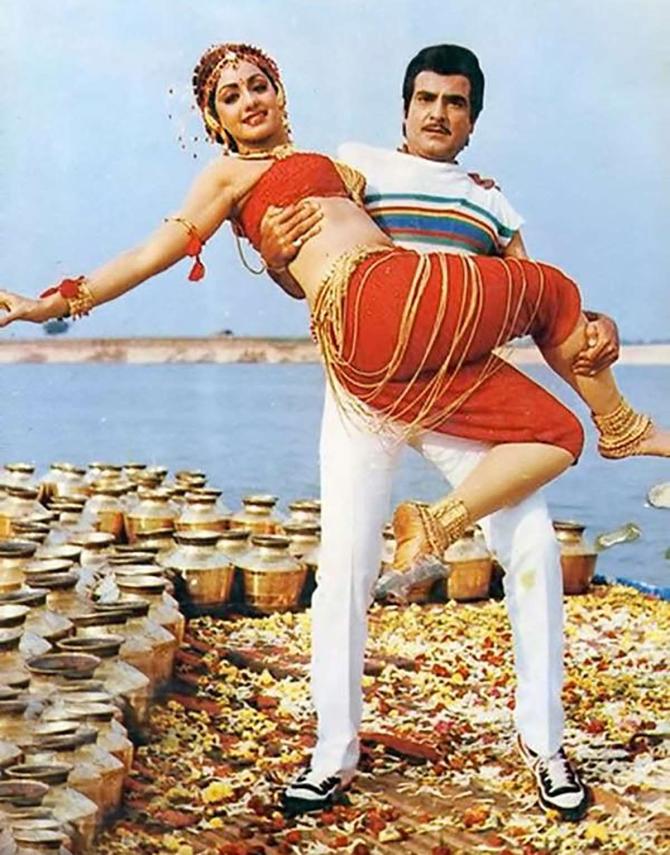 Nobody knows what Sridevi's secret formula for her onscreen performances were.
But whatever it was, it was magic.
She could take the silliest of scenes in the worst T Rama Rao/K Bappaiah directorials starring Jeetendra and she could breathe life into a carcass of a script.
Or make the most obnoxious dance steps look graceful.
Recalling her magic, Jeetendra told me: "There will never be another like her. Interestingly, Rekha was instrumental in facilitating Sridevi's stardom in Hindi cinema."
"I worked in 18 films with Sridevi and 30 films with Rekha. Rekha was the first choice for Himmatwala, the film that catapulted Sridevi to stardom," he recalled.
"But Rekha was committed to another project. That's when we decided to launch a new girl. And the rest is history. Aise ittefaq aksar hote hain hamare industry mein(such coincidences often occur in this film industry)," the veteran actor stated.
"Rajesh Khanna and I were college friends and we entered the film industry together. I was supposed to do the film Raaz. But when I couldn't do it due to date issues, I sent its producer G P Sippy to Rajesh Khanna. The rest is, again, history."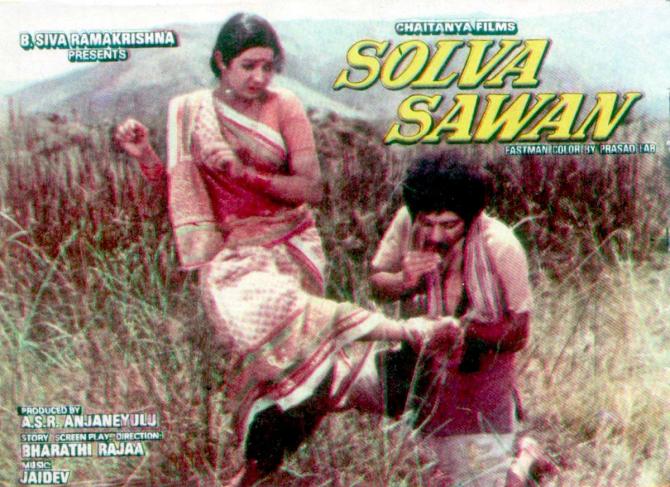 Himmatwala was not Sridevi's Hindi debut.
Earlier in 1989, she was launched in Solva Sawan, a horribly botched-up remake of Bharathiraja's Tamil film 16 Vayathinile, with Amol Palekar doing a terrible impersonation of Kamal Haasan.
Understandably, it flopped.
If it wasn't Jeetendra and director K Raghvendra Roo in Himmatwala, her career would have sunk without a trace.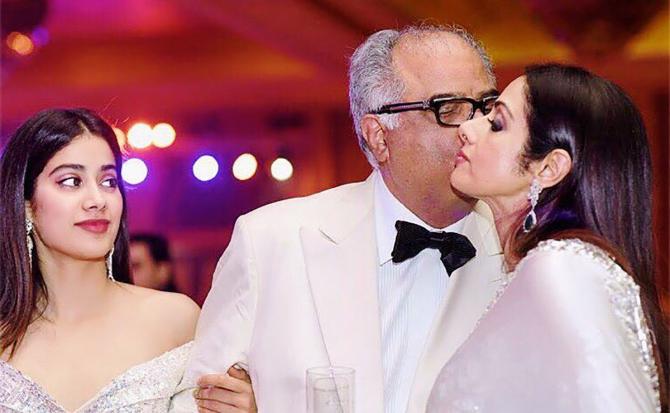 This brings me to the Boney factor in Sridevi's life and career.
It was Boney who carved out her career in Hindi cinema.
She looked towards her husband for guidance in both her real life and her career, but it wasn't as if she didn't have a mind of her own.
This impression of the helpless wife was created by a section of the Mumbai media, probably because they couldn't imagine a woman so beautiful and talented being so intelligent.
In my conversations with her, I always found her to be sharp and certain, though quiet and shy.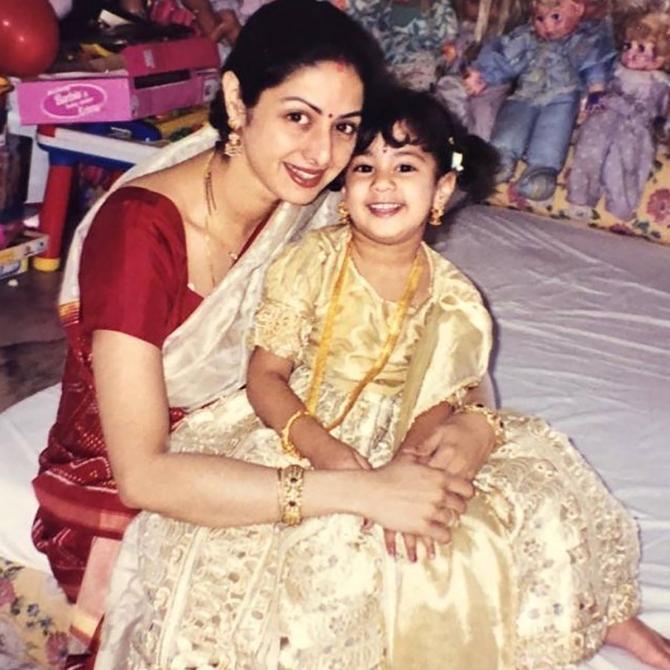 There were no cell phones when I first spoke to her.
I had called Boney on the landline at his hotel in Goa.
When I was connected to his room, I heard the familiar voice say, "Hello?"
I froze.
My throat went dry.
Finally, I mumbled, "Is that who I think it is?"
She laughed her in her girlish way, and didn't pretend to not follow my fan fawning.
"Yes, this is Sridevi. How can I help you? Boney is not in the room right now. Can I take a message?"
What struck me back then was her lack of affectation.
Peel away the glamour, strip away the aura and Sridevi was just another devoted wife and mother.
She would be shooting for English Vinglish or Mom and would worry about whether her daughters, Jahnvi and Khushi, were home on time or if Boney was eating right.
I feared Boney would go the Shashi Kapoor way after his wife's death. But so far, Boney has not done so.
I don't think he has come to terms with her loss as yet.
None of us have.