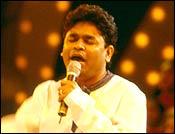 When I heard that the City of Birmingham Symphony Orchestra had asked A R Rahman to conduct two live concerts in March this year, I was very happy and proud as an Indian and a Tamilian.
Earlier, I had felt proud in 1993 when Ilayaraja had recorded his first classical orchestral work with the Royal Philharmonic Orchestra of London. I was executive producer of that project.
It was Ilayaraja's first full-fledged classical work and it was recorded under the baton of John Scott. Unfortunately, Ilayaraja has still not released that work.
Hence to know that another composer from our midst has come to the world music arena was thrilling news. Rarely do musicians from our part of the world get such an opportunity.
But it was a big fiasco.
Rahman's popular film songs were converted into orchestral scores to be played by a classical symphony orchestra. They proved to be pale shadows of his original songs. And the predominantly Indian crowd did not appreciate them much.
It was obvious that not much thought had gone into the score. The objective should have been to retain the original melodic flavour suited to a symphony orchestra without electronic instruments and vocals.
Greater disappointment was his total non-preparation for conducting on stage. I consider that highly irresponsible. If Rahman thought conducting a symphony orchestra in concert was similar to a studio session, the people who risked allowing him to do it should be blamed.
I am surprised he has not fully understood the importance of the role of a conductor in a classical symphony orchestra.
Conducting is one of the most important aspects in a classical orchestra's live performance. People like Zubin Mehta have not become legends for nothing. Zubin is one of those rare talents who will conduct even the most difficult and complex symphonies like Mahler's 8th Symphony -- called the Symphony of a Thousand because Mahler's original debut concert required nearly 1,000 performers-musicians and choral groups -- without once referring to the score. Every bar of music is conducted from his memory, with total control and confidence of the orchestra.
As someone who has spent a lot of time on the UK music circuit over the last few years, I assumed Rahman would have done his homework and prepared the music as well as for his new role as conductor of a live concert, that too with a top-notch orchestra like the CBSO.
Rahman should have reminded himself that he was going to wield the baton of Sir Simon Rattle, who became CBSO conductor at 25 (in 1980) and made it one of the best orchestras in the world.
As a BBC reviewer wrote, "I cannot help feeling cheated by the concert. Though the orchestra were highly organised, Rahman seemed slightly uninterested to be there. Audience reactions were also mixed. The audiences were given opportunity to ask him questions to which he often replied with one-word answers. Rahman did conduct the orchestra for a short period, but later sat back with the audience and watched another conduct his music."
As with anywhere else in the West, most orchestras are going through a difficult time with dwindling concert attendances and slow music sales. Add to this the problem of population remix among local patrons.
By 2020, for example, Birmingham is tipped to become the first black majority city in UK. Now, its population is a mix of Asians, Africans and Chinese apart from the native whites.
Hence, orchestras are ready to try anything to bring people into the concert halls. And collaborations with musicians from Asia, titled Classic Asia, are part of the mission.
For the 84 year-old CBSO, it must have been a momentous, difficult decision. They took it because their survival depends on their ability to chart new paths.
With his exposure to the UK music industry through his collaboration with Andrew Lloyd Webber, it was not a surprise that Rahman got the project.
But his botching it up is.
I believe Rahman has not been able to transcend the barrier where his own singing and others are vital for his musical pieces. Obviously, there is an inability to compose music free of the composer/performer. He seems to have attempted something for which he is not yet ready intellectually.
In the end it was totally disappointing.
Rahman's confession -- "I messed it up. Will come next time with much more preparation" -- does not redeem him at all.
Karthikeyan Nagarajan is a Chennai-based software technologist.