Dilip Kumar remained in demand all through his career because he kept reinventing himself in keeping with the changing times in Indian cinema, argues Mohammad Asim Siddiqui.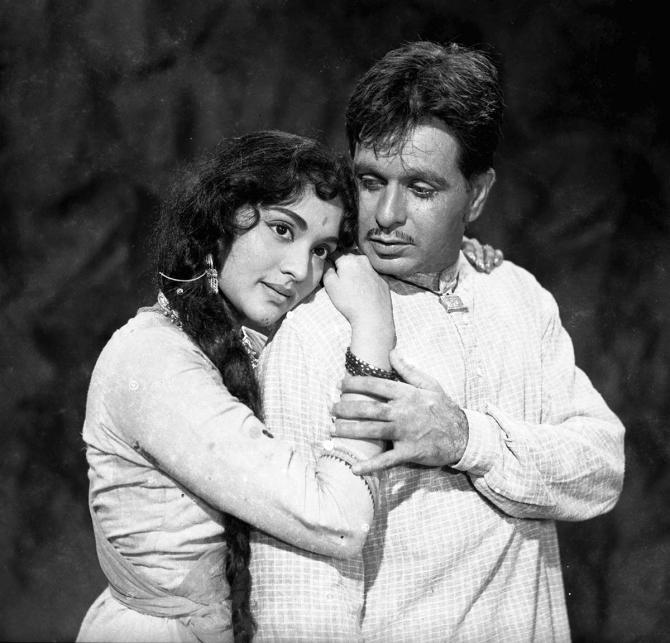 In the midst of the usual adulatory write-ups and programmes on Dilip Kumar, only a few have tried to provoke a debate about his role in Hindi cinema.
An argument which has been heard recently is his decline as an actor after Gunga Jumna(1961), or at any rate, his unwillingness after this film to try anything more meaningful and productive by way of choosing good roles and refusing to be a part of the usual stuff that Bollywood regularly churns out.
One particular write-up by Naseeruddin Shah (Indian Express, July 10) looks particularly harsh on Dilip Kumar in its tone and tenor.
Shah, undoubtedly one of the greatest actors in cinema, laments how 'much more Dilip Kumar Saheb could and should have achieved while he lived.'
He also raises the question 'whether his example as a star was worthy of emulation and whether he helped push the envelope toward progress or whether he facilitated the downward spiral of popular Hindi cinema into total star-centricity in which it wallows today.'
Shah is not impressed by the fact that Dilip Kumar worked in just fifty odd films, produced just one and didn't direct any (officially), 'never passed on the benefit of his experience, didn't bother to groom anyone, and apart from his pre-1970s performances, left behind no significant lessons for future actors.'
This strong criticism is followed by his left-handed compliment to the actor for keeping himself in public view through a strategy 'designed to place him above his peers': 'What he was truly matchless at was in creating a demand for himself, sometimes at the cost of the film he was in -- a legacy that weighs heavier on the Hindi film fraternity than his finely nuanced performances.'
Explaining his persona and mannerisms Shah believes that Dilip Kumar modeled himself on Jawaharlal Nehru.
It comes as no surprise that Shah is dismissive of his post Gunga Jumna 'self-congratulatory phase' and of a 'series of indulgent, clunky embarrassments'.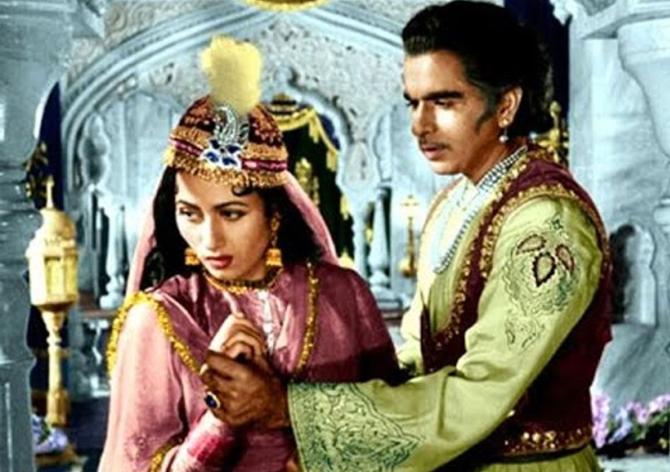 Gunga Jumna was certainly an important film in Dilip Kumar's career but he did act in both good and bad films, marked by his good and indifferent performances, even before this magnum opus.
Many of his early films like Jwar Bhata (1944), Pratima (1945), Ghar Ki Izzat (1948), Anokha Pyar (1948), Hulchul (1951), Tarana (1951) and Sangdil (1952) were pretty ordinary.
However, there was an effort on his part even in his initial phase to change the very concept of acting current in his time in Hindi films.
Many of his early films like Milan (1946), Andaz (1949) and Jogan (1950) show the success of this effort at natural acting where he stays clear of a loud, theatrical style popular at the time, a legacy of Parsi theatre
The doubt about his example being worthy of emulation is misplaced and blaming him for starting the downward spiral of cinema is untenable.
Hindi film industry has produced many stars.
However one may grudge their success the fact remains that stars are produced by the people who flock to the theatre to watch films, like their performance even in ordinary films, and expect them to play certain roles which they rather than the stars may like.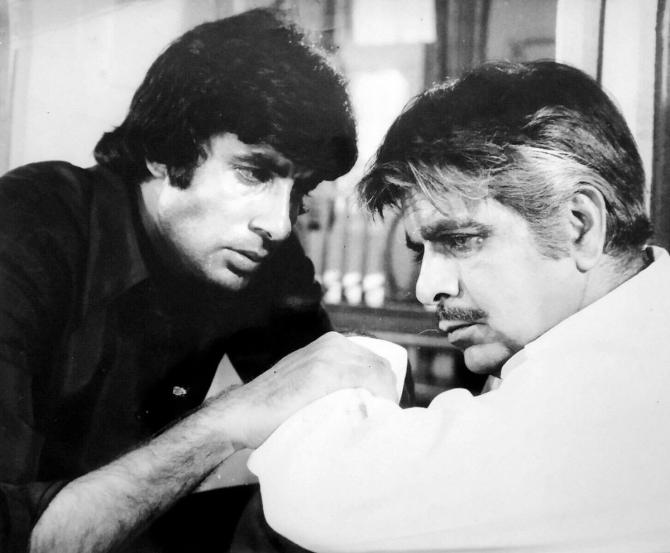 Film stars transcend barriers of caste, creed, and regions and rule the hearts of the people, Yusuf Khan aka Dilip Kumar being the most famous example of this phenomenon.
If the Hindi film industry has been dominated, sometimes by longer periods and sometimes briefly, by Dilip Kumar, Raj Kapoor, Dev Anand, Rajesh Khanna, Amitabh Bachchan and the Khans, it is because of the vast millions who love to watch their favourite star.
The benefit to learn from others' experience is a kind of open resource available to everyone in any field.
The lessons are there for everyone to learn if they watch his films, or for that matter, films of any great actor which, of course, includes Naseeruddin Shah's many films.
Dilip Kumar himself learnt the art of acting by watching Hollywood films, or learning from the natural style of his seniors like Ashok Kumar and benefiting from tips given by S. Mukherjee, and Nitin Bose whom he considered his mentor.
But he knew that he had to develop his own style, a natural style, not modeled on anyone.
If he largely stayed away from production (with the exception of Gunga Jumna) and direction, it was also because he wanted to concentrate on his acting.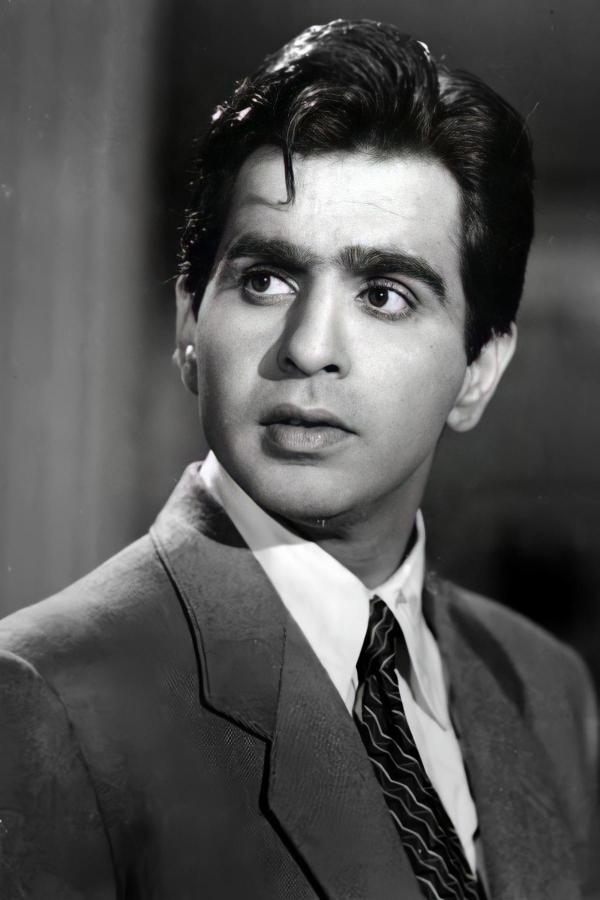 His alleged interference in the script and direction of films was largely due to his desire for perfection, a point stressed by famous directors and actors like Pran, Manoj Kumar and Subhash Ghai.
His desire for perfection was also the reason why he acted in just 60 odd films, usually working on one film at a time.
How many actors would try to spend months learning to play sitar from an ustad like he did when doing a song sequence in Kohinoor? Certainly today's accomplished actors like Aamir Khan who put their heart and soul into their films have a model in Dilip Kumar.
He has been emulated by a lot of actors because he set the benchmark for acting.
Dilip Kumar undoubtedly loved Jawaharlal Nehru and embraced Nehruvian ideals in his life and in his many films, a point sufficiently highlighted by Lord Meghnad Desai in his short book Nehru's Hero: Dilip Kumar (2004).
His own mannerisms or measured style may and may not have been modeled on Nehru who was a hero for the whole new nation, but a method actor can certainly not play Nehru foolishly in films and a simple unostentatious man like Dilip Kumar in his own life and not get caught.
Neither Dilip Kumar nor for that matter any other actor could have groomed other actors to become great.
If it were as simple to groom others as successful actors then Raj Kapoor's son Rajiv Kapoor, Dilip Kumar's nephew Ayub Khan and Aamir Khan's and Salman Khan's brothers and a countless number of privileged star sons, daughters, nephews and nieces would also have turned into great actors.
Their background can give them some initial advantage but they have to be on their own after a certain time.
If Dilip Kumar remained in demand all through his active film career, it was also due to the love of millions who loved to see him as the main protagonist in his films.
No actor can make a demand for himself, least of all sustain that demand for decades simply because of following some strategies.
There is demand for an actor in commercial films because he or she can ensure success of films. An unsuccessful star is dropped like a hot potato.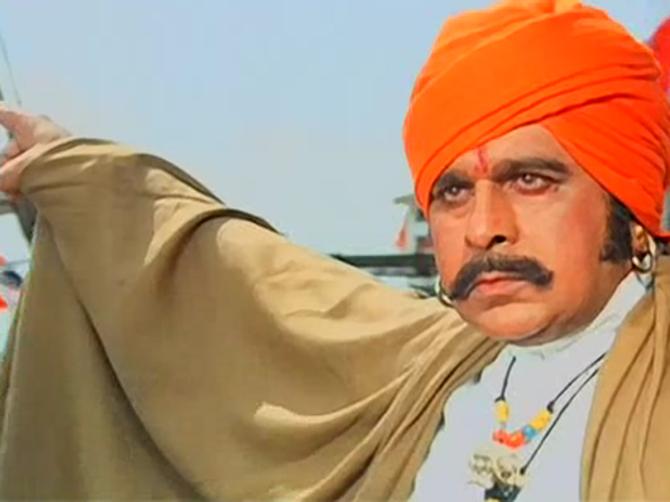 Dilip Kumar did act in some ordinary films in his second innings after Kranti (1981), but to dismiss this entire phase as self-indulgent and self-congratulatory will not be fair.
It is remarkable that of the many successful Hindi film actors only Dilip Kumar and Amitabh Bachchan have managed to carry the burden of big commercial films on their shoulders when well past their prime.
This kind of success is not achieved through strategies but through hard work, careful choices, charisma of the star, and most importantly because of that x factor which makes millions to love their star.
What explains the pathetic sightings of some of the big stars of yesteryears in small insignificant roles?
Many such stars like Ashok Kumar, Pradeep Kumar, Bharat Bhushan, Shashi Kapoor, Vinod Khanna and Anil Dhawan have appeared in small insignificant roles in their later phase.
Not Dilip Kumar and Amitabh Bachchan ever.
In an insightful, short paragraph Naseeruddin Shah talks about paradoxes of acting.
Interestingly some of these paradoxes can provide a clue to what Dilip Kumar did so well in his later phase especially in four of his films, Shakti (1982), Vidhata (1982), Mazdoor (1983) and Mashal (1984).
Thus when an honest and upright editor Vinod Kumar (Dilip Kumar) explains to a misguided, petty delinquent Raja (Anil Kapoor) why he did not identify him and his gang before the police or when he slaps a big business tycoon cum criminal Vardhan (Amrish Puri) in his shabby newspaper office for offering him bribe, and most importantly in that famous scene on the street when he tries to stop vehicles to take his dying wife (Waheeda Rehman) to a hospital, he is both oblivious to and keenly aware of his audience.
He is addressing the characters before him but his focus is also very much on the audience and the audience feel it, hence the powerful impact of these scenes and their afterlife on the social media.
These scenes become ludicrous when copied or parodied by lesser actors or by amateurs in schools and colleges because Dilip Kumar could carry them off, not others.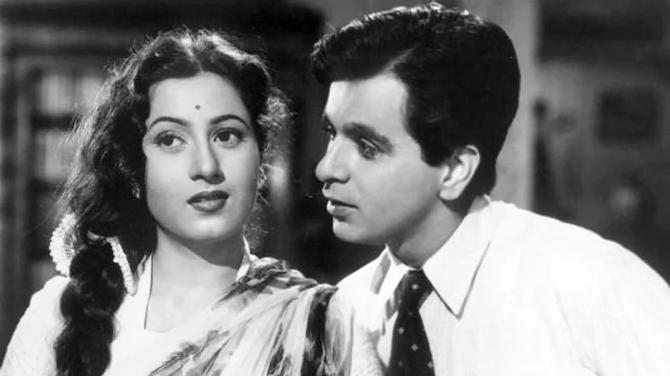 In the same way in all his key encounters with his son Vijay (Amitabh Bachchan) or his scenes with his wife Sheetal (Rakhi) in Shakti, Dilip Kumar the actor seems aware that he is playing that character, both the actor and the character existing in a fine balance in the figure of Ashwini Kumar (Dilip Kumar).
Salim Khan, one of the writers of Shakti along with Javed Akhtar, praised him for adding a new dimension to the character of Ashwini Kumar: 'It happens very rarely that you have a competent script and the film goes beyond what you imagined. Dilip Kumar understood the character and enhanced it his own way' (quoted by Sanjit Narwekar in The Last Emperor,2006).
In fact, early in his career while working on Milan with Nitin Bose he learnt a lesson that an actor brings something extra to a character.
Dilip Kumar remained in demand all through his career because he kept reinventing himself in keeping with the changing times in the history of Indian cinema.
The tragic, defeated lover of the early phase when India was just coming out of the yoke of foreign rule will appear a more confident figure in films like Gunga Jumna, Ram Aur Shyam (1967) and Aadmi( 1968) in his middle phase.
In his last phase he had to prove himself at a time when action heroes, led by Amitabh Bachchan, ruled the film industry.
That he could bag lead roles and deliver nuanced performances in Shakti, Vidhaata, Mazdoor, and Mashaal in this phase is a sign of his genius.
From the sophisticated and urbane manager of the business of a rich family in Andaz to the rebel dacoit in Gunga Jumna who speaks the lingo of eastern Uttar Pradesh with perfection, to a Haryanvi-speaking patriarch Veer Singh in Saudagar, Dilip Kumar's has been the most remarkable journey in the Hindi film industry.
Mohammad Asim Siddiqui is Professor in the Department of English at Aligarh Muslim University.
Feature Presentation: Aslam Hunani/Rediff.com