The recently released poster Mental Hai Kya is like abuse aimed at those who are fighting a disorder that demands support and social understanding, says Tarun Vijay, the former BJP MP.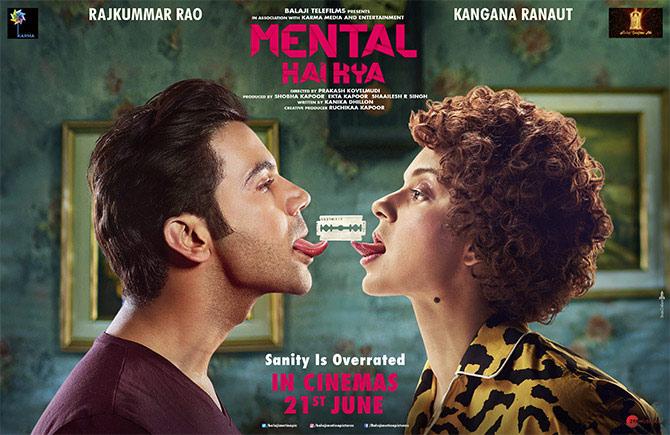 In India, the stigma attached to mental disorders is so severe that some parents feel compelled to hide such children from society in order to save their family's 'honour'.
They even refuse to get professional help.
I have seen cases in Dehradun where parents have abandoned such children in a mental hospital and never returned.
In this same country, the recently released poster of a film, Mental Hai Kya, is like an abuse aimed at those who are fighting a disorder that demands support and social understanding.
India may boast of a great civilisation and culture, but when it come to serving people in distress -- especially those who are mentally challenged -- we can count ourselves among the worst.
The World Health Organisation estimates that, in India, the burden of mental health problems is of the tune of 2,443 DALYs per 100,000 population and the age-adjusted suicide rate per 100,000 population is 21.1.
(DALYS, or disability-adjusted life years, is the summary measure used to give an indication of overall burden of disease. One DALY represents the loss of the equivalent of one year of full health.)
WHO also estimates that, between 2012 and 2030, the economic loss in India due to mental health conditions is 1.03 trillions of 2010 dollars.
It also says that India has only 0.3 psychiatrists, 0.12 nurses, 0.07 psychologists and 0.07 social workers per 100,000 population in its mental health workforce.
This is not surprising at all.
Many in India think a mental disorder is the result of one's karma -- bad deeds that one committed in a past life -- so why worry?
Besides, the deadliest abuses we hear are the harm that can be committed to women or ones raise questions about the other's mental equilibrium.
'Agra bhej doonga (I'll send you to Agra)' is common abuse and it refers to India's most well-known mental hospital, which is located in Agra.
Which is why it must not come as a shock that mental health and people with mental disabilities are never part of any party's political agenda. After all, they are voiceless, politically insignificant people. No one wants to waste time on them.
Even the bureaucratic world thinks a transfer to social welfare or the section dealing with mental disorders is a punishment because some mantri was unhappy. Of course, there are exceptions... officers who go the extra mile to implement schemes for the mentally challenged.
Overall, though, the situation is pathetic. There is no social help for parents of mentally challenged children.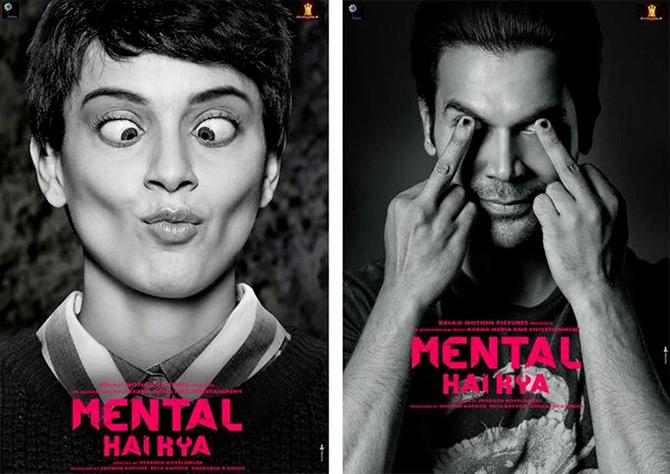 The movie, Mental Hai Kya, is certainly going to increase the woes of those trying to cope with the stigma attached to their disorders. As a result, they may feel more depressed and it could increase the number of suicides.
But who cares about all that in the din of electoral victory and defeat?
Very few schools implement the Disabilities Act. Hardly any neta or officer cares to ensure it is done.
Mental health remains 'untouchable' in politics.
The makers of the film must be happy with the controversy; it has given them free publicity.
Power drunk people who think they can influence people in power often commit such brazen violations.
No one believes the censor board will take note of the objections raised by the Indian Medical Association or people who have some sensitivity for citizens' rights.
The movie, if released, will have a terrible impact on those suffering from mental disorders -- it is like mocking them in public to make some money.
For once, we must ignore the politics and make sure the censor board does not let the movie release with this title.
To ensure a just decision in a democracy, one shouldn't have to politically powerful or resort to violence.
Decent dialogue and a civil protest must be enough to awaken the authorities to reason.
Tarun Vijay, former BJP MP, was the chief editor of the RSS weekly, Panchjanya, for 20 years.