'We (Indians) have a highly judgmental sort of culture.'
'People want to seek counseling, but don't want others to know about it.'
'The typical Indian male is supposed to be tough. He's expected not to cry or express himself.'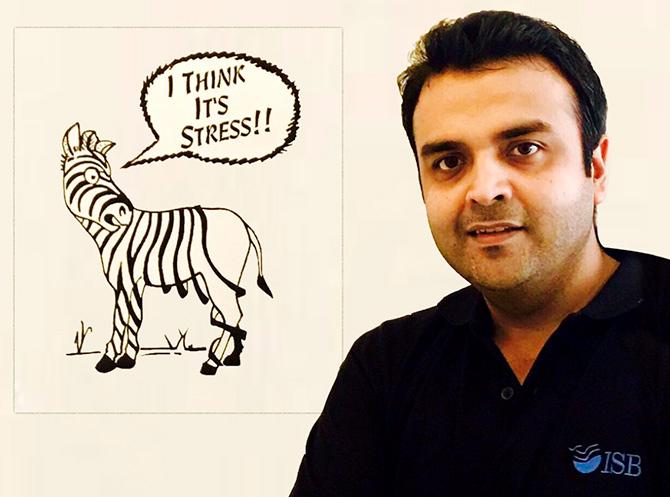 Photograph: Courtesy Vikram Beri
Back in 2015, when Vikram Beri dropped off his psychologist wife to work one day, he was baffled seeing the the location of the clinic.
Despite being run by a renowned psychologist, the clinic was situated in a shabby location.
A confused Vikram questioned his wife about it, and her answer surprised him.
"She told me that people preferred to come to that area because the chances of them being seen there were much lesser.
"In India people like to keep these things low profile because they fear being judged," he says.
"If you have to tell someone that you're seeing a counselor or shrink, people will immediately ask what's wrong with you.
"When it comes to meeting a therapist or psychologist for basic help or even chronic cases, people choose to avoid discussing it," he adds.
That's when Vikram thought what if there was an anonymous online platform where people could come to seek help without disclosing their identity.
"For example, on a chat, you don't even have a voice. On a call, you have a voice, but don't need a name. You can choose a screen name," he explains.
That was how BetterLYF started. Today, the helpline answers around 100-150 calls in a day, and attends to around 150-200 chats.
How the helpline works?
BetterLYF is an instant platform, which means when you go to the website, a chat box opens and you can start chatting right away.
If you have to share a concern, you just need to share it.
Their representatives will try and get a better idea of your concern to understand better whether they can help you or not.
If they feel that we can help you, they will connect you to a counselor via chat, over a call or a video chat.
The price for each of these services varies according to the time of the sessions.
"Different kinds of people call at different times. A homemaker might reach out during the day, while somebody who is working would call us during the lunch break or after work."
"Our peak hours are during 1 to 3 pm, 5 to 8 pm and then from 10 to 2 am.
"Students and people below 25 years of age, usually talk to us late in the night," reveals Vikram.
Earlier the helpline operated only till 11 pm, but now BetterLYF have moved to a 24 hour service purely because of the volume spikes during late evenings and early in the morning.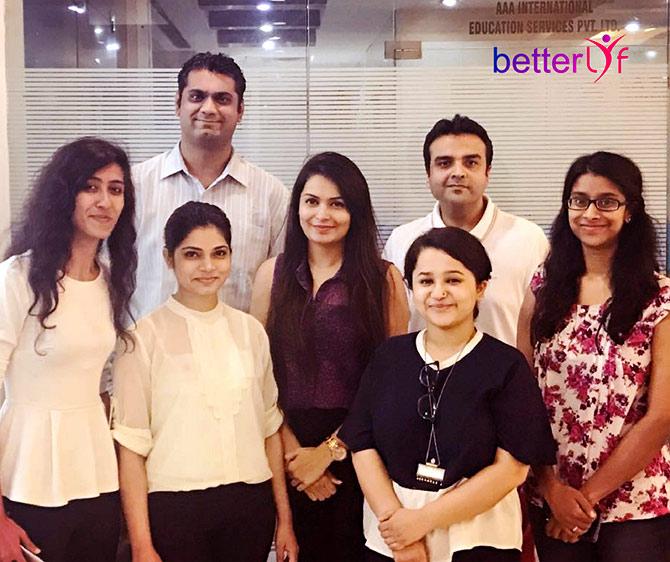 The team
BetterLYF has a team of 14 people, with the majority being psychologists.
All psychologists have a masters degree in clinical or counseling psychology.
"They are trained extensively for a month and shadow other psychologists. Only then they get ready to help people," says Vikram.
Through the website, the team helps people deal with stress in various walks of their personal and professional life.
It could be problems relating to the 'self' like lack of confidence, anxiety, problematic social interactions, getting along with people, etc.
Or even relationship stress caused due to problems at home, a breakup, divorce or child custody concerns.
Getting settled into a new job can be very stressful at times, especially if you are relocating and need to settle into a new culture.
"Our third area is the stress that results from settling into a new work environment, relocating, trying to cope up with work and promotion-related stress."
They also try and help people who are depressed, suffer from insomnia and problems like inability to eat. To maintain anonymity each user is given a unique ID and password.
The team of trained psychologists give people therapy by understanding their concerns and trying to help them do away with their negative and irrational thoughts say Vikram, who dipped into his savings to fund the helpline.
"Initially we didn't charge for the first session. There were people who didn't come back after the free session, because they didn't want to pay. But the ones who came back, stayed longer."
Being passionate about helping people
Vikram did his engineering in the US, worked in a consultancy firm, and then moved back to India.
His first job was as a consultant with Deloitte in Chicago.
"I joined the family business and did a year-long MBA with ISB, Hyderabad," he says.
"But I was always very excited about psychology.
"I had been reading books on psychology and philosophy, and I found helping people out a very satisfying experience.
"When I moved to the USA and was settling into a new culture, I felt home sick. I figured that having a sounding board or getting a new perspective would have really helped me get out of it.
"Stress is something that affects all of us. I thought that it is something that almost everyone struggles with at some point in life and that's what really got me on board."
Indians and counseling
According to Vikram, people who seek counseling or help, don't want others to know about it. "They need help, are willing to pay for it too, but will not discuss it with friends."
"We (Indians) probably have a highly judgmental sort of culture," says Vikram.
"We literally go into people's lives and try to know so much about them. However, if there is a slight thing about them that doesn't meet our expectations then we start judging them.
"You have a lot of moral policing in India. If someone gets divorced, there is a big stigma attached to that. We don't give each other that space and understanding."
He feels that there is no room to make a mistakes, come back and realize it in India. That for him is a big challenge.
"I hope as a nation we become more progressive and can change that mentality," he adds.
Another concern that keeps coming up with Vikram's clients is how do people tell their friends that they are meeting a shrink?
"We are getting a lot of concerns about it. Also with kids, people are so possessive. At times parents whose kids have a learning disability, don't even want to accept it."
The real picture
Throwing light on some interesting statistics, Vikram admits that from the calls BetterLYF receives, 44 per cent are from men. The remaining 56 per cent are from women.
"It was quite surprising for us, because we thought men would not open up easily. The typical Indian male is supposed to be tough, not cry and not express himself."
Moreover, 34 per cent of the people reaching out to BetterLYF do it for relationship problems, while 22 per cent reach out to talk about themselves.
"It could be about becoming more confident or dealing with anxiety," reveals the entrepreneur.
"28 per cent talk about their work and have confessed that when the balance in their life is disrupted, because of the problems in their relationship, they are likely to not perform at work, and vice versa."
Tips to deal with stress
According to Vikram, the first step is acceptance. "Understand that things can go wrong and can be beyond your control," he says.
"Second: Find the courage to talk about it. Just by doing these two things well, getting help becomes fairly easy.
"When you are stressed out or are anxious, you develop an irrational thought.
"You make assumptions and if you just keep these things to yourself, and not talk about it, you will develop more complications in your relationship.
"That irrational thought is something that you really need to work on."
Ask him if people find it difficult to trust shrinks easily, and Vikram replies in the negative.
"That's something we struggled with initially because people didn't know us. Earlier we didn't have our counselor profiles on the website, but now we do."