Did you know Rani Mukerji was only 17 when she starred in Kuch Kuch Hota Hai?
Or that Shah Rukh Khan's son Aryan was born soon after the song Koi Mil Gaya was shot?
Interesting KKHH trivia, 20 years after it made history.
Photographs: Hitesh Harisinghani/Rediff.com
Videos: Afsar Dayatar/Rediff.com
After Shah Rukh Khan's Dilwale Dulhaniya Le Jayege and Aamir Khan's Andaz Apna Apna turned 20, it was time for Karan Johar to celebrate the landmark birthday of his blockbuster debut Kuch Kuch Hota Hota on October 16.
Of course, everyone was at hand to celebrate.
The superstar cast -- Shah Rukh Khan, Kajol and Rani Mukerji -- took the stage along with KJo, and looked back at their memories while shooting it.
The red carpet saw a lot of glamour as well.
Scenes from the event: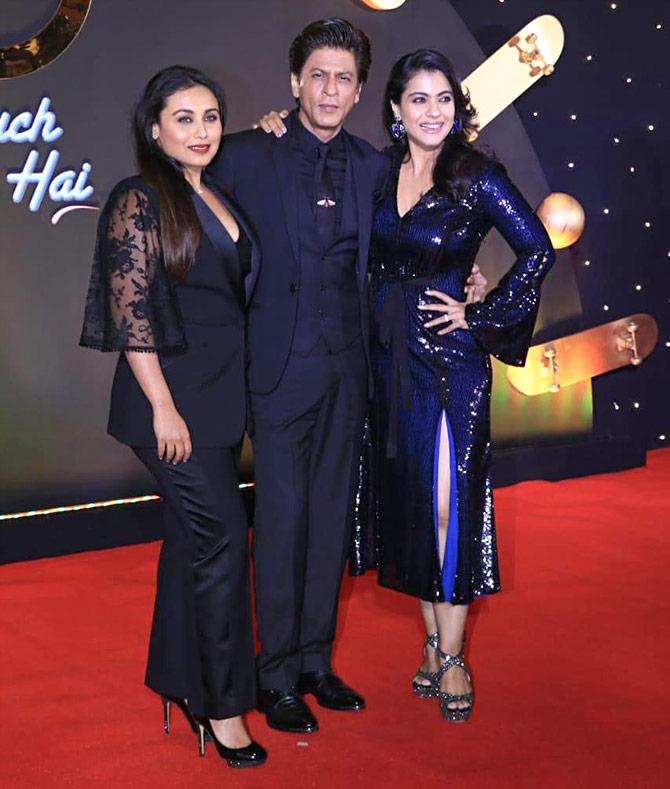 Rani, Shah Rukh and Kajol.
At the event, the stars and director Karan Johar revealed some priceless nuggets about the film.
Karan recalled that he narrated the script to Shah Rukh on the sets of Mahesh Bhatt's Chahat.
"I don't listen to scripts; I listen to the heart beats of the people I work with. Till today, I have never understood scripts; I have understood the script-maker or the film-maker," Shah Rukh declared with his expected flamboyance.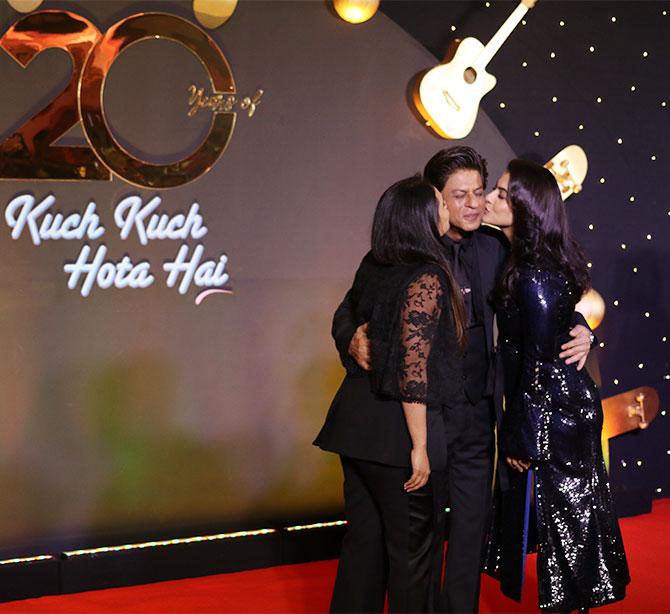 "I am extremely lucky to be kissed on both cheeks simultaneously every time I meet Kajol and Rani. No man in the world has that luck," Shah Rukh said with a grin.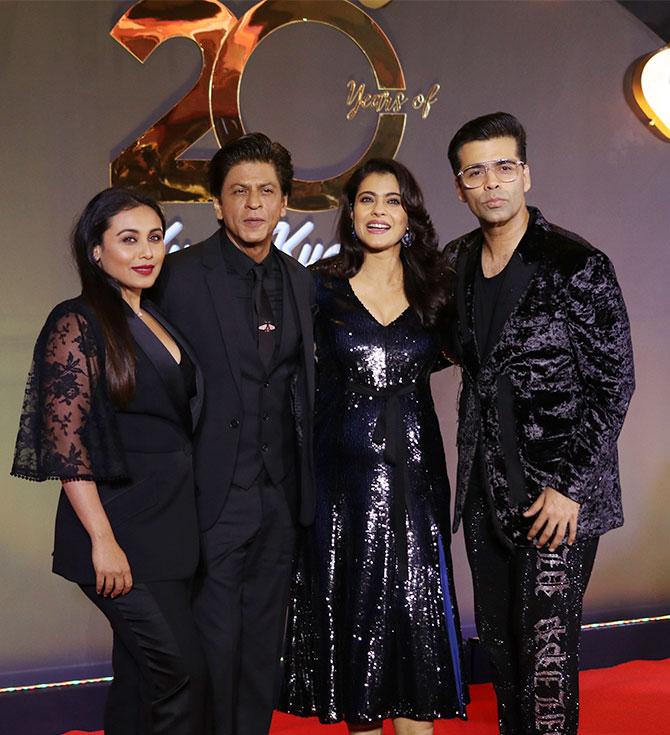 Before the KKHH shoot began, Hiroo Johar, Karan's mum, told Shah Rukh to take care of her boy.
"'Dekh lena Karan camera koi achchi jagah par rakh le (See that Karan keeps the camera at the right spot) she said. And that's what I kept looking at while shooting the film, and that's why it's looking so good," Shah Rukh said, drawing much laughter.
"The script was crap and nonsense, not like the film you finally saw. Karan is a man of many words, and has the gift of the gab, and he actually thought he had impressed me with his crap story!" Shah Rukh exclaimed.
Later, Kajol and Karan came into his room, and kept 'crying and narrating the script.'
Watch Shah Rukh imitate the way Kajol and Karan narrated the script to him.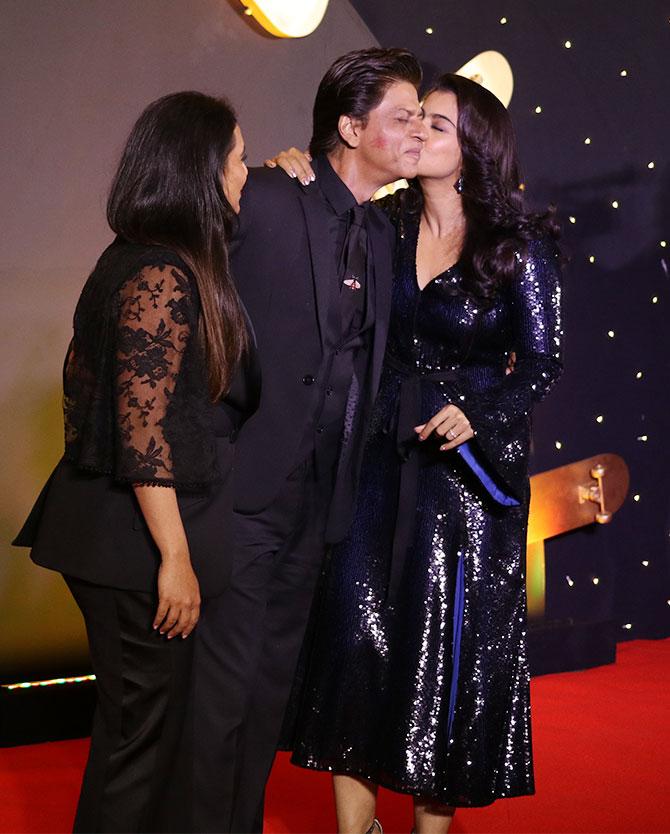 "People think I'm a Yash Raj heroine, but the first family I made in the industry was Dharma," Rani said about Karan's studio.
"I take full credit for you, Rani!" Karan replied.
Rani spoke about the film and recalled how Karan would "harass" her and snatch her breakfast away!
"We called room service and told them not to give her food!" Karan said with a laugh.
And then, there was the time when Manish Malhotra, who was KKHH's costume designer, snatched Rani's mother Krishna's mangalsutra!
Karan tells us why in the video below: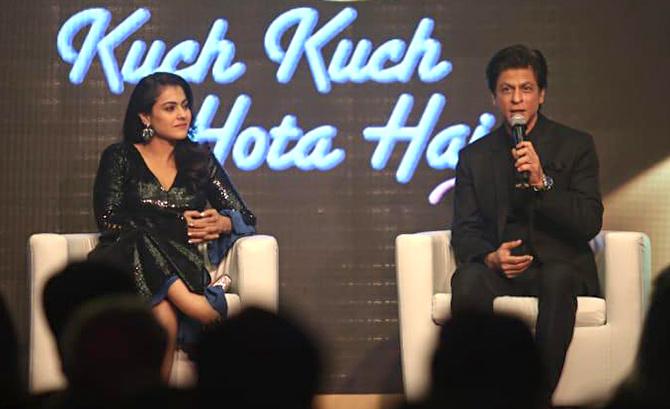 'Bhai', as Karan calls Shah Rukh, narrates an incident when Kajol 'lost' her memory, and they tried to convince her that she was a background dancer!
Watch him tell the story: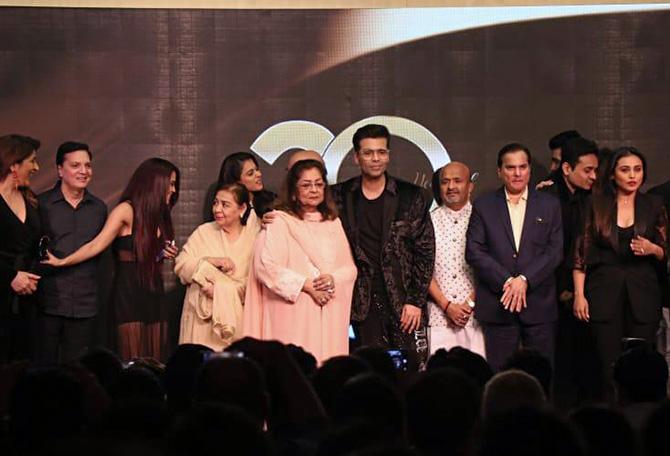 Kajol, composers Jatin-Lalit, Farida Jalal who played Shah Rukh's mummy, Hiroo Johar, Karan's mummy, Karan, lyricist Sameer and Rani.
"I suggested Rani to two people: Karan, and she became a Dharma heroine, and Adi, who married her!" Shah Rukh said, making everyone laugh.
Watch this video below to see how Rani made Shah Rukh blush!