Since the Budget announcement on July 5, FIIs have been busy unloading their stock.
Prasanna D Zore finds out what is spooking FIIs.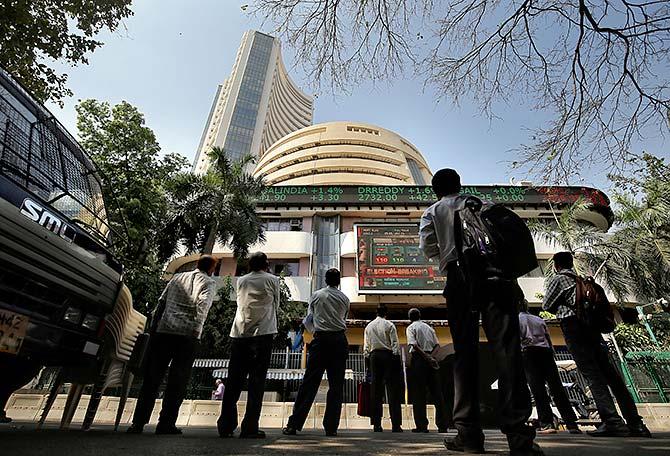 Against Foreign Institutional Investor inflows of Rs 58,000 crore (Rs 580 billion) between January and April 2019, these entities have sold Rs 8,500 crore (rs 85 billion) of Indian equities between May and July 18, 2019.
A bulk of this dumping -- Rs 5,500 crore (Rs 55 billion) -- was witnessed soon after the Budget announcement on July 5 and July 18.
So, why are the FIIs selling?
The 50-stock NSE Nifty has lost almost 4.4% since Budget day, July 5, and foreign institutional investors have sold more than Rs 5,500 crore worth of stocks this month till date.
So, what explains this sudden change in market sentiment, where the FIIs, who had purchased stocks worth Rs 58,000 crore between January and April, have suddenly become net sellers to the tune of Rs 8,500 crore since then?
"I think the FIIs are wanting to sell this market," says Deven Choksey of KR Choksey, a stockbroking firm, attributing FII selling to the crash the markets saw on Friday, July 19.
While the bellwether BSE Sensex dove 560 points, or 1.44%, the NSE Nifty shaved off 170 points or 1.48%.
The Bank Nifty, an index dominated by private sector banks and fewer public sector banks, saw a sharper selloff tanking 2.2% or 660 points.
India VIX, a gauge of market volatility or fear among market participants, spiked 6% on July 19, indicating the mood in the market.
Similar fear had gripped the market on July 8 when India VIX had jumped 6%, a day after Finance Minister Nirmala Sitharaman's Budget proposed to tax the super rich and foreign portfolio investors.
"The banks were stemming the selling till now, but since yesterday (Thursday, July 18) banks too are witnessing some serious selling," says Ajit Mishra, vice president, research, Religare Securities, who feels that tax treatment of FPIs and the super tax rich could be one of the reasons why FIIs are selling.
Lack of earning positives is the fundamental reason why FIIs are selling in the market, Mishra adds.
"The overall sentiment is turning negative gradually. There are no positive cues so far. Earnings so far have been a mixed bag; except Infosys no other IT major has surprised positively. Earlier, we saw selling only in midcaps and smallcaps, but selling has now spread to index heavyweights as seen by spontaneous FII selling," Mishra explains.
Mishra, however, believes that the overall trend is still bullish.
"Going ahead, the correction in the indices may pause, but stock-specific decline will continue for some more time till earnings clarity emerges. There could be selling across the board," he says.
In fact, all the sectoral indices -- auto, metal, pharma, realty, etc -- and broad market indices -- Nifty MIDCAP 100, Nifty SMLCAP 100, Nifty 200, Nifty 500, etc -- ended deep in the red as markets closed last week in the red.
Choksey blames tax proposals in the Budget for FPIs and the super rich for spooking the market sentiment.
"They have not been helped by yesterday's statement in Parliament. That has only added fuel to the fire," says Choksey about Sitharaman's statement on July 18 that FPIs changing their structure to companies will not be affected by the super rich tax.
On July 5, the finance minister proposed to increase the surcharge on income tax of individuals earning between Rs 2 crore (Rs 20 million) and Rs 5 crore (Rs 50 million) to 25% from 15% and a hike in surcharge to 37% from 15% on individual taxpayers making more than Rs 5 crore. So far they were paying only 15% as surcharge.
Most FPIs fit in these two categories.
These proposals were part of the Finance Bill that was passed in Parliament on Thursday, July 18.