With SpiceJet, if some of the mistakes made in the past are rectified, things can be turned around quite quickly.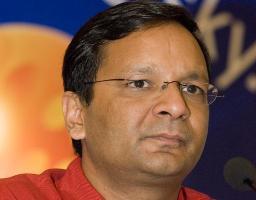 Why would you want to take on all the headaches that come with trying to revive a struggling company, in this case an airline, rather than just set up a new one?
That's the question Ajay Singh, former board member and shareholder of the airline -- who is trying to salvage the situation for low fare carrier SpiceJet (he spent three days last week in the airline's Gurgaon office trying to assess the situation) -- is being asked every day and the one he's trying to answer to others and to himself.
Here's his logic, according to sources involved closely in the process. Starting a new airline is not going to be as easy.
It is not so easy to grow.
You start with two or three planes and it takes some years to reach even a reasonable size.
Air Asia, for instance, took over one year to get off the ground and even now has only two aircraft.
With SpiceJet, if some of the mistakes made in the past are rectified, things can be turned around quite quickly.
Lessors of SpiceJet have in panic taken back some aircraft but if they see fresh investors coming in and taking charge, they are likely to relent and return the planes.
It's not as if they have ready customers waiting to take what has been returned.
SpiceJet has good flying slots, airport space and employees -- pilots, crew, engineering staff -- are all in place.
It has the aircraft (some Boeings and at least 15 Q400s).
And, sources say, he argues it is not in 'as bad a shape as Kingfisher' when that went under.
Yes, it has lost some credibility in the last month or so but nothing that can't be salvaged.
Besides, it will be an exciting challenge.
There's also an emotional connect since Singh is rescuing the airline he named, ran for a bit, has been closely associated with for years, been on the board of and has an intimate knowledge since inception in 2004-05.
Shouldn't he get the airline for virtually free considering the shape it's in? The total financial liability is in the range of Rs 1,295 crore (Rs 12.95 billion). Lessors need to be paid around Rs 300 crore or $50 million.
Airports Authority of India's dues are Rs 270 crore or Rs 2.7 billion (the airline has recently given them a Rs 10-crore or Rs 100-million letter of credit).
Dues to vendors (engineering, catering and so on) are in the range of Rs 400 crore (Rs 4 billion).
About Rs 100 crore (Rs 1 billion) still needs to be deposited towards tax deducted at source with the income tax department.
Salary dues are Rs 25 crore (Rs 250 million). There are no dues to oil companies.
There is red ink all over its books but its debts look meagre compared with Kingfisher's Rs 7,000 crore (Rs 70 billion).
Losses adding up to Rs 2,200 crore (Rs 22 billion) also look insignificant compared with KFA's when it suspended operations.
It's not clear what will be done with the Q400s which many, including Singh, think was a mistake.
Besides, a poor maintenance support contract, adding a second aircraft to the fleet escalates all kind of costs and is a move away from the typical low fare model.
Many feel he should get the airline for free considering the shape it is in but it is unlikely that Kalanithi Maran, who sources say Singh has spoken to only once while this entire deal is being brokered -- wants some return for the 'opportunity' -- the one he could not himself capitalise on.
Sources say Singh is ready to invest almost Rs 200 crore (Rs 2 billion) from personal funds (His second investment in the airline. He had invested in it in 2004) and is busy trying to rope in some private equity investors for another Rs 1,000-1,200 crore (Rs 10-12 billion).
As of now, most of Singh's dealing is being done by S L Narayanan, the chief financial officer for the Sun Group.
Due-diligence is currently on both by Singh and some PE investors who remain unnamed.
When contacted, Singh refused to part with details of what will be paid to Maran for this 'opportunity'.
But it certainly will be a fraction of what Maran has ended spending (Rs 1,700-Rs 800 crore or Rs 17 billion-8 billion) on his misadventure.
Is Singh biting off more than he can chew ? He himself might not know the answer to that but there seems little harm in trying. It is the first ray of hope for employees, fliers, the government, you and me.
Image: Ajay Singh; Photograph: Reuters