When its founder Raghunandan Kamath took a calculated risk, his Bollywood customers backed him all the way, Rohith Potti and Pooja Bhula says in this excerpt from Intelligent Fanatics Of India .
Illustration: Dominic Xavier/Rediff.com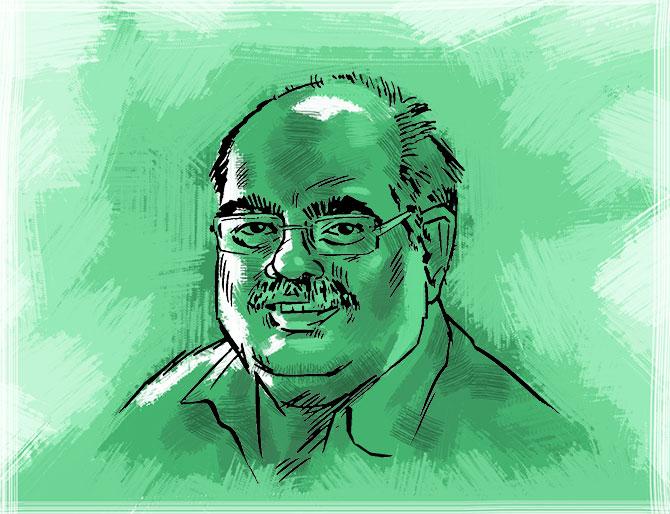 Naturals has stubbornly stuck to its niche.
From the very beginning, (Raghunandan) Kamath (founder of Natural Ice Cream) has kept his quality high and its ice creams artisanal. No artificial flavouring, colours, or preservatives are used.
Over the years, he has created more than one hundred flavours and, at any given time, his parlours stock 21 flavours, 65% of which are fruit-based.
Naturals is one of the few ice cream brands in the world to offer that many fruit flavours.
The brand has won numerous awards for its supply chain efficiency, excellence in franchisee and food retail service, and consumer preference.
Today, Naturals's franchisees enjoy the highest revenues in the parlour segment compared to competitors, including international giants like Baskin-Robbins and Haagen-Dazs.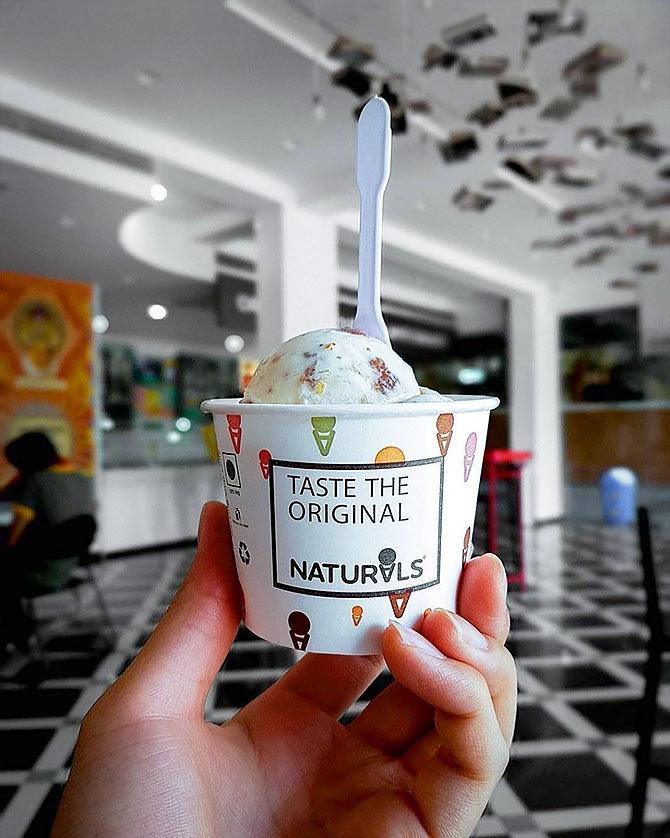 Early life: Academic failures and real-life education
During sweltering summers, the fragrance of mangoes would signal the time for Srinivas Kamath, Raghunandan's father, to pick the most perfectly ripened ones and sell them to vendors at the market.
Srinivas, a merchant from the Puttur village of Mulki in Karnataka, was so fond of fruit that he grew a variety on the one-acre of land around his mud-and-straw house, where he lived with his wife, Shantabai, and seven children.
Watching his father, this love for fruit began blossoming in little Raghunandan's heart, the couple's youngest child (born in 1954).
But passion doesn't guarantee profit. Kamath said, "The produce was seasonal and there were lots of issues like theft, shortage of workers and bad payments."
"We lost two siblings because the village didn't have adequate maternity services; sometimes seven to eight people in the family had typhoid, but there was no money to medicate them."
Despite financial strain, the kids were put in the only school in the village.
"But there was no one to check our progress. As a child, you just want to play and have fun, so I spent a lot of time in the forest, removing cashews from trees, taking animals to graze... I lived the village life fully," said Kamath nostalgically.
Further negligence of his studies occurred during long getaways to Bombay (now Mumbai) for his sisters's weddings.
As a result, he failed the seventh grade twice.
Because food was the only source of entertainment, Raghunandan and his siblings spent much of their time watching their mother in the kitchen.
His appreciation and observation of her techniques and ethos played a key role in decisions he made later with Naturals.
At 12 years of age, in 1966, Raghunandan moved to Bombay to stay with his brothers. The brothers had moved before his arrival, to work in the hospitality industry.
Unable to catch up with the English curriculum in Bombay, Kamath flunked his tenth board exams three times, eventually giving up.
By then, his brothers had started a small Udipi -- one of many South Indian eateries opened by those from Udupi, a town in Karnataka -- called Gokul, which served ice cream along with regular fare such as idli, dosa, and the like.
Ice cream was a small, less important part of their business.
Perceiving Raghunandan as young and careless because of his playfulness and poor academic performance, his brothers asked him to sell ice cream rather than offering him important responsibilities.
But there was nothing insignificant about ice cream in Raghunandan's mind. He believed that, while all Mangaloreans in Bombay involved in hospitality were opening Udipis, Gokul should create a niche with ice creams.
"I wanted to do something different. But my brothers didn't take me seriously and I didn't have the confidence to argue back at that time," he shared.
Finally, in 1983, after he married at age 29 (considered late in India then), he found the courage to back his business vision.
"My brothers were planning a separation. I took full advantage of the independence, borrowed Rs 3.5 lakh from my brothers and friends and decided to start the venture," he chuckled.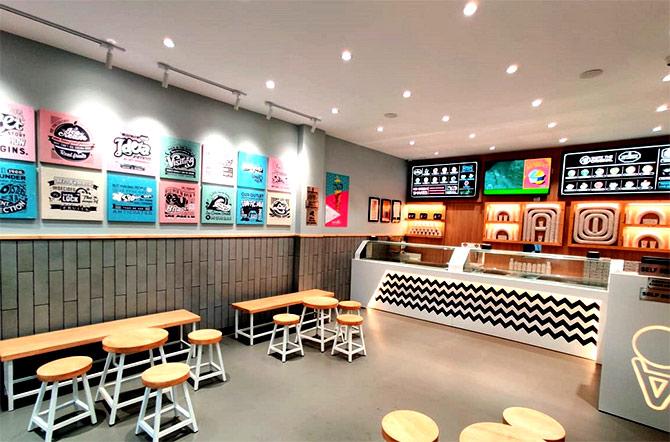 The Birth of Naturals Ice Cream
In the pre-liberalised decade of the 1980s, ice creams were a luxury. The comparable and accessible frozen dessert was the homegrown kulfi.
In the branded segment, there was Vadilal, Kwality, Joy, and Volga.
But ice cream was largely served at restaurants. Parlours were almost non-existent back then. Bombay only had one, Yankee Doodle, which wasn't a stand-alone parlour but part of Hotel Natraj.
Despite this, Kamath made the bold decision to start an ice cream parlour.
He said, "You needed a different type of clientele (well exposed and moneyed) to walk in for ice creams. I knew I'd find them in Juhu (a posh western Mumbai suburb, where many Bollywood film folk stay) and decided to open my shop there."
Juhu Koliwada, where he opened the 400-square-foot store, had lower property rates and was tucked away from the main Juhu area.
The location had adequate parking, which was crucial back then, because customers preferred being served in their cars.
But still, he worried, 'What if the concept works today and not tomorrow? What if people don't walk in just for ice creams because there's no such culture?'
To hedge against such a risk, Kamath also sold pav bhaji with the ice creams.
"Because it's spicy and served hot, people were bound to enjoy a cool dessert after it. That's how I introduced them to my ice creams."
Initially, Naturals offered five flavors -- sitaphal (custard apple), kaju-draksh (cashew-raisin), mango, chocolate and strawberry.
Production happened in the back of the shop and the 200-square-foot front-facing area was used for serving. For seating, there were six tables in the verandah.
The pav bhaji -- ice cream strategy worked so well that, in a year, he reached revenues of Rs 5 lakhs.
But Kamath wasn't satisfied.
"My concern was what if pav bhaji gains more prominence than ice creams? I wanted to elevate the status of ice creams. They are the best medium to bring out the beauty of fruits."
So, in 1985, he took a leap of faith and stopped serving pav bhaji.
With this decision, he not only ended up creating a new niche of natural ice creams -- made of three simple ingredients: Milk, sugar, and fruit -- but also introduced the concept of an exclusive ice cream parlour in Bombay.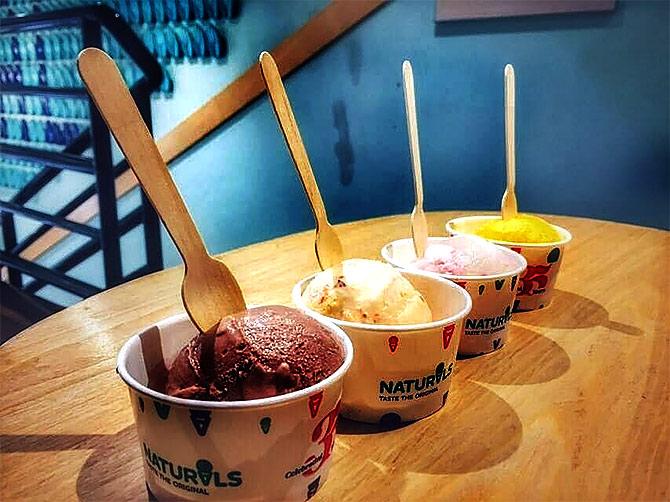 Customer obsession -- the hallmark of great businesses
As Kamath had anticipated, the right kind of people became customers of the parlour.
Bollywood celebrities like Dimple Kapadia, Jaya Bachchan, Raj Kapoor, Shabana Azmi, and others became customers.
Well-exposed and well-travelled, his clients would suggest flavours, and they gave Kamath business tips too.
He said: "Customers would come and share 'We had gone to this country and tried this flavour', so we gradually added flavors like watermelon, musk melon, and others."
"Everyone only did Alphonso mango, but I also started making another variety, calling it pickled mango."
"A customer suggested we call it Wild Mango. It sounded attractive, and people loved the taste so much that Wild Mango sold more than Alphonso."
"Customers are the best teachers."
When he joined the business, in 1992, Girish Pai, Kamath's nephew, witnessed this customer focus too.
He said: "All flavours were freshly made every day. We never stocked for more than two days."
"One time a customer recommended shandukani kismis (raisins), which were bigger and better. Kamath sir immediately checked it out and started using it. He would make a record of good suggestions and immediately encash them."
Excerpted from Intelligent Fanatics Of India by Rohith Potti and Pooja Bhula, with the kind permission of the publishers, Intelligent Fanatics Publication.