'More and more young chefs, instead of inventing new things, are exploring more deeply inside India,' Indian Accent's Manish Mehrotra tells Rahul Jacob.
Illustration: Dominic Xavier/Rediff.com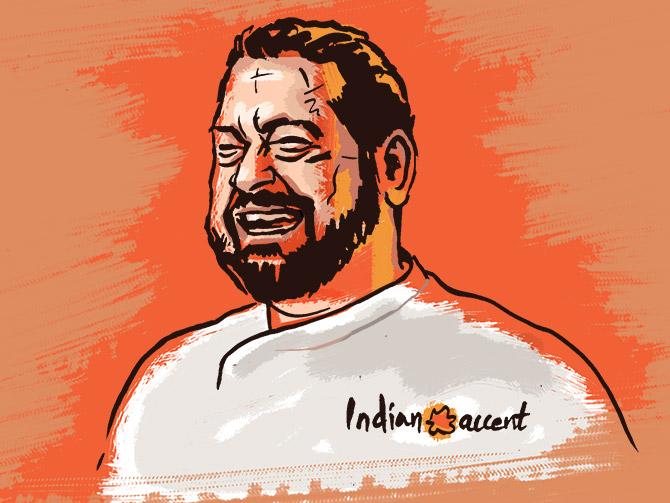 My first meeting with Manish Mehrotra at his acclaimed restaurant Indian Accent a few years ago was inauspicious.
The managing director for Asia of my former employer, The Financial Times, visiting from Hong Kong, had asked me to book a table.
After repeated calls, I finally secured a table for the second dinner sitting.
We duly arrived -- to find the restaurant a third empty because of a number of no-show customers.
Dinner, however, was delicious, featuring Western-style plating and their style of distilling sauces melded with Indian regional cuisines.
When Mehrotra came by for his customary post-dinner chat, the rest of the table complimented the food, but I grumbled that the restaurant should adopt the policy of high-end restaurants overseas and simply take credit card details when people booked and charge for no-shows.
Mehrotra laughed and disarmingly replied that in Delhi, people would soon be shouting down the phone: "Do you know who my father is?"
Since then, Mehrotra's Indian Accent has opened outposts in London and New York and made a move last year to a more accessible location at The Lodi in New Delhi.
He remains a celebrated chef -- without the trappings of celebrity.
He mostly replied to e-mails himself to schedule our interview, even while juggling cooking at the Ambani wedding.
We meet at Indian Accent at 5 pm, a time when the restaurant seems like an empty theatre before a performance.
Mehrotra, 44, comes out of a meeting wearing his chef's coat and plunges straight into the subject of whether Indian regional cuisines have at long last arrived after decades of being overshadowed by the tyranny of the tikka.
He points to a recently opened Andhra restaurant in New Delhi and the popularity of The Potbelly, which features the cuisine of his native Bihar, as signs of progress.
The dominance of what he describes as "very Delhi-centric restaurant food -- certain kinds of tikkas and certain gravies revolving around what was called 'rogan josh' that was not even Kashmiri rogan josh but (merely) a mutton curry" may be ending.
But he also makes the point that Chinese cuisine was stuck in a similar rut overseas "whereas Beijing food is very different from Cantonese food."
I happily discover that one of my pet peeves -- the monotony of so much restaurant food that contrasts with the diversity of food one eats in homes in India -- is also Mehrotra's.
"I'm so happy that not only in India, but internationally, regional cuisines are coming up. Places in London are doing typically Rajasthani food or Bengali food," Mehrotra says with feeling.
"People outside India and in India are getting more aware not only of regional food but that in Maharashtra, you would have Konkani food or Malvani food, in Kerala you have Syrian Christian food or Moplah food. More and more young chefs, instead of inventing new things, are exploring more deeply inside India."
This proves a natural preamble to discussing Mehrotra's latest venture, Comorin, which opened in December, a casual restaurant in Gurugram that combines comfort food (cheeni malai toast) with street food from different parts of the country.
A big seller is a lime-flavoured idli with chutney podi.
Another is a seekh kebab drenched in melted butter courtesy a recipe from a small store in old Delhi, which I involuntarily let slip sounds "disgusting".
"It's super yum," he insists.
Another recipe from his college days combines a smoked chicken with a cashew paste and yogurt-based gravy, butter chicken modernised for the 21st century.
The name Comorin is inspired by Cape Comorin, an acknowledgement also of Mehrotra's love for south Indian food.
He goes into raptures about "the acidity and pungency of Andhra gongura" and the potency of pepper -- "one of India's best treasures".
Mehrotra fell in love with south Indian food because his wife is a Chettiar, a community known to be rabidly carnivorous food obsessives.
The couple met years ago when he was working at the Thai Pavilion and she was at the Konkan Cafe, both at the Taj President Hotel in Mumbai.
Angling for an anecdote of pickles exchanged and elaborate meals prepared as part of their courtship, I press him for more, but he laughs off the question.
Instead, he speaks with fondness of learning from his mother-in-law to crush rather than cut tomatoes while making rasam, a detail that surprises me.
I never watch MasterChef TV shows, but Mehrotra's enthusiasm is so infectious, I feel as if I am in his kitchen getting a masterclass in cooking.
We move on to the challenge of managing restaurants in three different countries.
In addition to the original restaurant in New Delhi, Indian Accent in London completed its first year in December while his outpost in New York will turn three in February.
His management secret is delegate, delegate, delegate -- and retain star employees.
"You have to train as many people as you can otherwise you are never going to grow," he says.
"My restaurants are headed by chefs who have been working with me for 10 to 18 years."
We are 45 minutes into the interview and no food has arrived.
When I raise the subject, worrying I will seem greedy, Mehrotra's embarrassment matches my own: I have inadvertently picked a time when his chefs are off-shift.
I am secretly relieved because I had come to the interview from a mehndi lunch at a friend's home and unwisely raided her mother's kitchen as I left for nolen gurer sandesh that had just arrived from Kolkata.
I ask Mehrotra if I can take him to The Potbelly a couple of days later, but that is a busy day for a chef as it is Christmas Eve so he suggests meeting at Indian Accent at noon instead.
Four days later, we pick up where we left off.
Mehrotra explains why he steered clear of molecular gastronomy, making the practical point that its trademark flourishes such as foams don't typically work well with Indian food because "we eat our food hot."
But the more he speaks about it, the less he sounds a fan: "Molecular gastronomy is fine as long as it is assisting the dish, not the hero of the dish. The surprise element works only once."
I ask him if running a restaurant in London is much easier than in New York.
It turns out it is the other way around; the UK has so many Indian restaurants that there is a local industry making ghee, papad and other essentials but not as well as in India.
In the US, he says, it is much easier to import these things directly from India.
Brexit, meanwhile, has inevitably cast a shadow even over Mehrotra's sunny view of the world; his waiting staff in London include people from Italy, Latvia and the Czech Republic.
This time around, food is on its way: Delicious mini-parathas alternately stuffed with blue cheese and Canadian bacon, pork ribs with Gujarati sweet chutney and a daulat ki chaat so redolent of saffron that it makes the original from the alleys in Chandni Chowk seem a very poor cousin.
But the head chef has called in sick at the recently opened Comorin so Mehrotra must leave before it is served.
While he waits for an Ola cab to take him to Gurugram, I take the opportunity to introduce my nephew, who I am riding with to the airport that afternoon.
Mehrotra and my nephew animatedly discuss Deadliest Catch, a gripping show on Discovery about the dangers of working on fishing fleets.
As Mehrotra leaves, I say we must meet at The Potbelly next time.
As his car pulls away, I can't help thinking that getting a busy chef to sit still long enough to have a leisurely lunch away from his restaurant might again prove an impossible challenge.