Founders Jaydeep Barman and Kallol Banerjee reveal how they built the company from scratch.
In the book No Shortcuts: Rare Insights From 15 Successful Start-up Founders (pictured left, below), Nistha Tripathi shares interesting stories and lessons from 15 entrepreneurs across India.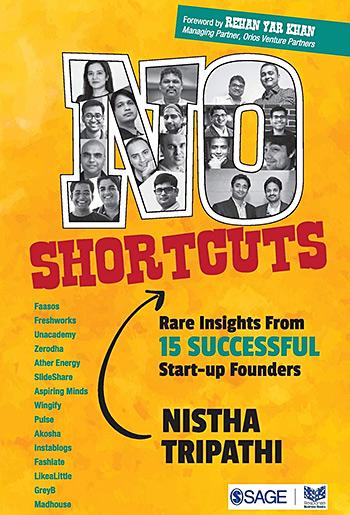 Presenting an excerpt from the book where Faasos founders Jaydeep Barman and Kalool Banerjee talk about how they hired the right employees who helped them expand the business and turn it into a success story.
---
Faasos started as a Kolkata roll store chain in Pune in 2004, and it took seven years for the founders Jaydeep Barman and Kallol Banerjee to return to it with full-time commitment.
Pivoting to an end-to-end delivery focused food-on-demand company, Faasos takes the order, prepares the food fresh and delivers it to the customer's doorstep.
A management consultant at heart, Jaydeep focused on running the business frugally and keeping fixed costs low -- strategies that attracted the attention of Sequoia Capital early on in the journey.
Having no background in food business, his intuitive decisions have served him well so far.
He thinks it was his lack of food and beverages experience that enabled him to disrupt a centuries-old industry.
Scaling to Mumbai presented the first major hiccup as the company struggled to hire the right people and understand the food business laws and regulations.
With innovative hiring and operating decisions, Faasos got back on track and has expanded to 150 locations in 15 major cities by the year 2017.
A culture of ownership driven by a few early recruits and the ability of the team to learn from mistakes has served the company well time and again.
Leveraging technology wherever possible, experimenting with food menus and creative marketing are integrated in the Faasos DNA as it combats the growing competition in the food apps category.
Faasos has raised US$50 million till July 2017 from prominent investors including Sequoia and Lightbox.
***
First Big Scare:Almost Calling It Quits
Pune had been a familiar territory for the founders but shit started hitting the fan the moment they ventured into Mumbai in 2011.
'I considered Bangalore and other options, but given the proximity to Pune, it made sense to open the next Faasos in Mumbai.
We tried the same concept -- small stores with everything prepared in the store.
In Pune, we had an established network of suppliers, which was non-existent in Mumbai.
Plus, rentals in Mumbai are so high that we had to go even smaller.
It meant we were more back-heavy.
First, fixed costs were much higher; second, supplier networks were not there.
Third, you need five to six licences to operate a food venture and we had figured that out in Pune, but in Mumbai, it was a complete mess.'
Jaydeep tried to get kitchen-cum-warehouses in Mumbai.
It was daunting because all he had managed so far was these small stores in Pune.
They had raised the money by this time and Kallol had joined too. This was the first time he hired food industry veterans to run these warehouses.
'That was probably our biggest mistake. We thought these people would easily run the central kitchen in Mumbai.
But then, we didn't realise that if one is in food and beverages industry for 20 to 30 years, one doesn't have much fresh thinking left.
Second, we were a bunch of inexperienced guys and we wanted to do things that felt right to us.'
For example, Jaydeep didn't want to put preservatives in the food and that was unheard of in the industry.
The veterans were not getting it.
'In hindsight, these veterans were not high-calibre people but probably some rejected candidates from big foodchains. Because, come to think of it, if you were having fun or if you were successful in food industry for decades, why would you leave that to join a company which had no background in food! And we were paying a lot to them. So things started turning for the worse in the beginning of 2012.'
What exactly was going wrong in the Mumbai stores?
'Services were not up to the mark, we were not scaling well. I was not seeing results, and when I would have a chat with them about why something is not happening, a bunch of excuses would come. They had figured out quickly that I knew jackshit, and always tried to fleece the business right from submitting 20 mineral water bottle vouchers for a single day to making money on the side for a property deal.
See, I was just expecting that stores should be operating nicely, revenues should increase. From revenues to property maintenance to customer service, everything was in a deep shit.'
The animation in Jaydeep's voice is telling.
'2011 in its entirety was a big struggle and that was the only time, when I had thought of quitting. I had a very young family and I was 20 to 30 days away from home at a stretch. It was a tough time.'
A little respite came from having his confidante on board.
At least, he had Kallol to talk to on a daily basis now.
He reminds me again, 'Anyone who wants to start a company should find a partner. I know there are companies where founders end up fighting, but Kallol and I have been very lucky.'
Out of Box Hiring: Finding the Perfect Employees
I have not talked to Kallol for this book but his presence is very much felt.
'I and Kallol have this habit of just taking a break and going off somewhere to discuss things once in a while.
In one such session, we thought why don't we hire people like us? Because we were looking for a sense of ownership.
That is when FER (Faasos Entrepreneurs-in-Residence) programme was conceptualised.
The idea was to get people who are one or two years out of college (either MBA or engineering).
We didn't have the money to go to campuses, and anyway, people attending campus placements are thinking of McKinsey and Goldman Sachs, and not companies like us.
But it is only after one or two years that you realise how you are not doing the stuff you thought you would be doing.
You are either selling some stuff in a remote village or you are doing a PowerPoint presentation.
That is the time you start thinking "Is this what I am going to do rest of my life?"
We wanted to catch on that.
We were looking for six to seven guys who would do everything like running operations, managing supply chain, etc.
We kept two conditions for the applicants -- one, you cannot be from food industry because we were frustrated with those people; two, we said that you will be rejected if you sent a CV.
Everyone glorifies things on their CV, I might have done too.
The job had no structure and pay was not the best in the industry.
Instead, we wanted people to realise what they really wanted from this journey, we wanted to see entrepreneurial side of the people.
We wrote all that down and floated a blog post that went viral.'
Jaydeep sent the blog post link to IIM Lucknow, the INSEAD alumni list and a couple of friends.
People started forwarding it. Soon, they had 1,000 applications.
It took them a lot of time, but they did the shortlisting diligently because the need for good people was a desperation at this point.
Finally, they interviewed 50 of them on telephone, 20 in person and recruited around eight people.
When these guys joined, that's what turned the corner for us.
Out of the eight people we hired, six have been with us for five years now.
These people had zero experience in food but a tremendous sense of ownership.
We worked seven days a week.
We would not think of anything else but how to make this work.
That is exactly what we wanted.
They basically ended up running the company.'
FER is a crowning example of Jaydeep's creative management. He shares how he implemented it.
'It was not at all structured. I will give you an example. Four people joined at first and four more came after two to three months.
At that time, our Mumbai office was very small.
I, Kallol and one other guy were the only people in there.
So when this first FER came, he asked us, "Okay where do I do my joining and HR formalities?" and I pointed to this other guy and said, "He is our HR".
Then this FER asked us, "I am relocating from Delhi, so I need to sort out my finances".
So I pointed to the same guy and said, "He is also our finance guy."
The point is it was just us and we were doing everything. There were no departments.
I wanted to tackle four areas as soon as possible.
First was operations and running the stores.
Second was the finance-cum-systems role because we were spending money and I was just tracking everything on an Excel.
Third was marketing and fourth was technology.
I could sense even back then that if we want to keep our cost low and focus on delivery primarily, we need to have a solid tech backbone.
I was correct and this became a big reason of our success so far.
So I asked these four people, who wants to do marketing and who wants to do this and that.
Someone took up one area and the other person picked another.
We had one guy who started looking at our Mumbai operations. And one guy who took up both tech and marketing.
One person ended up doing business development, running the other stores, licensing and everything else. So this is how we started.'
Excerpted from No Shortcuts: Rare Insights From 15 Successful Start-up Founders by Nistha Tripathi, with the kind permission of the publishers, Sage Publications.