Or else customers will face capacity shortages and high fares.
Surajeet Das Gupta reports.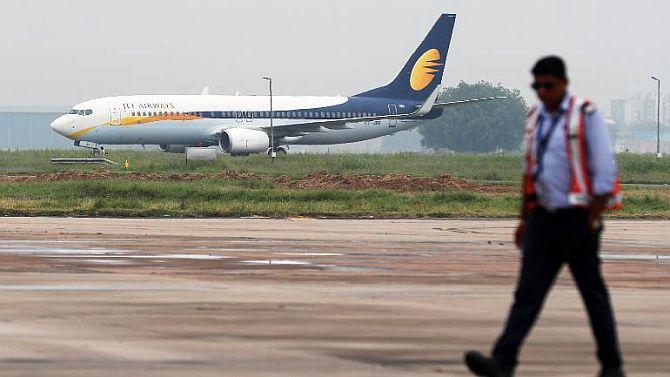 It promises to be a Herculean task. With the number of domestic air passengers projected to go up by 14% to 16% in FY20 (and by 12% in the international market), and with the possibility of Jet Airways not taking off immediately, Indian carriers have to add more than 210 planes in a year to get back to normal capacity in the air.
Or else customers will face capacity shortages and high fares.
With the grounding of Jet Airways (with a fleet of 120), the number of planes in the country plummeted to around 544 (this does not include the grounding of Boeing MAX), which means the airlines will have to increase their fleet capacity by almost 40 per cent in FY20, which, most analysts say, is improbable, if not impossible.
According to Centre for Aviation (CAPA) data, before Jet's grounding, the agency had projected 90 planes would be added in FY20, resulting in a growth rate of 20 per cent.
Jet has provided an opportunity for other airlines to fill the breach. Even assuming from the existing announcements that 40 to 50 additional planes (over and above the earlier planned inductions of 90 planes) are added, the number of additional planes would touch 130 to 140 in FY20. That is far short of the 210 required now.
"It is inconceivable if the Jet closure becomes permanent all of us put together will be able to add a similar seat capacity as Jet within a year and also have an additional capacity to take care of the growth," a leading LCC (low-cost carrier) senior executive points out.
"That would be wishful thinking. A more prudent way would be to divert capacity where the load factor is moderate or low to routes where it is high and demand outstrips supply."
SpiceJet has been the most ambitious and said it is planning to add 27 aircraft to the fleet. However, currently 12 of its Boeing MAX planes have been grounded for international investigation.
Based on the CAPA data, IndiGo will add an additional capacity of 40 planes, increasing the fleet size to 270 by the end of FY20.
Both Air India and Air Asia India have modest expansion plans and Go Air is looking at adding around 13 planes to their fleet.