We asked Jet Airways staff to tell us how they are coping after the airline shut down.
Ruchika Mehta*, a senior first officer with the airline, shares her story and what she learned from the experience.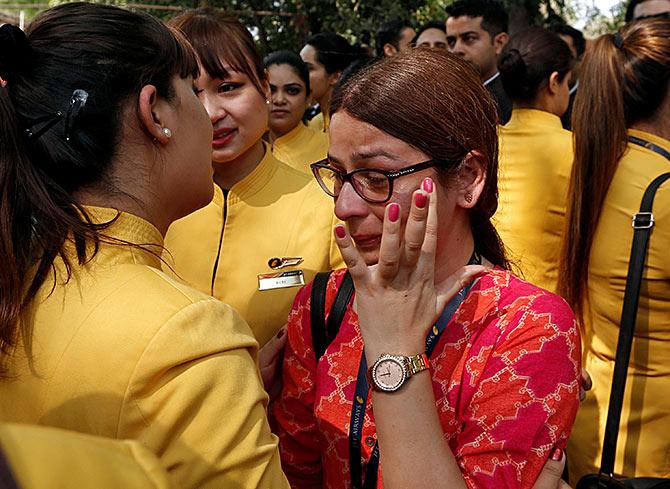 I finished my training in 2006 and got my flying license in 2009 from India. Unfortunately, by then, the recession had hit. So I worked as a trainee to get some experience.
In 2016, I joined Jet Airways as first officer. I worked hard and, as of today, have finished 2,300 flying hours (national and international).
I was finally in a happy place, drawing a monthly salary of approximately Rs 3 lakh.
It was in the second half of 2018 that news of Jet's downfall started doing the rounds.
For the longest time, there was speculation that the airline would be shutting down.
I had started my career during the recession so I was hopeful that things would change for the better.
It didn't.
Slowly, they started cutting costs.
We started receiving sporadic mails that the company was not making any profit and finding it hard to sustain operations.
All our hopes came crashing down when the chairman (Naresh Goyal) stepped down in April 2019.
Our slots were given away to competitor airlines. The competing airlines not only increased the costs, but started making things difficult for us.
When we apply to these companies (for a job), we are asked to take a pay cut or (our applications are) put on hold. We are no longer in a position to negotiate terms.
They make it very clear that they are doing us a service/charity by offering a job.
As for those who don't call or respond to our e-mails, I guess they are just building their database. They will only negotiate with the best and as they deem fit.
Some of us like me, who don't have EMIs and loans to pay off, have managed to stay afloat. But there are hundreds of employees who have families to care for and kids whose education and future are at stake.
Sadly, for all of us, there is no clarity at all.
I received my last salary in September 2018.
Thankfully, my parents have never put any pressure me. I am now living on my savings.
But things are worse for some of my colleagues who have recently joined the team. These youngsters have staked everything they have and paid between Rs 50 lakh to Rs 1 crore to first get a commercial license, followed by training fees.
Imagine starting your career like this.
The highest salaries we (experienced first officers) are being offered right now is Rs 1.5 lakh to Rs 2 lakh, which is 50 per cent less than what we were earning at Jet.
Our competitors are clearly at an advantage right now.
It is sad that the government doesn't want to intervene and find a solution. They are busy with the elections.
There are over 20,000 jobs and countless lives at stake. Who will hire us?
The government should have intervened when low cost airlines entered the fray and slowly captured the market.
These airlines were not even providing full service to customers. There should have been some compliance on how to run businesses and ensure healthy competition.
Jet had no choice but to bring down costs in order to compete with the low cost airlines, even as we offered full service to our customers. All this, while paying off for maintenance, cargo, parking fees, fuel charges, without making any profit.
There is no one to lead or direct us now. We are hoping for that a miracle will happen before the election results are announced.
There is definitely a surge of skilled, experienced officers and crew members in the market. The government needs to find a way to employ and reinstate them in some way.
Jet is not the only airline facing problems; Air India faces problems every year.
The aviation industry across the world has seen such economic crises.
I agree it's a phase. I am not willing to give up. I hope we find a new leader and start operating again.
In the past decade, I have learned one of the biggest lessons of my life the hard way -- that it is important to have a second/alternate career to fall back on.
As told to Divya Nair/Rediff.com
*Name changed to protect identity. Image posted only for representational purposes.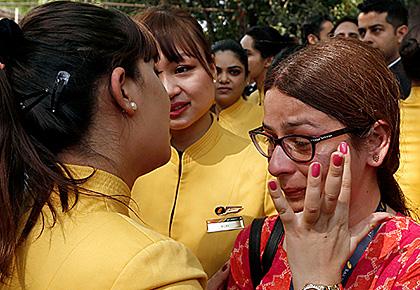 ---
If you are a Jet employee, please tell us how you are coping with this unexpected crisis in your life.
Please share your concerns, tips and suggestions with readers.
You may send in your responses to getahead@rediff.co.in (Subject: Jet Crisis) along with your NAME, AGE, LOCATION. You may send us your photograph or mention if you want to stay anonymous. We will consider your request and feature your responses on Rediff.com.