A stake sale of Reliance's real estate portfolio would help it raise anything between $1-5 billion and could be one of the triggers for the company's shares to break out.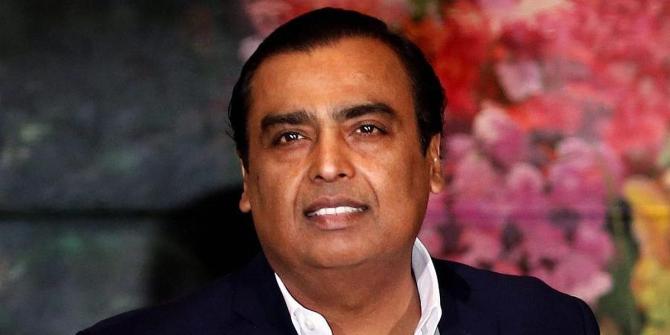 With an asset and project value of over Rs 40,000 crore under its belt (according to estimates), Reliance Industries has quietly become a key real estate player with the potential to monetise this portfolio.
According to research by J P Morgan analysts, a stake sale of Reliance's real estate portfolio would help it raise anything between $1-5 billion and could be one of the triggers for the company's shares to break out.
Reliance did not respond to questions on its real estate plans.
Its major real estate forays have been undertaken by three subsidiaries and in turn by their subsidiaries.
These are Model Economic Township (MET), which has an inventory of Rs 7,100 crore; Indian Film Combine with projects on the books worth Rs 2,700 crore; and the biggest, Reliance Corporate IT Park with total assets of Rs 31 crore, mostly in fixed assets, according to Goldman Sachs' figures, based on annual reports.
In a presentation by Reliance, it showed MET as an 8,250 acre, integrated, industrial, residential, commercial and recreational township located in Haryana, 30 km away from Gurugram.
MET has built up industrial clusters which include units for electronics, footwear, pharma, engineering and SMEs and is building a private freight terminal.
The integrated township has already roped in over 190 companies in the first phase, including global names such as Panasonic, Denso, and Tsuzuki.
Over 40 per cent of the companies are from Japan, Korea, and France.
With the auto hub in Gurugram and Manesar nearby, many of MET's tenants are OEM suppliers to Maruti Suzuki, Honda Motors and Honda two wheelers.
Also present are seven anchor clients who are currently occupying over 400 acres of land already.
The second phase of MET will be up and running by March 2021 and 70 companies have signed sale deeds.
It is also finalising plans for the residential project which will be in the third phase with a golf course thrown in.
MET has also been looking at joint venture partners. It has tied up with IndoSpace to develop a 1.3 million square feet logistics park inside the complex.
The planned residential project could also be in the form a joint venture, say sources.
Film Combine is concentrated in Mumbai.
In its annual report, Reliance said that it is executing a construction development project under Maker Maxity, a joint venture with the Maker group, in two phases on land leased to them in the Bandra-Kurla Complex.
The first phase, with five office buildings, has been completed.
Work on the second phase has begun and this will feature a hospitality and entertainment complex which will include an upmarket urban hotel resort, a luxury mall, and a convention centre, which is more or less ready.
The third company, Reliance Corporate IT Parks, says in its annual report that is major activity is 'providing support services using its real estate and platform, project and business services and all other activities revolve around the same'.
The company runs the 500 acre complex known as the Reliance Corporate Park in Navi Mumbai which, apart from housing Reliance Jio's offices, has network centres, data centres, a sports complex and a stadium.
Even after all this, it is still left with a substantial land bank which could be used for something else, say sources.
Photograph: PTI Photo