Zara could rake in Rs 1,571 crore sales in 2019-2020.
H&M, which came in five years later, grew its revenue to Rs 1,729 crore last month.
Arnab Datta reports.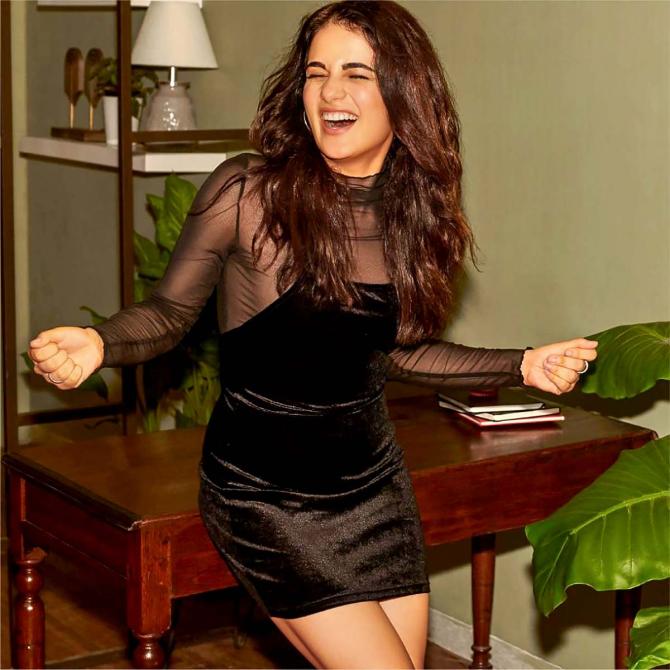 When Janne Einola, an H&M veteran and first country manager for India, ended his 23-year stint with the Swedish fashion retailer in October, he went out on a high note.
After serving five years at the helm of H&M's India operations, Einola had all the possible feats in his kitty that he could achieve in the short span.
The brand had a wider presence and gathered enough attention of local consumers to become a household name.
But what would remain his greatest feat is H&M's financial performance. From a fringe player in 2015, when Einola drove H&M in the local market, the retailer managed to beat rival Zara by a margin.
Despite entering the Indian market over a decade ago, in March 2010, the Spanish fashion retail brand Zara could rake in Rs 1,571 crore sales in 2019-2020. And its presence remained confined to 22 outlets in 12 cities.
In comparison, H&M -- that inaugurated its first store in 2015 -- grew its revenue to Rs 1,729 crore by November 2019. H&M follows a December-November financial year format.
Since H&M's entry in India, Einola built its business from the ground up. Today, the brand has close to 50 stores across 16 cities.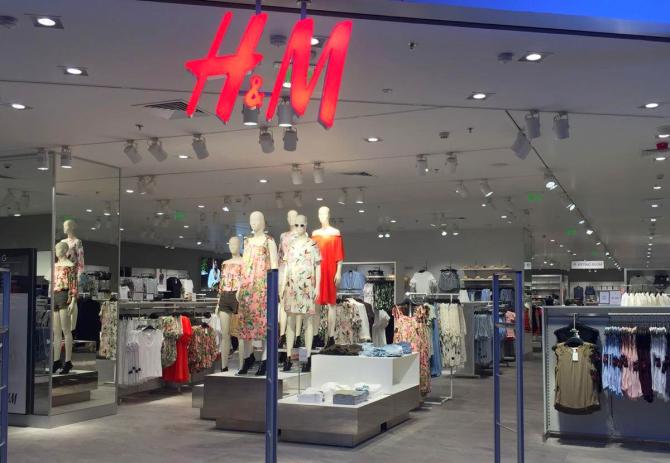 Unlike Zara that banks heavily on in-store purchases and online orders on its website, H&M focused on diversifying its portfolio and presence in the past few years.
To boost its sales on online platforms, it inked an exclusive tie-up with the country's leading fashion retailing e-commerce brand Myntra last August.
By then, H&M was already getting close to 15 per cent of its sales through online orders, thanks to the successful launch of its online store in 2018.
According to Fredrik Olsson, managing director, H&M, the share of online channels in its India sales was higher than its global average.
With the tie-up with Myntra, which holds close to 40 per cent share in the online fashion retail market, H&M expects to add millions of consumers on board from towns where it does not have a physical presence, he said.
According to Einola's estimates, H&M is sure to gain from Myntra's 30-million customer base.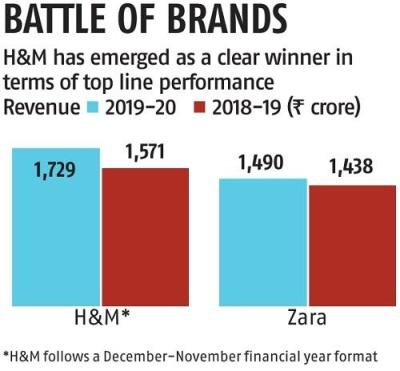 The widening gap between Zara and H&M's top-line performance in the country can be attributed to the brands' appetite for expansion, according to experts.
Between 2016 and 2019, Zara added only two physical stores here; H&M opened a dozen in 2018 and eight new stores in 2019.
This year, against the backdrop of the pandemic, H&Ms expansion plans are in the slow lane. Still, it inaugurated a store recently, adding Lucknow to its map.
Zara may be in the back foot for now, but the battle is far from over.
With the fashion and lifestyle market in India estimated to grow to over Rs 1 trillion by 2025, from Rs 35,000 crore now, these brands are not planning to rest on their laurels.
Zara has been reticent about its India plans, but industry sources suggest the brand is planning to open close to half a dozen new outlets by 2021.
It is also diversifying its India portfolio by adding global ranges. Recently, for example, it introduced a new range of fragrances in tie-up with London-based Jo Malone.
And, to counter H&M's 'affordable luxury for all' proposition, Zara is increasingly pushing affordable collections in its stores and revamping its line-up occasionally.
On the other hand, H&M, Einola said, plans to add a dozen new outlets every year and expand its portfolio by introducing product categories like home furnishing, beauty, sports retail, starting with the home segment as early as possible.
Feature Presentation: Rajesh Alva/Rediff.com