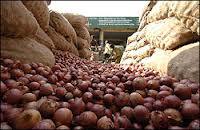 Prime Minister's key economic advisor C Rangarajan on Thursday attributed the spiralling prices of onions to supply constraints and said it will have only a temporary impact on inflation.

"In case of onion and vegetables, it is the supply factor which has been responsible for the push-up in prices.

"We need to take action on the supply side, increase availability and see that market mechanisms are improved and availability or existing supply is evenly distributed to consumers," he said.

Rangarajan, who was answering questions on onion prices touching Rs 100 per kg in some cities, said the impact on inflation would not last long.

"It may not have a permanent effect. It may have a temporary effect on inflation," the Chairman of the Prime Minister's Economic Advisory Council said.

Inflation as measured by the wholesale price index rose to a seven-month high of 6.46 per cent in September.

Food inflation was at 18.40 per cent, led by spiralling onion prices.

Inflation in onions skyrocketed 323 per cent in September.

Rangarajan said: "There can always be a temporary increase in inflation. But once the availability increases, it is expected that supply will get augmented in coming weeks and then it will come down."

Agriculture Minister Sharad Pawar said there is a 'temporary' shortage of onions and prices are expected to fall in the next 2-3 weeks.

Echoing similar views, Commerce Minister Anand Sharma said there is no scarcity of onions in the country and prices are expected to stabilise in the coming few weeks.

Pawar
expressed concern about possible glut of onions in the coming weeks leading to price crash.
"I am worried that farmers in next 1-2 months will complain about price crash," he said.
Pawar noted that exports cannot be blamed for price rise as shipments are unviable because traders are getting better price in the domestic market.
The global price of onion is about $500-550 a tonne, while the domestic rates are at $850 a tonne.
Asked on declaring onion as an essential commodity, Pawar said: "There should not be any restrictions.
There should be a free market for selling onions."
Fearing that high onion prices could hurt prospects in upcoming assembly election, Delhi CM Sheila Dikshit met Pawar and Thomas in the ministry to find a quick solution to the problem.
She said 8,000 quintals of onions have arrived in the national capital which could help ease prices.
"So far, prolonged rains have affected supplies.
"We hope next 2-3 days prices will come down. "Even though crop is good, but lot of it got damaged due to prolonged and heavy rains.
"We are trying our best to see prices come down. I request traders stop black marketing and hoarding," she said.
The Delhi chief minister informed that a team has been sent to Maharashtra to negotiate price and get onions.
"Prices in Pune have fallen to Rs 40 per kg. Maharashtra government has promised that it will supply more onions to Delhi," Dikshit said.
"We will soon amend Agriculture Produce Marketing Committee Act.
"Delhi is not a producing state but a consuming and trading state. Control of prices has to be there in producing states," she added.