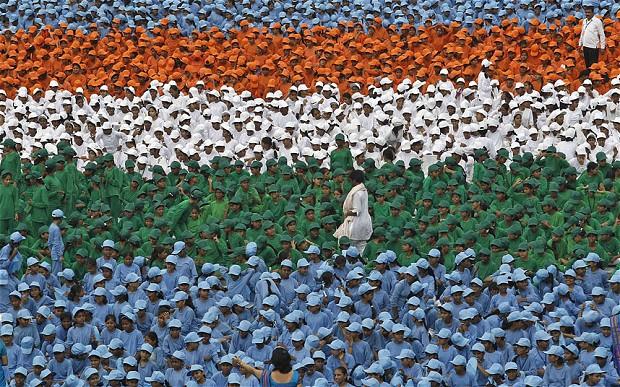 The government has disagreed with the International Monetary Fund (IMF)'s projection of India's economy clocking just 4.25 per cent growth in 2013-14, saying the multilateral institution has not factored in the expected bumper crop this year and the decisions taken by the Cabinet Committee on Investment (CCI) to clear infrastructure projects.
On Tuesday, the fund had pegged India's gross domestic product (GDP) growth much lower than the government's estimate of over five per cent, attributing it to poor demand, weak manufacturing and services sector performance. At 4.25 per cent, the economy would see the lowest economic expansion in 11 years.
Officials said India's economic growth has always been higher than what is predicted by the IMF and had remained closer to the World Bank's estimates. The World Bank has projected India's economy to grow by 5.7 per cent in the current financial year.
The officials said 5.5 per cent economic growth would be a little challenging for the current financial year, but it would definitely be over five per cent.
"The IMF did not take into account project approvals by CCI and an expected bumper crop this year while making its projections for India. Moreover, if you look at the past data, India's GDP growth has been above IMF projections most of the times," an official told Business Standard.
If the economy expands by the rate projected by the IMF, the first three years of the 12th Five-Year Plan (2012-13 to 2016-17) would yield just 4.75 per cent growth rate a year, on an average, which is far short of the Planning Commission's target of eight per cent. For 2014-15, the IMF had forecast the economy to grow by five per cent.
The economic growth was at a four-year low of 4.4 per cent in the first quarter of 2013-14. The finance ministry expects the growth to be higher in the second quarter and a stronger pick-up in the second half of the year. It expects growth in agriculture at almost six per cent this year, which will create demand for consumer goods in rural areas. CCI approvals for projects up to early August have been to the tune of $30.45 billion.
The Prime Minister's Economic Advisory Council in its Economic Outlook had also cut India's GDP growth projection to 5.4 per cent for the current financial year from 6.4 per cent that it had projected earlier. Many brokerage firms have forecast the GDP growth below five per cent for 2013-14.