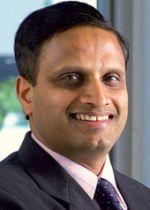 For Infosys, known to freely give media exposure to its senior management, Chief Operating Officer-designate U B Pravin Rao was a well-kept secret.
The 'dark horse', as many termed him on Thursday, had come to the limelight only in January, when Executive Chairman N R Narayana Murthy chose him as one of the company's two presidents.
While making headlines was new for Rao, he was not new to a leadership role at Infosys.
Among the first-40 employees of the Bangalore-based company, Rao has spent close to 28 years at Infosys in several roles, such as head of infrastructure management services, delivery head for Europe, and head of retail, consumer packaged goods, logistics and life sciences.
An electrical engineer from Bangalore University, Rao joined Infosys in 1986.
As a president, he is responsible for, among other things, driving growth across multiple services lines and business units. These include retail, consumer-packaged goods & logistics, life sciences, resources & utilities. He is also responsible for growth markets, cloud & mobility and quality & productivity.
Rao is also the director of Infosys Leadership Institute, responsible for selection, development, research and succession of senior and high-potential leaders at the company.
"I feel privileged that I recruited Pravin in 1986 and he has had a dream run in the company, with extraordinary value systems," said Narayana Murthy, who has decided to step down as executive chairman from Saturday.
Those who know and have worked with Rao believe he is an example of Infosys' culture of creating home-grown leaders.
Some of his colleagues describe his patience and perseverance to perfect a job at hand. It was probably this patience that ensured Rao remained even as several of his colleagues moved out of the company, amid uncertainty over the search for a chief executive to succeed S D Shibulal.
An analyst, who met him around a year before, said: "He is just like Infosys; he stands as an example of the company's ethos. He has been in the company for very long and has imbibed the culture. He does not seem the one who would ask impulsive questions, as he understands the company deeply and is a perfect embodiment of all that Infosys stands for."
"The first thing you would notice about Rao is clarity of thought," said a former Infosys employee who never worked directly with him but has met him. He added Rao was 'extremely systematic' and 'absolutely methodical'.
"To put the appropriate structure in place, we needed somebody very strong and internally conversant with what I call the 'nuts and bolts' of this company. Pravin has been here for a very long time. We couldn't afford a better leader to take on the COO responsibilities," added K V Kamath, lead independent director and chairman of the three-member Nominations Committee at Infosys.