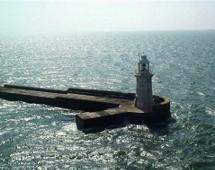 Why on earth would Indian films shoot in Sri Lanka?
Because it is close to India, shooting there costs about one-fourth of that in India, it has one-tenth of the headaches, Sri Lankans look like Indians and the country can easily form the background for an Indian story.
And, the violence of the ethnic conflict is also over.
That is the logic that drove two big location services companies from across borders to join hands earlier this year.
N Ramji is chairman of the Rs 100-crore (Rs 1-billion) Travel Masters India Corporation that specialises in helping Indian films shoot overseas. It has done that for over 1,000 films in 20 years.
TMIC has entered into a joint venture with Asian Film Location Services, a Sri Lankan firm. Under the agreement, TMIC will source the films from India and AFLS' 120-man team will execute the shoot. The idea is to lure Indian films, of any language, to Sri Lanka.
It would seem that they might just have a business there.
At the recently-held Ficci Frames, both Ramji and AFLS CEO Chandran Ratnum were inundated with enquiries from harried production managers. Several also spoke to Vijay Joshi, the head of production for Ram Gopal Verma.
They wanted to know about the crew's experience while shooting Agyaat in Sri Lanka in 2008.
Better than India Indian film companies have been reeling under cost pressures. The cost of making a film has gone up 50-100 per cent, depending on, among other things, the stars, the location, the director and the story.
Also, as the unions in India have got stronger, costs at the lower end of the production chain have gone up. As a result, many Indian film companies prefer to shoot in Thailand.
Sri Lanka, argue Ramji and Ratnum, is a better option. In any case, the country is an old hand at pitching for international productions.
A long list of major films, such as The Bridge On The River Kwai and The Jungle Book, have been shot in Sri Lanka.
Over the decades, it has also emerged as the preferred option over India for various reasons.
In the early eighties, in the middle of erecting a set in India for Steven Spielberg's Indiana Jones and the Temple of Doom, production executives lost patience with the Indian bureaucracy and just shifted to Sri Lanka.
When the Vishwa Hindu Parishad did not allow Deepa Mehta to shoot Water in Banaras, she went to Sri Lanka.
Of the 62 films that AFLS has provided location services to, about 20 were supposedly set in India.
"It is a film-friendly country and there are no unions," says Ratnum.
That means the crew works for 12 hours at one-fourth the rate that Indian crew members are paid for eight hours. You could argue about the fairness of it. But, considering India is the outsourcing destination in several industries, can we?
What Joshi loved was the one-window clearance.
The National Film Corporation of Sri Lanka assigns one person to a film crew. This person then deals with all the permissions, clearances and stays with the crew to solve any on-site problems during the shooting schedule.
"Cost-wise and logistically, it is cheaper to create Mumbai in Sri Lanka," says Joshi.
Expect trouble from unions Not everyone is enthusiastic though. UTV Motion Pictures CEO Siddhartha Roy Kapur doesn't see any exodus of shoots.
Indian films have in the last few years gone to London and Australia, but that is because of the incentives the governments in those countries provided for what would otherwise have been an expensive proposition.
The list of films going abroad is still a small percentage of the 1,000-odd films India makes in a year.
What Ramji and Ratnum are banking on is the substitutability of a Sri Lankan location for India, which is the backdrop for a majority of films made here.
Most Hollywood executives will tell you that there are hardly any films shot in Los Angeles now -- it is simply too expensive.
In fact, many American movies are now shot in Canada, which incentivises foreign shoots. These 'runaway productions' have for long invited the ire of the unions in Hollywood.
If Ramji and Ratnum manage to get Indian films to go to Sri Lanka, and it looks like they will, then watch out for some fireworks from the unions here.