While consumers feel that petrol pinches directly, diesel hurts indirectly, as it is an input in almost all the goods and services we use.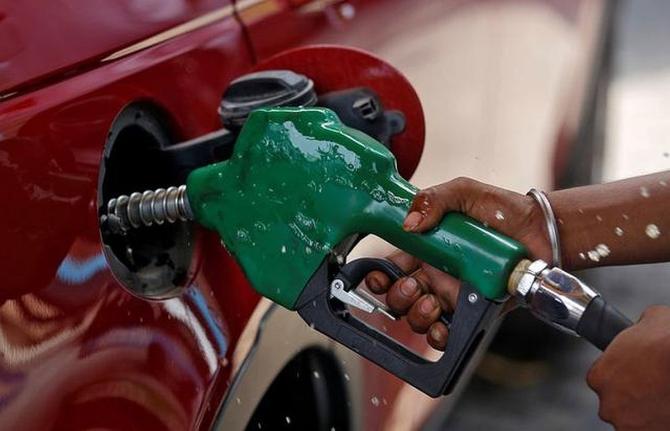 Diesel, the most used retail fuel by almost all commercial sectors of the economy, is slowly crawling towards a record Rs 90 per litre in Mumbai.
A gradual increase in retail fuel prices was expected, as the price of oil itself is inching up—Brent crude now costs more than $65 a barrel—and product prices are an indirect function of oil price.
But the last time crude oil was this costly, a litre of diesel in Mumbai was available at Rs 70-72.
Indians are paying Rs 15-20 more per litre of the fuel today than a year ago, courtesy high taxation from the Centre, followed by states.
While end-consumers are more likely to use petrol than diesel, rising petrol prices hurt them more directly.
But it is diesel which has a bigger circle of influence on our lives, and this is what the consumer should probably be more worried about. Here is why.
Firstly, diesel consumption in India is nearly 2.5 times of that of petrol.
While petrol is used in personal vehicles the most, diesel is used by many tilling farmers in the country, and is the fuel used to transport each and every product/good that the consumer uses.
Cost of diesel gets directly passed through to the product being transported using diesel.
Diesel is primary used for transport in India, according to a 2012 analysis.
It is worrying that no such study has been commissioned by the Petroleum Planning and Analysis Cell, the information wing of the Ministry of Petroleum & Natural Gas.
Transport sector consumes 70 per cent of diesel in India.
In that, the biggest consumers are trucks, followed by private vehicles and commercial vehicles.
Trucks alone consumed 28 per cent of diesel available in the country.
Now, everything you use, from the soap to the refrigerator, to the latest package you received from Amazon or Flipkart, gets to your doorstep via trucks, big or small.
The transportation cost—truck rentals, driver's service, maintenance and tolls—get added to the final price you pay.
With the main input cost rising, inflation of the transport and communication segment has risen in the last few months.
A recent Business Standard story reported how small truckers are bearing the brunt of high oil prices.
Something similar had happened in 2018.
Towards the end of that year, oil prices had crossed $80/bbl, and transport inflation had inched up and above general inflation precisely at that point of time.
The government had resorted to a cut in fuel excise duties to ease the retail prices back then.
A recent Nielsen report highlights high rural demand in the December quarter, raising questions of whether demand is driving inflation.
But here the comments made by Reserve Bank of India Governor Shaktikanta Das in the most recent policy meeting is pertinent.
"CPI inflation excluding food and fuel remained elevated at 5.5 per cent in December, due to inflationary impact of rising crude oil prices and high indirect tax rates on petrol and diesel, and pick-up in inflation of key goods and services, particularly in transport and health categories.
"Proactive supply side measures, particularly in enabling a calibrated unwinding of high indirect taxes on petrol and diesel – in a co-ordinated manner by centre and states – are critical to contain further build-up of cost-pressures in the economy," he said.
High diesel costs, thus, have a tendency to show up in prices of goods and services used by the most common Indians going up.
Another big component of the transport sectors are the buses run by state transport corporations.
Most of them are loss making as their average ticket fare is not hiked commensurate to the rising input costs, due to political considerations.
Take the example of Andhra Pradesh State Road Transport Corporation, one of the biggest such entity in the country that plies more than 11,000 buses in and around the state.
The APSRTC consumes 800,000 litres of diesel daily on average, said Krishnakumar, ED at the state owned company.
"Every rupee of hike in diesel price thus raises out input cost by Rs 8 lakh per day, translating into Rs 30 crore per year," he told Business Standard.
"But we cannot go for an immediate fare hike as 6 million people, including students, will get affected."
Pricier diesel thus puts severe financial pressure on loss making state transport bodies.
"If high diesel prices sustain for a long time, then we will have no option but to raise fares," said Krishnakumar.
Cities, on the other hand, have outsmarted their peers by progressing towards cleaner fuels, getting on board buses that run on CNG and electricity.
Rajendra Jagtap, who heads the municipal transport body of twin cities Pune and Pimpri-Chinchwad, said that the Pune Mahanagar Parivahan Mahamandal Limited has not bought a single diesel vehicle since 2019.
"Big municipal bodies, who have taken a conscious leap towards CNG and electric vehicles, have less to worry," he said.
As much as 13 per cent of diesel in India is consumed by the agriculture sector, for pumping water, running threshers and harvesters, among other applications.
Agriculture is another big diesel consumer. Spending on machine labour takes up 25 per cent of the total input costs for cultivating an average rabi crop in India, according to the Commission for Agricultural Costs and Prices.
A major part of this is towards the diesel expenses.
For a farmer, terms of trade favour him only if his income is rising faster than the growth in input costs.
By unilaterally raising input costs, dearer diesel thus dents farmers' incomes, and makes the terms of trade unfavourable for them.
Apart from these diesel-intensive sectors, high fuel prices also act as a deterrent for buying new personal vehicles.
Carmakers are worried that sales of fuel guzzling SUV variants might get affected.
Telecom infrastructure companies are, however, cushioned through a rising revenue per user for now, and the rising share of electricity-run towers under their business.
Photograph: Francis Mascarenhas/Reuters