Amazon Fashion flaunts its triple digit month-on-month growth, races ahead of competitors Flipkart, Jabong and Myntra.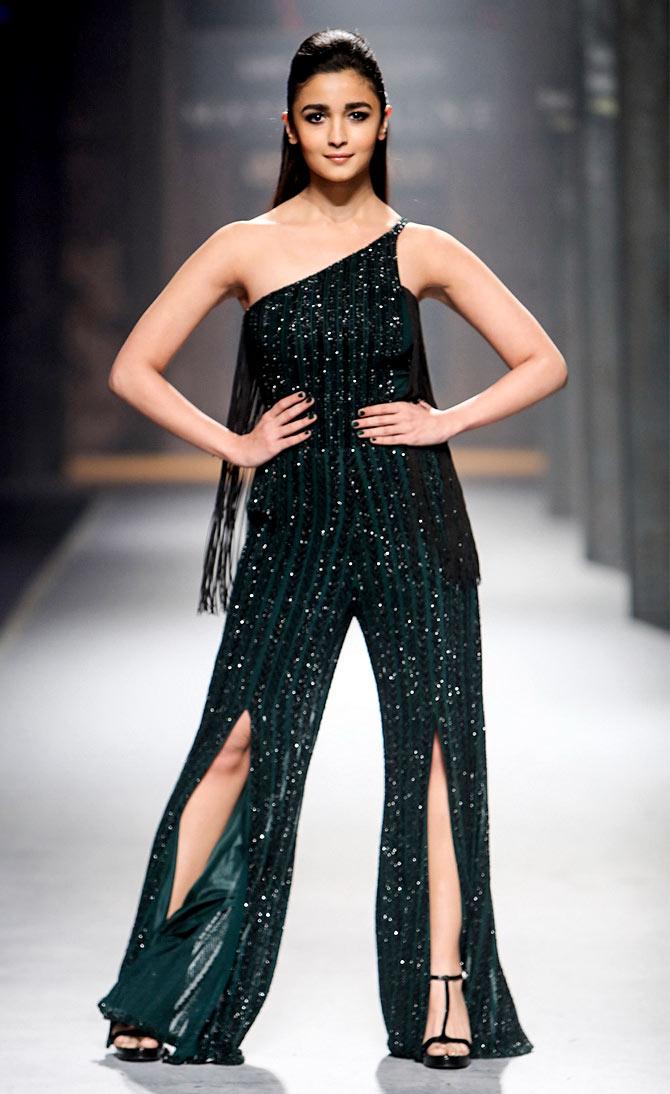 IMAGE: Alia Bhatt looked bewitching in a black single shoulder creation with slit pants at the Amazon India Fashion Week Autumn Winter 2017 held in Delhi last week.
All photographs: Kind courtesy Zeno Group for Fashion Design Council of India
Amazon Fashion said on March 22 it is far ahead of its competitors in India, Flipkart and its two subsidiaries Myntra and Jabong, and has staked claim to the top spot in the fashion marketplace ecosystem with a triple digit growth month-on-month.

Capitalising on its more than a million strong 'Amazon Prime' membership base, the US-based e-commerce firm's fashion vertical has increased the assortment of products eligible for 'Prime' deliveries and service.

According to the company, the move has helped more 'Prime' members shop for fashion on the portal and is even helping it increase its membership base, as more people are looking for exclusive services.

"We are the biggest brand with the largest selection of products in the country. We continue to grow the traffic on the site and are the largest visited e-commerce destination. One out of three people who come to the site check out a fashion product. If you look at 'Prime', a fourth of fashion deliveries are already on it," said Arun Sirdeshmukh, Head, Amazon Fashion India.

Amazon Fashion has an assortment of 15,000 brands and around 1,000 exclusive international brands, the latest entrants being Marks and Spencer and sports activities brand Under Armour.

"We are ahead of the competition and endorsement from brands like Under Armour reinforces that point.... On a month-on-month basis, on average, we are growing in triple digits, more than 100 per cent.
"Growth in a business like ours comes from two key components -- those who shop with us shop some more and, secondly, new customers. We are scoring very well on these two. We are drawing, I would say, customers from other players," he said.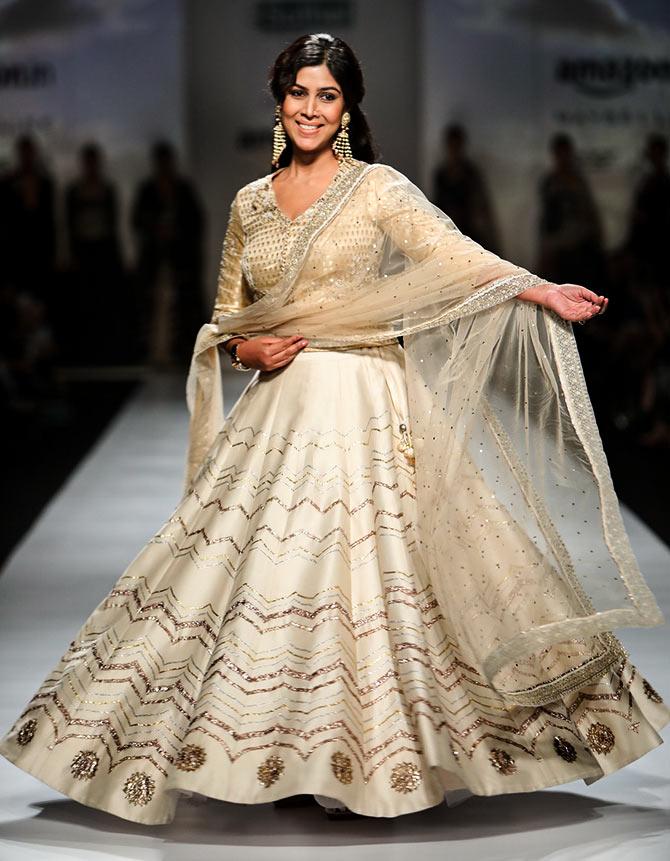 IMAGE: Sakshi Tanwar made a gorgeous entry in an off-white lehenga from designer Anju Modi's Neelambar collection at the Amazon India Fashion Week Autumn Winter 2017.
Do check out more photos from the Amazon India Fashion Week
Amazon, which is concentrating more on growth than profitability, said the company is profitable in certain areas.

"When you look at investments that have been made, ours are the best. Like all businesses, we track and think of the right things to do from an economics point of view. There are many areas where one can count as being profitable, but that is a matter of opinion," Sirdeshmukh said.

As far as private labels are concerned, the company said it is still an early stage. "A lot of good things have come out of that in terms of understanding. However, it is at a nascent stage. We would like to expand our offerings. Recently, we launched new categories and product lines. It is important we get our fundamentals right," he added.

In September last year, Amazon India launched the first of six fashion private labels to hike sales and margins in one of the biggest categories in e-commerce. The brand, Symbol, was launched by Cloudtail India Pvt. Ltd, Amazon's largest seller.

The company is also working closely with Indian fashion designers and has designated stores where they mostly sell affordable couture.