All you need for your summer fashion fix.
The Amazon India Fashion Week Autumn Winter 2017 commenced March 15 at the Jawaharlal Nehru Stadium, Delhi.
The five-day event which concludes on March 19 will see a host of designers spell the trends for the season.
These pics from Day One features plenty of inspiration for your summer. From trendy capes and metallic bindis, there is something in store for everyone!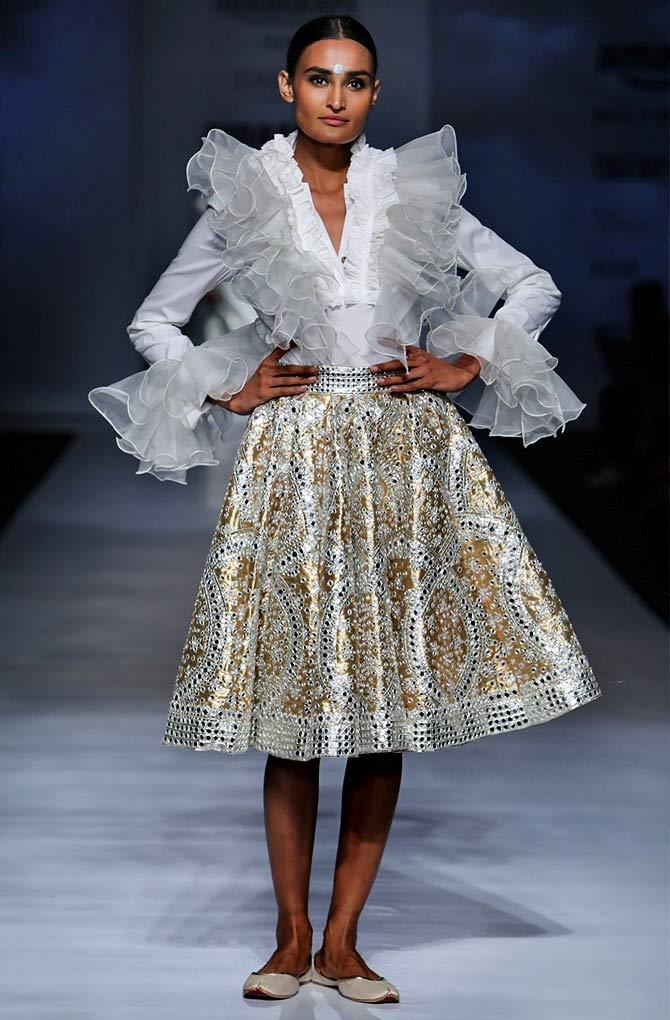 IMAGE: Rachel Bayros models a contemporary look for a bride by Dabiri. The ruffled shirt with oversized sleeves fits in beautifully with the skirt with glitter work and metallic embellishments in chrome.
Photographs: Kind courtesy Amazon India Fashion Week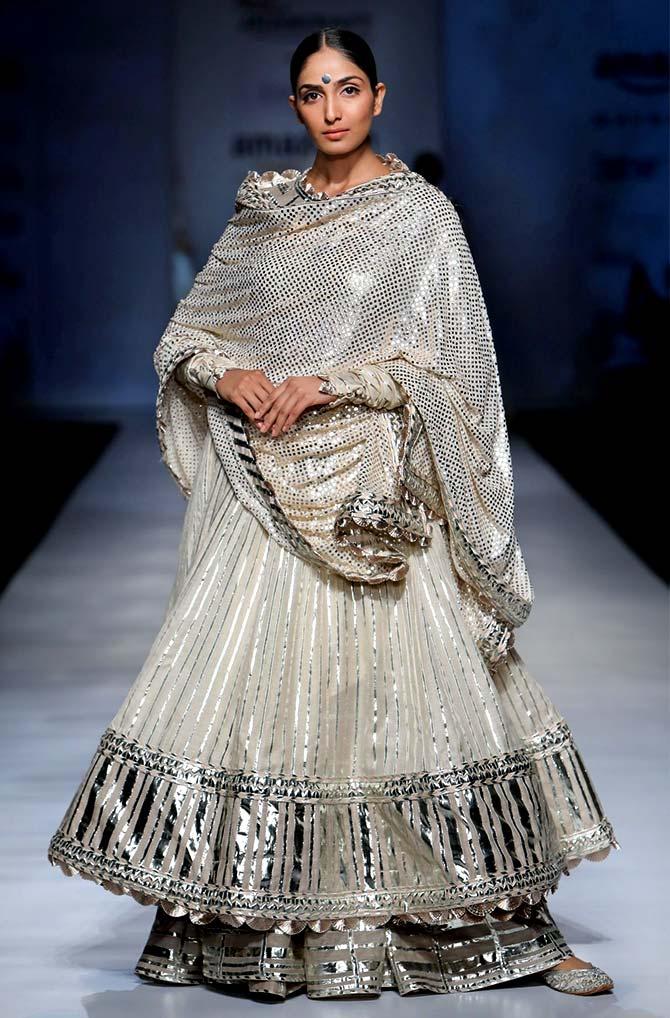 IMAGE: Aishwarya Susmita models a metallic bindi that shines. The high octane white and metallic lehenga adds a fascinating touch to this ensemble from Dabiri.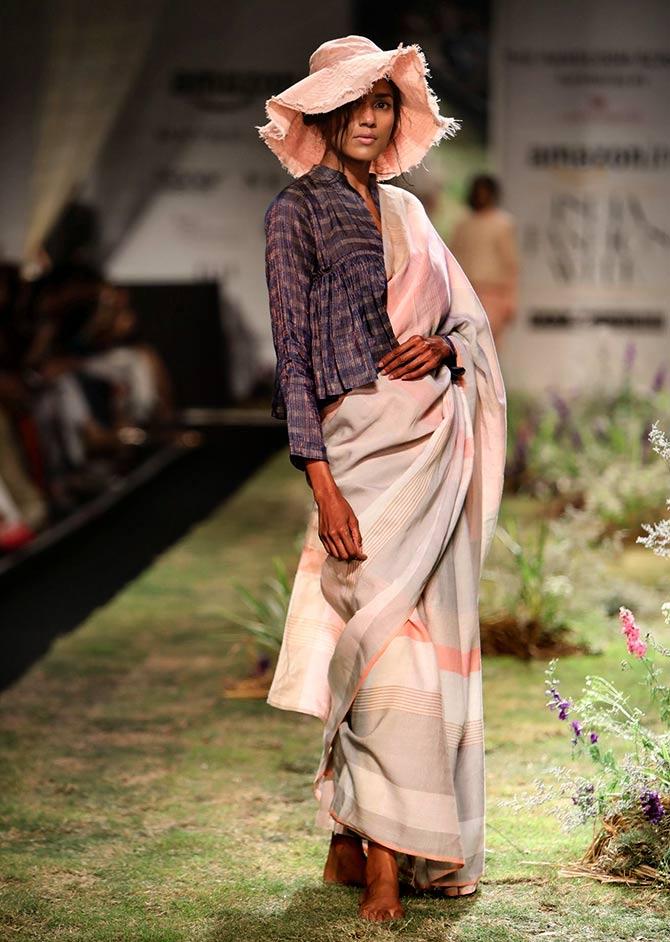 IMAGE: Here's an easy, free-flowing silhouette from the Handloom School. If you like comfort dressing, this peplum-style blouse and handloom sari are ideal choices for the summer.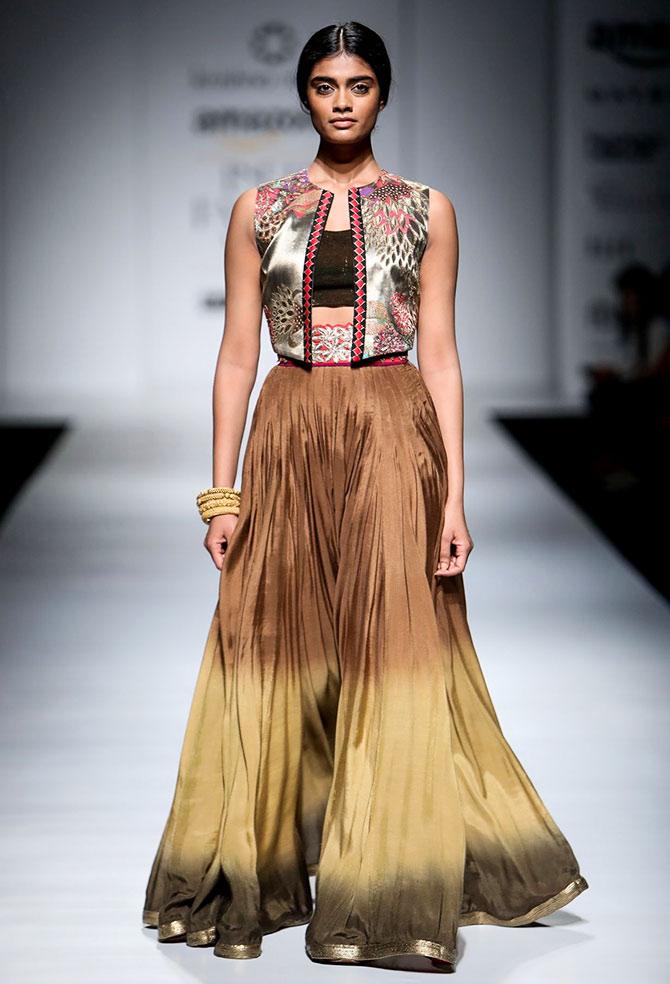 IMAGE: Model Archana Akil Kumar dressed in a stylised jacket with stencil painting and hand embroidery, paired with a shaded lehenga with a cutwork gota belt.
This layered skirt and jacket by Krishna Mehta has a playful feel to it and the use of contrasting fabrics creates a dramatic twist.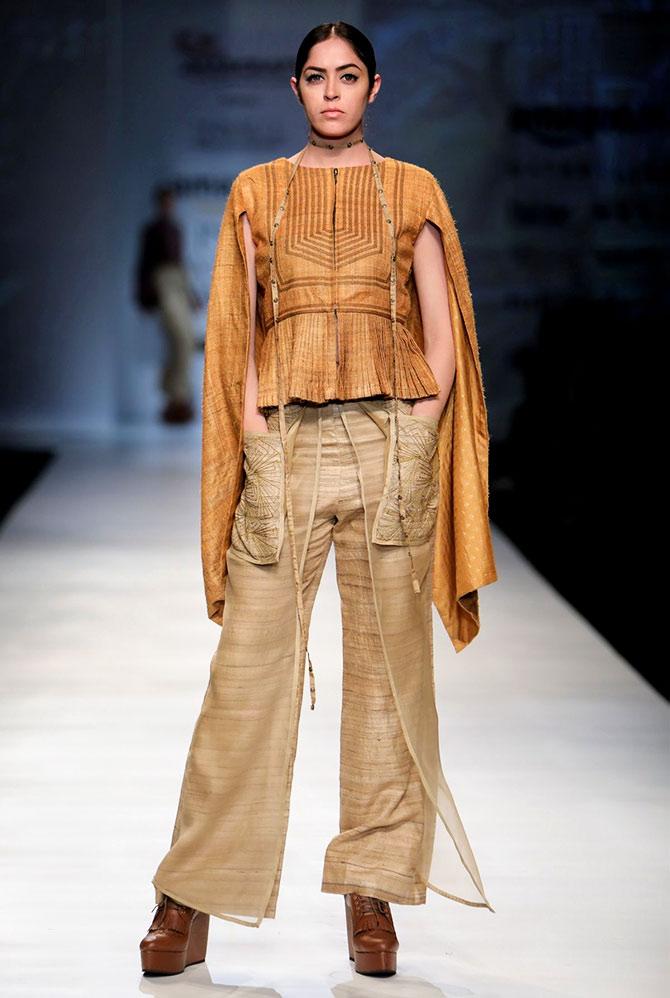 IMAGE: A model sports a cape jacket with trousers in earth tones by Pinnacle.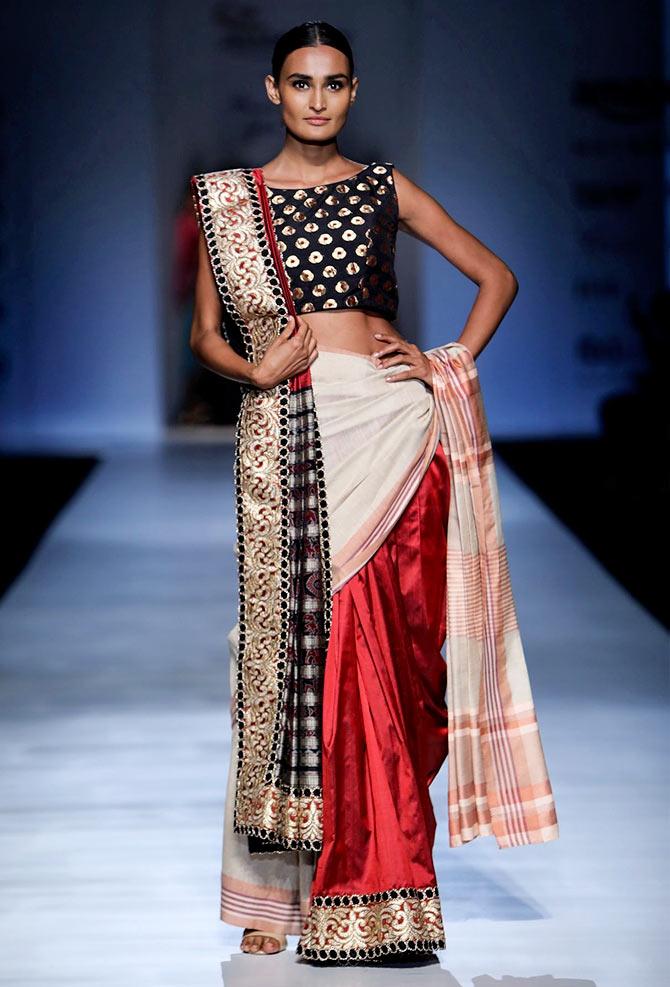 IMAGE: The Queen of Drapes Shaina NC effortlessly fused a silk sari with a handloom one to create a double-draped sari, modelled by Rachel Bayros. The embroidery and ornate work of the festive red sari blends seamlessly with the plain one.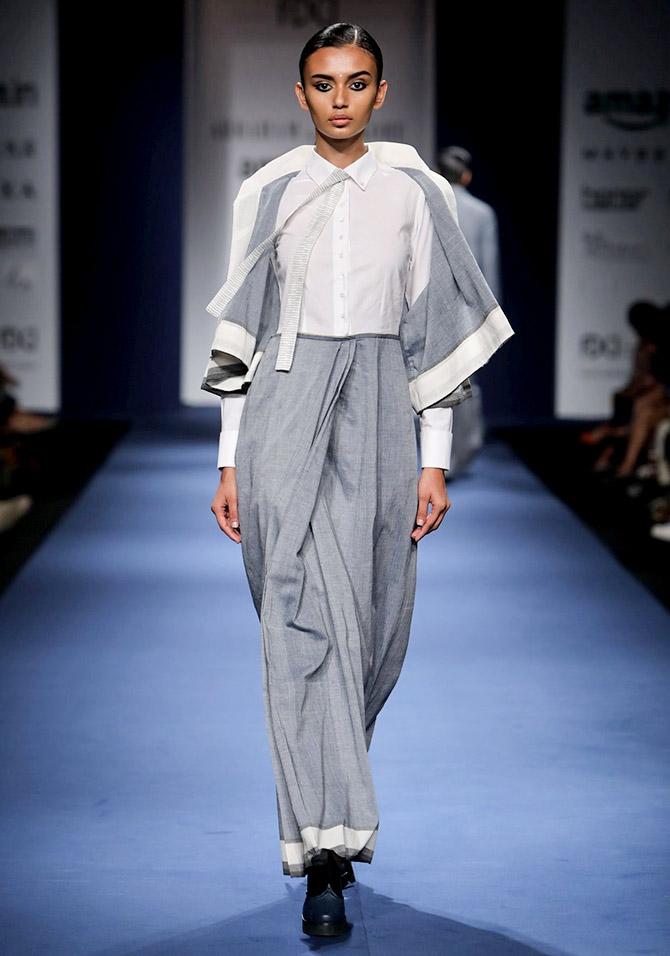 IMAGE: Take your workwear to a new high with this lovely gender neutral outfit in ivory from Abraham & Thakore.
The designers have beautifully re-imagined the classic jacket and tie and added a fresh twist to it.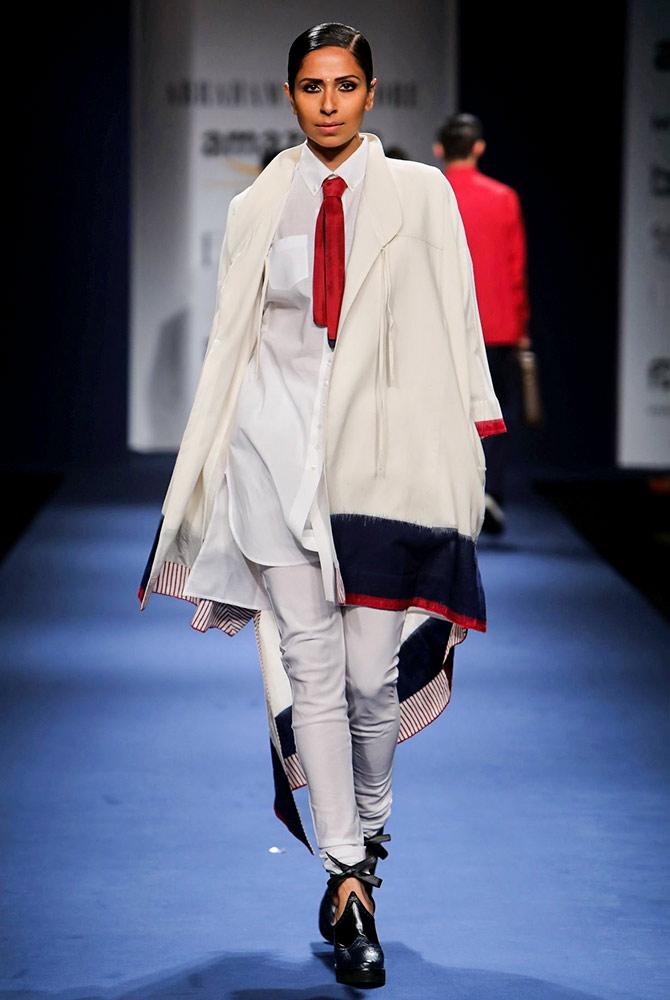 IMAGE: A classic example of gender neutral clothing by Abraham & Thakore!
The white shirt, churidar and jacket can be worn by men and women.
Take a closer look at the shoes worn by the model -- the intriguing pattern has been inspired by the mojri and the brogue.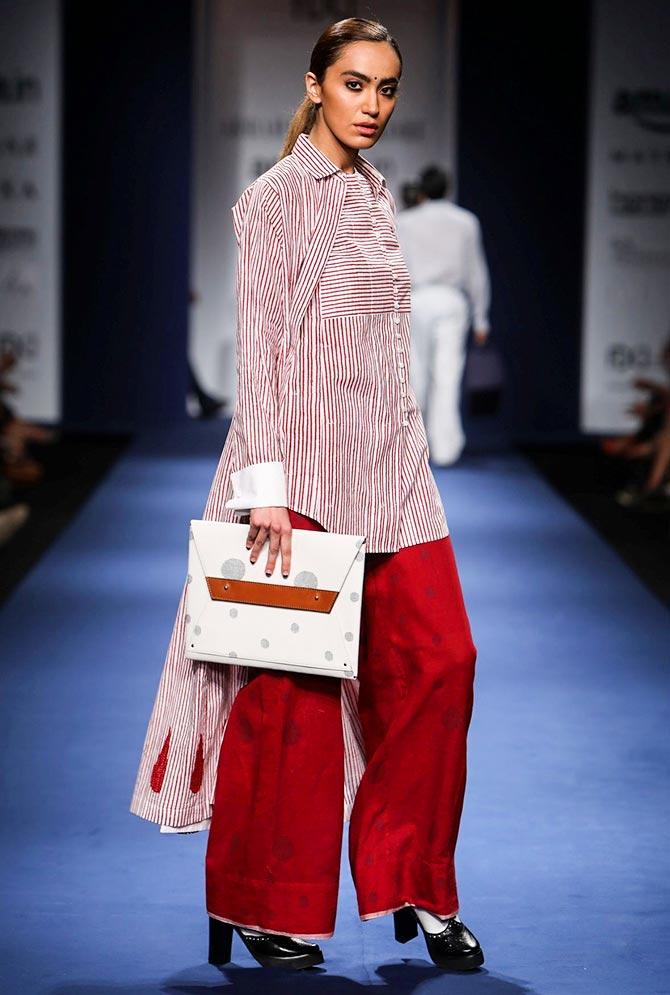 IMAGE: These gorgeous rose madder trousers by Abraham & Thakore worn with a striped tunic with a matching jacket make for stylish and chic office wear.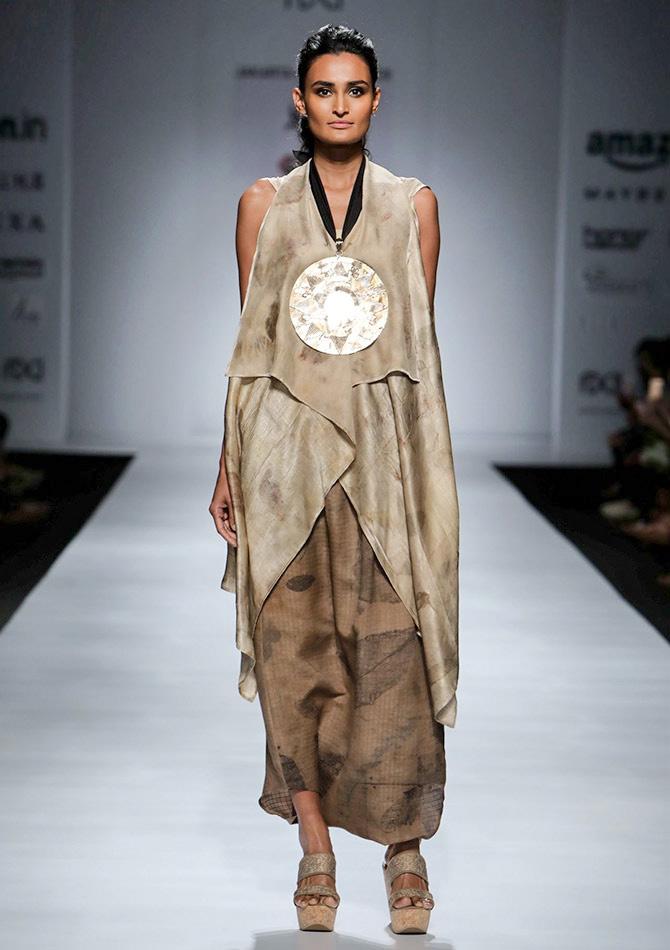 IMAGE: No better way to beat the summer heat than with an earthy outfit like this by Novita Yunus. What particularly caught our attention is the Surya Majapahit inspired gold plated necklace.
The outfit has been created by an eco-process where the colours and patterns of leaves have been used on different textiles.