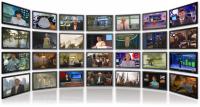 Sun TV's fall from grace is just one instance of the huge gaping hole in media regulation in India. It happened partly because there are no clearly defined cross-media caps.
Nor is there anything that states whether politicians or their relatives can or cannot own media vehicles and under what conditions.
In the UK, for instance, political parties and religious bodies are not allowed to own media.
India has dozens of examples that clearly show the need for an Ofcom or Federal Communications Commission kind of autonomous media regulator that is independent of the government.
The country needs a regulator that will create a policy framework for the $17 billion business of media and entertainment in India and arbitrate on issues with which neither the government nor the industry can be trusted.
Take the huge mess in news broadcasting. More than half of the staggering 122 news channels in India are owned by politicians and builders.
In films, an uneven entertainment tax and the terrible shortage of screens make life miserable, if not difficult, for serious investors who want to build a business.
The cable industry is a structural mess with roughly half the networks in the hands of local politicians.
One could go on. The fact remains that the media is one of those industries that governments are too afraid to touch (the paid news scandal in newspapers) or love to meddle with (content and ratings regulation in TV).
Either way, government intervention hurts the industry's growth. A ministry is always in a weaker position than a regulator because it is subject to the pulls and pressures of coalition partners, party members and other individuals.
A regulator, once it is formed and is truly independent like the Securities and Exchange Board of India or the Insurance Regulatory and Development Authority, usually stands in a good place.
It is backed by an Act of Parliament. It decides on a non-political basis and its decisions are usually harder to challenge, which leads to greater stability. Why then don't we see any discussion on setting up an FCC kind of regulator?
That depends on who you talk to. It is not a suggestion most people from the industry welcome.
At the Federation of Indian Chambers of Commerce and Industry's FRAMES in March
this year, I was berated by three major broadcast CEOs for bringing up the issue.
The industry still enjoys the freedom to arm-twist cable operators or theatre owners, to form joint ventures that could end up being monopolistic in nature or to invest in distribution when they already own content aggregation.
Naturally, the government hates the idea of giving up control on an industry that influences its vote bank.
It is very nice for the minister of information and broadcasting to be seen pushing back the time for Big Boss or pulling up news broadcasters over falling standards.
But ask the ministry to deal with the structural issues that have led to this mess in content, newspapers charging for publicising a candidate editorially, politicians owning cable networks and so on and it is lost.
Most politicians prefer to deal with things that cause a ruckus in Parliament, get them mileage among the electorate and keep them on the right side of media owners.
The only set of people who welcome the suggestion comprises investors, analysts and investment bankers.
That is because most can see what the lack of decent regulation is doing to this business. It is evident from all the good "decisions" that the ministry of information and broadcasting has taken in the last few years.
For instance, within a decade of allowing tax-free multiplexes in just one state, the film business grew more than seven times in revenue. Just one decision - to move from licence fee to a revenue share - moved the whole game in radio from an industry whining about operational costs to one raring to bid for 850 more licences.
But many of these good decisions are frustratingly few and far between. They all sit in some dusty report or white paper that no one reads.
The only time media regulation comes to the forefront of any discussion is when a show or a film offends someone's sensibilities.
Why should that be? Why can't an independent regulator just deal with all the issues of business including content on a routine basis.
My friends in the news business tell me that an "independent regulator" is not possible in India. That is not entirely correct. Sebi and Irda have played the role of an arbitrator very well. So, there is a precedent and it can be done.
The question is: Which government will show the will to outsource media regulation?