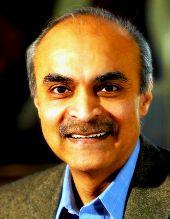 After 33 years of service in global fast moving consumer goods giant Unilever, Manvinder Singh Banga, better known as Vindi Banga, will leave the company by May this year.
India-born Banga has been responsible for Unilever's food, home and personal care business, besides being a member of the executive board.
He will be replaced by Micheal B Polk, who is currently president Unilever Americas.
"I had 33 wonderful years with the group. It was a fantastic experience and the last 5-6 years particularly on the executive board were very satisfying. We have collectively transformed the company," Banga told PTI.
Banga was appointed chairman and managing director of Unilever's Indian subsidiary Hindustan Unilever in 2000.
From 1995 to 1998, he was the director for detergents, HUL as well as category leader for soaps and detergents for Unilever's Central Asia and West Asia.
He had worked as senior vice-president, hair and oral care from 1998 to 2000.
In 2004, he was promoted as business group President for Unilever's home and personal care business in Asia.
He was also non-executive chairman of Hindustan Lever. In April 2005, Vindi joined the newly formed Unilever Executive and was appointed president, foods.
Recently, he was awarded India's civilian honour Padma Bhushan. Commenting on the experience during the financial meltdown, Banga said: "Last year when it was a torturous test for everybody we performed better than our peers."
Asked about his future plans, he declined to divulge saying he would not like to comment on it as he would continue with Unilever till May end.
"There are wonderful opportunities. . . I would leverage from my global experience," Banga added.
Unilever CEO Paul Polman described Banga as a great leader who was responsible for significant improvement in the company's innovation results, delivering bigger ideas with global scale.
"He will leave a lasting impact on the company. He will be greatly missed," Polman said.
Image: Manvinder Singh Banga