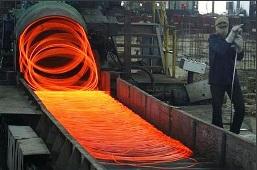 Beijing's increasing assertiveness in the South China Sea has added further significance to Vietnamese President Truong Tan Sang's visit to India starting Tuesday.

But Sang's visit, the first to a non-Asean (Association of Southeast Asian Nations) member-state since his taking office in July, is also likely to feature a keen push to grow bilateral business and economic relations by building on the new strategic partnership that New Delhi and Hanoi established in 2007.

Although two-way trade has grown 10-fold since 2000 and is expected to exceed $ 3 billion this year, according to the Ministry of External Affairs, India's flagship foreign direct investment project in Vietnam -- Tata Steel's proposed $ 5 billion facility -- remains stalled, largely owing to pending governmental approvals.

It has been four years since Tata Steel, the world's seventh largest steel-maker, signed a memorandum of understanding in 2007 to set up an integrated steel plant at the Vung Ang Economic Zone in central Vietnam's Ha Tinh province.

After running into a series of difficulties, including having its original plot reallocated to another firm even after receiving the land-planning certificate for the land, Tata Steel in December 2009 applied for an investment license for the facility, a prerequisite for such projects.

The provincial government issues these licenses, in accordance to Vietnamese regulations.

However, despite interventions by Prime Minister Manmohan Singh, Finance Minister Pranab Mukherjee and, most recently, Foreign Minister S M Krishna during their respective visits to Vietnam in the last 12 months, Tata Steel is yet to receive the requisite investment license.

"There is no apparent reason for this
delay. All legal formalities have been completed and all outstanding issues have been resolved. But the investment license for the project is still awaited," a highly-placed source told Business Standard.
The initial contention between the 1907-founded steel-maker and the Vietnamese government was with regard to the extent of contribution each would make towards clearing the allocated land, as Tata Steel held the position that the Vietnamese investment laws state that investors will be given land free of encumbrance and all cost of site clearance will be borne by the government.
"But even this has been sorted out. Tata Steel has agreed to match the amount that other companies (in the area) have paid to clear the land," the source added.
Finance Minister Pranab Mukherjee during his visit to Hanoi in May this year had, in fact, told Vietnamese Prime Minister Nguyen Tan Dung to ensure that there was a level playing field and Indian investments weren't discriminated against.
Nonetheless, it remains unclear whether President Sang's visit will give further impetus for an early resolution or if any announcements in this regard will be made.
Despite repeated attempts, Vietnam's ambassador to India, Nguyen Thanh Tan, remained unavailable for comment.
Indian diplomatic officials in Hanoi, though, said that 'very intensive preparations' had been made by the Vietnamese government prior to the visit and Sang had "taken an active interest" in the project.
"We are hopeful that the project will move forward and if it happens, it will be a huge development. The Indian business community will look at Vietnam more positively if the Tata Steel project goes through," the official added.
But Tata Steel, sources indicated, may look to reconsider its position in the project if the deadlock continues.