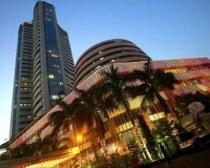 The markets had a blow-hot blow-cold time through the day before signing off on the lower side as Moody's downgrading of Italy and follow-up selling on banking counters extinguished any hopes of a pullback post the carnage of the previous two sessions.

The protracted war between the bulls and bears saw the Sensex oscillating in a range of around 300 points before ending at 15,792, weaker by 72 points and the Nifty ended at 4751, down 20 points.

The broader markets fared worse, with the midcap index midcap losing 62 points or 1% at 5874 and the smallcap index losing 54 points at 6649.

The early-morning green tickers on the screen were a welcome departure from the nervousness that had bedeviled the markets in the past two sessions.

Thanks to the US markets for that! Over night, Wall Street had closed significantly higher, despite clocking large losses through much of the day; the Dow Jones had ended up 153 points or 1.4% and Nasdaq Composite had added 69 points higher or 3%.

The Sensex actually regained the 16k mark midway through the session to touch a high of 16,044. But negative news on the Italian front poured cold water on the intra-day rally.

Moody's lowered its rating on Italy's bonds by three notches, saying it saw a 'material increase' in funding risks for eurozone countries with high levels of debt and warning that further downgrades were possible.

The agency downgraded Italy to A2 from Aa2, a lower rating than it holds on Estonia and on a par with Malta and kept a negative outlook on the rating.

The European markets, however, were in fine fettle; the FTSE, CAC and DAX gained between 1% and 2%
each. But the Asian markets  had a rough session, with the Seoul, Nikkei and Taiwan shaving off an equivalent percentage.
Bankex extended its losses of the previos session, with the index slipping by 2.6% or 266 points to 9,952. State Bank of India extended Tuesday's 4.08% losses to hit a 52-week low of Rs 1715, down 4%, triggered by a downgrade by rating agency Moody's Investors Service.
ICICI Bank, too, hit 52-week low of Rs 778, down 2% and HDFC Bank slipped by 2.6% at Rs 438.
Moody's had cut bank financial strength rating, or stand-alone rating of SBI, to D+ from C- because of concerns over its capital situation and deteriorating asset quality.
Meanwhile, recapitalisation measures at SBI are likely to be completed by March 2012, its chairman said a day after Moody's action.
The midcap banking space did worse, with Indian Bank diving by 5.1% at Rs 190, Allahabad Bank softening by 3.5% at Rs 141 and Andhra Bank losing 3.3% at Rs 115.
The high-beta metal space also had a testing time, with Hindalco weakening by 3.6% at Rs 120, Jindal Steel losing 2.5% at Rs 445 and Sterlite losing 0.8% at Rs 322.
And index heavyweight RIL has lost another 0.6% at Rs 767.
On the other hand, J P Associates bucked the weakness to advance by 3.8% to Rs 71, DLF gained 2.6% to Rs 206 and Sun Pharma added 1.7% at Rs 460.
And contrary to the trend in the metal space, Tata Steel ended higher by 0.8% at Rs 400.
The market breadth was negative.
Out of 2,855 stocks traded on the BSE, there were 1086 advancing stocks as against 1,642 declines.