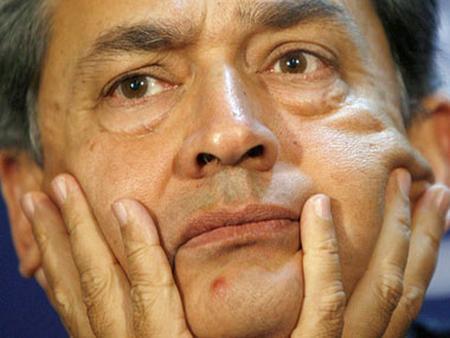 India-born ex-Goldman Sachs director Rajat Gupta's conviction on insider trading charges should not be thrown out as the government provided "overwhelming" proof against him for passing on illegal information in return for "expected potential pecuniary gains," US prosecutors said.
The prosecutors said the IIT and Harvard-educated former McKinsey head, who is serving a two-year sentence, had a "powerful" financial incentive to tip his billionaire hedge-fund operator friend Raj Rajaratnam.
Attorney for the Southern District of New York, Preet Bharara, submitted a memorandum on behalf of the government opposing Gupta's plea to throw out his conviction based on a recent ruling by an appeals court in which it reversed the insider convictions of hedge-fund managers Todd Newman and Anthony Chiasson.
In court papers filed on Thursday, prosecutors said Gupta is "not an innocent man" as he abused his position as a corporate insider by repeatedly divulging inside information to Rajaratnam, who reaped millions of dollars in illegal profits based on Gupta's tips.
Gupta, 66, is seeking to set aside his conviction, based on the Second Circuit's decision in the case against Newman, in which the court ruled that prosecutors must show that a defendant got a personal benefit for passing illegal tips.
Convicted in 2012, Gupta began serving a two-year prison term on insider trading charges in June 2014. He was also fined $5 million.
Stressing that the personal aspect of Gupta-Rajaratnam relationship was "undeniable," the government said Gupta personally invested in Galleon and participated in several actual and contemplated ventures with him.
"In sum, Gupta's financial interests were heavily aligned with Galleon's. Rajaratnam bestowed corporate titles on Gupta, gave him an ongoing financial interest in Galleon International...and generally granted Gupta a level of access and corporate prestige that Gupta craved.
"As part of their business relationship, each had shared expectations. Rajaratnam expected, and Gupta consistently delivered, inside information that Gupta possessed as a corporate insider. For those tips, Gupta clearly expected potential pecuniary gain in return," the prosecutors said.