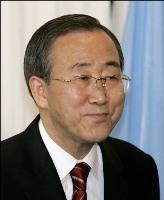 The UN Security Council has unanimously adopted a resolution that seeks the creation of a special body to prosecute pirates caught off the Somali coast and asks all countries to criminalise piracy.
The Russian-drafted resolution, which passed unanimously by all 15 member-states of the Security Council, appealed to all countries 'to criminalise piracy under their domestic law and favourably consider the prosecution of suspected, and imprisonment of convicted, pirates apprehended off the coast of Somalia, consistent with applicable international human rights law.'
The resolution noted with concern, 'that the domestic law of a number of states lack effective criminalising piracy or procedural provisions for effective criminal prosecution of suspected pirates'.
In the resolution, members noted efforts by the United Nations and other international agencies 'to enhance the capacity of the judicial and the corrections systems in Somalia, Kenya, Seychelles and other States in the region'.
At the same time, it stressed 'the need to address the problems caused by the limited capacity of judicial system of Somalia and other States in the region to effectively prosecute suspected pirates.'
The Security Council requested Secretary-General Ban Ki-moon to present within three months a report on possible options to further the 'aim of prosecuting and imprisoning pirates', and the options for setting up courts at a regional or international level.
While Russia emphasised the need to put these courts in place, the representative from Uganda noted that a more effective and comprehensive approach was to address its root causes particularly the instability in Somalia.
Under-secretary-general for political affairs, B Lynn Pascoe has unveiled $2.1 million worth of projects planned to tackle piracy with a special emphasis on prosecution.
In 2008, an Indian navy warship, INS Tabar destroyed a suspected Somali pirate vessel after the pirates opened fire at the ship in the Gulf of Aden.
In 2010, in one of their biggest strikes yet, Somali pirates hijacked eight Indian boats carrying 150 Indian sailors off the Kismayo coast.
Image: Ban Ki-moon