The upcoming Union Budget would focus on efforts to put the faltering economy back on track, senior BJP leader Shahnawaz Hussain said, accusing the previous UPA regime of derailing it.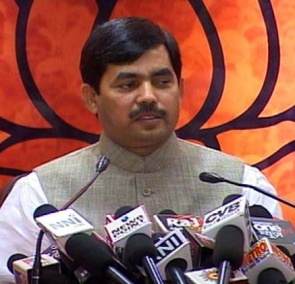 Hussain said the new government had inherited an "empty treasury" while the prices of oil were shooting up.
"In leagcy, we have got an empty treasury. Due to the problem in Gulf countries, the prices of oil are going up, but the avenues to earn revenues are still the same. So Finance Minister Arun Jaitley will take all the steps that have to be taken to bring back the derailed economy on track," Hussain said on the sidelines of a programme in Kolkata.
The 2014-15 Union Budget will be presented on Thursday by the Modi government which is faced with falling growth, dismal investment scenario, high fiscal deficit and rising inflation.
Reminded that the BJP had opposed the rail fare hike when it was in the opposition, but now it was taking the same path, Hussain said, "The opinion of Parliament was that the Railways has to be of a world class category. This decision was part of an interim budget, which has been implemented. This is not a levy that we have imposed on our own."
Hussain slammed the Congress leadership for mocking at the "acche din (good days) comment" by Prime Minister Narendra Modi.
"The mandate has been for five years. After five years we will go to polls after fulfilling all our poll promises. We have taken steps against hoarders," he said.
Speaking about Kashmir, Hussain reiterated that BJP stand was clear in this regard. It does not support Article 370 in Kashmir.
"I have right in every part of India. I have just expressed my opinion that there can't be two symbols in one country," he said.
Hussain also took a dig at RJD chief Lalu Prasad's indication that the party would fight the coming Assembly elections in Bihar with JD(U).
"The BJP wave is so strong that two diehard opponents, RJD and JD(U), are contemplating forging an alliance in order to save their existence. I won't be astonished if one day TMC and CPI(M) in West Bengal too forge an alliance in order to stop BJP from coming to power. So strong is BJP and Narendra Modi wave!" he said.
Please click here for the Complete Coverage of Budget 2014 -15