The Norway-based firm, Telenor, entered India through a joint venture with Unitech Wireless.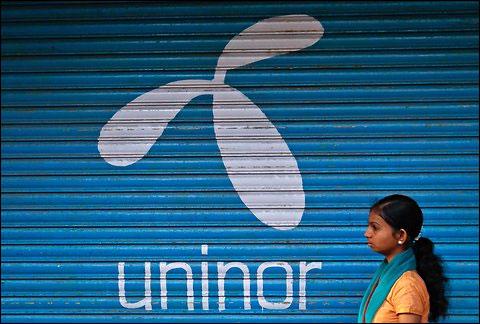 Telecom operator Uninor on Wednesday announced changing its brand name to Telenor, the name of its parent firm, and spending Rs 100 crore (Rs 1 billion) on repositioning itself as "the most affordable service provider" in India, even as the company said it will compensate consumers for call drops.
"The brand change is a reflection of our commitment to India and our mass market consumers as we promise to offer superior value in meeting their evolving needs. To our 3,500 employees in India, today marks an important name change," Morten Karlsen Sorby, group head of Asia region, Telenor said.
It has changed its tag to 'Ab life full paisa vasool' from 'Sabse Sasta'. Telenor said the company has taken customer-centric approach through initiatives like compensation for call drops.
"For rebranding exercises, we will spend around Rs 80-100 crore. Also, we take responsibility for a call drop as we commit quality service to our customers. Hence, we are extending the reimbursements to all calls -- local, STD and ISD. Earlier, it was being offered on local calls only," Vivek Sood, CEO, Telenor India said.
He said that customers want service providers to be fair and Telenor will continue to focus on this trait.
The Norway-based firm, Telenor, entered India through a joint venture with Unitech Wireless, which was branded as Uninor. Unitech has now completely exited from the operations and last year, the Telenor group increased its stake in the Indian entity to 100 per cent.
Earlier this month, the company had changed the name of the company from Telewings Communications Services to Telenor (India) Communications.
The Telenor group has mobile operations in 13 markets in the Nordic region, Central and Eastern Europe and in Asia.
Telenor India has permit for seven service areas but operates in six circles -- Andhra Pradesh, Bihar, Gujarat, Maharashtra, Uttar Pradesh East and West.
"We are facing some regulatory challenges related to microwave access in Assam. We will start our service in Assam once it is resolved," Sood said.
The company acquired spectrum for starting service in Assam in February 2014 but it says that government is yet to allocate it frequencies for backend network connectivity.
When asked about expansion of service in other parts of the country, Sood said that Telenor is evaluating all options of acquiring spectrum be it through auction or spectrum trading to expand services.
"Government is yet to come out with detailed spectrum sharing and trading guidelines. Once they come out then we will be in position to clearly evaluate options before us. As of now it will be premature to talk about it," Sood said.