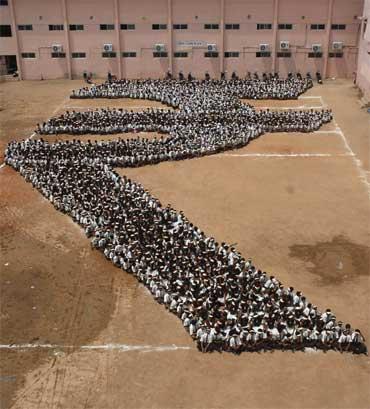 Karvy expects individual wealth in India to grow to Rs 558 lakh crore over the next five years.
Total wealth held by individuals in India has grown 8.5 per cent to Rs 304 lakh crore in FY16, according to Karvy's India Wealth Report 2016. It expects individual wealth in India to grow to Rs 558 lakh crore at a compounded annual growth rate (CAGR) of 12.9 per cent over the nextfive years.
Total individual wealth in financial assets grew 7.14 per cent to Rs 172 lakh crore in FY16, the report says, much slower than in FY15 when wealth had grown nearly 19 per cent. The slower pace of growth has been attributed to the bleak performance of direct equities. Karvy expects financial assets to grow at a pace of 14.73 per cent CAGR, nearly doubling in the next five years.
Growth in alternate asset classes in FY16 stood at 84.70 per cent vis-à-vis FY15. Karvy predicts the growth to continue in the next five years although at a slightly slower pace. At the same time, it also cautions against more 'Black Swan' events such as demonetisation in the future, which will change the way Indians perceive wealth.
Going ahead, Karvy expects more wealth to enter the formal financial system given the government's demonetisation programme. As a result, savings bank deposits, fixed deposits and small savings schemes would be most sought-after investment avenues even for the next year.
In the long run, Karvy says, this wealth will eventually find its way into asset classes such as equities, mutual funds, etc. On the other hand, the proportion of investments in physical assets such as gold and real estate will reduce.
"Wealth in financial assets (direct equities, fixed deposits, alternate assets and mutual funds) is likely to grow considerably in the long run, and events such as demonetisation will also help reroute Indian investors' wealth into these financial assets.
Growth in direct equity at a CAGR of 24.27 per cent over the next five years is likely to lead this growth in financial wealth, followed mutual funds (20.23 per cent), insurance (15.6%), fixed deposits (13.31 per cent) and savings deposits (12.89 per cent)," said Abhijit Bhave, CEO, Karvy Private Wealth.
Individual wealth in physical assets, according to Karvy, stood at Rs 132 lakh crore, having grown at a pace of 10.32 per cent in FY16 compared with a 2 per cent decline in FY15.
Image used for representational purposes. Photograph: Reuters.