Leading property developers, such as Oberoi Realty, Tata Realty and Infrastructure, and Hiranandani, have turned to redevelopment of existing buildings in the expensive parts of Mumbai as a way of augmenting revenue.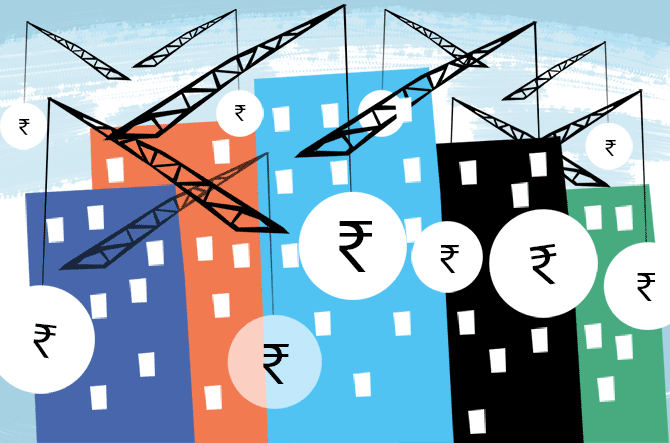 Experts estimate that Mumbai's redevelopment projects could be worth Rs 30,000 crore.
As such, they are not new. What is new is that the big developers are interested in them.
Leading the race is Oberoi Realty, which has set up a separate team for these projects.
Recently, it took over a slum redevelopment project next to its property in Borivali, and is looking at a large redevelopment project in Worli.
"We strongly believe Mumbai as a city has to get into redevelopment. It's a win-win for occupants, developers, and the government," said Vikas Oberoi, chairman, Oberoi Realty.
The company is looking at redevelopment projects, where it can generate a revenue of anywhere between Rs 500 crore and Rs 700 crore, said its chief financial officer Saumil Daru in a recent conference call with analysts.
"As a company, if we can make Rs 200-300 crore out of a particular project, it is something that probably falls within our project size," said Daru.
Tata Realty, the real estate arm of Tata Sons, is also looking to redevelop residential buildings in South Mumbai, where real estate prices are among the highest in the country.
Its managing director (MD), Sanjay Dutt, said the company hopes to do a minimum of half a million square feet in the city.
"Established markets rarely have vacant land, except for port-, airport-, defence-, railways-, and state-owned land, which rarely comes up and is generally leasehold.
"This makes vertical private freehold title redevelopment attractive and viable. We always look for such opportunities," said Dutt.
On the potential of redevelopment projects in Mumbai and the returns, Dutt said: "Most prefer equity internally: A rate of return of 25 per cent, but one gets 15-18 per cent.
"The potential is substantial. Mumbai can have $3-4 billion worth of projects as the values are high."
Hiranandani's MD Niranjan Hiranandani said it has a prospective project in Malabar Hills, where billionaire investor R K Damani bought a property for over Rs 1,000 crore recently.
Fund managers, such as Integrow Asset Management and Nisus Finance Services Co. (NiFCO), are also looking to fund developers who plan to take on such projects.
"There is a consortium of investors with a corpus of Rs 70-80 crore. Each project needs Rs 20-25 crore.
"We are looking to invest in these residential projects," said NiFCO MD Amit Goenka.
He said the projects are attractive for several reasons: The premium (the extra charges levied by the municipality for additional construction) reduction till last December, the owners and occupiers' rational expectations in terms of area, rent, and corpus, the willingness of owners and societies to mortgage land, and the uptick in offtake, including the willingness of existing occupiers to buy more space.
"There are very few opportunities for greenfield developments in the more valuable city centre areas because of shortage of land.
"As such, redevelopment projects are often the only option for developers keen to have projects in these areas where demand outstrips supply," said Anuj Puri, chairman of Anarock Property Consultants.
Out of the three redevelopment models — slum redevelopment, cluster redevelopment, or the redevelopment of one or several old housing societies — the latter is the preferred option for most developers.
"The original owners are in manageable numbers and it is easier to get a consensus," said Puri.
In value terms, the division of the results of redevelopment is usually 30-40 per cent to the original owners, with the remaining 60-70 per cent being available for free sale to the developer.
"The real value for developers is the location. Many redevelopments happen in the most valuable central areas, where land prices are astronomical and profit margins huge.
"Redevelopments in the suburbs are far less attractive and not really in as much need as the central areas," added Puri.
Brick, mortar and foresight

Island city of Mumbai can have redevelopment projects worth Rs 30,000 crore
Leading the race is Oberoi Realty, which has set up a separate team for these projects
It took over a slum redevelopment project in Borivali, and is looking at a large redevelopment project in Worli
Tata Realty and Infrastructure is also looking to redevelop residential buildings in South Mumbai
The company hopes to do a minimum of half a million square feet in the city