Though most of the voice-activated solutions are based in English, work is on to create solutions in Indian languages.
Pranjal Sharma reports.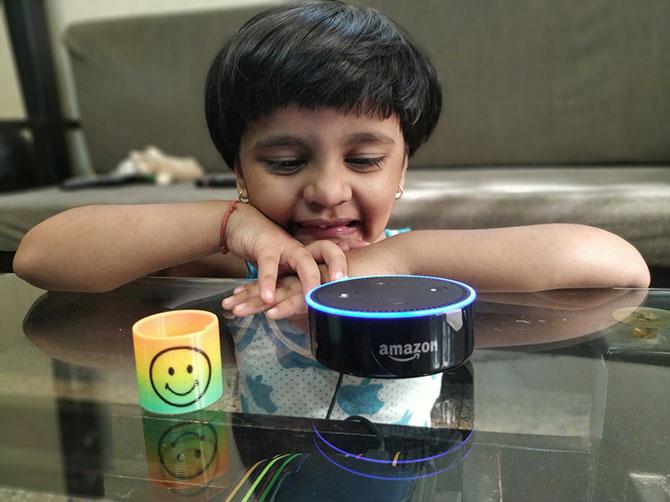 Talking to devices is no longer a fad in India.
From corner rooms populated by CXOs to coworking spaces buzzing with millennials, conversations with robotic voices emanating from lifeless devices more the norm than exception.
Consumers are becoming increasingly comfortable for automated voices informing or guiding them.
Hey Cortana, Alexa, Google and Siri are now common prefixes for voice-based queries in India.
Google Home device is selling briskly online.
Amazon's Echo devices with voice assistant Alexa is fairly well known in Indian cities.
Microsoft's Cortana is being downloaded with enthusiasm.
According to International Data Corporation, about 753,000 smart speaker devices were shipped to India in 2018.
The market can only grow exponentially.
'Indian consumers are in sync with global trends. Virtual digital assistants (VDAs), which are automated software applications or platforms that assist the human user through understanding natural language in written or spoken form, are rapidly gaining traction in consumer and enterprise markets alike,' says a report by market intelligence firm Tractica.
Though smart phone-based VDAs are most popular, the usage is expanding to other devices.
These include smart watches, fitness trackers, automobiles, smart home systems, PCs and TVs.
It is not just savvy urban users in megapolises.
Consumers across the country are chatting up bots to save on their typing effort.
For the millions of newly emerging smartphone users, voicing a query or recording a message is much easier than typing into a tiny keyboard.
Most are leaping from using a simple mobile to a one smart one with voice-enabled features.
'Unique active consumer VDA users will grow from 390 million in 2015 to 1.8 billion worldwide by the end of 2021,' says Tractica.
'During the same period, unique active enterprise VDA users will rise from 155 million in 2015 to 843 million by 2021.'
The market intelligence firm forecasts that total VDA revenue will grow from $1.6 billion in 2015 to $15.8 billion in 2021.
VDAs are just one of the many uses of natural language processing (NLP) ability of artificial intelligence.
Tractica says NLP has more than 42 uses across 14 industry segments.
'While NLP is most commonly understood as a user interface technology, it is also a critical technology for extracting insights and analysis from a vast amount of previously unindexed and unstructured data, mining video and audio files, emails, scanned documents, and more,' the report says.
The NLP software market is set to grow from $136 million in 2016 to $5.4 billion by 2025 globally.
The maximum growth and potential is seen in countries like India, which has multitude of languages.
Simply put, many government welfare information, skilling programmes and health care advice can be delivered using NLP and voice-based solutions.
NLP may be a novel concept for Indian consumers, but researchers in the country have been working on it for decades.
The Centre for Indian Language Technology was set up at the Indian Institute of Technology-Bombay under a grant from the central government in 2000.
IIT-Bombay though had a team working on NLP since 1996.
Global companies and young startups are now offering enterprise and consumers solutions to Indians.
Though most of the voice-activated solutions are based in English, work is on to create solutions in Indian languages.
Users can speak to Google Home in Hindi.
Amazon has launched Alexa Cleo to learn Indian languages from its users.
Users can answer Alexa in their language in a crowd-sourced effort of skilling artificial intelligence.
Using our voices to teach artificial intelligence to automatically talk back to us in our language is the new era we live in.