After 5 yrs, firm's offer to set up private satellites for digital push has seen some interest from Isro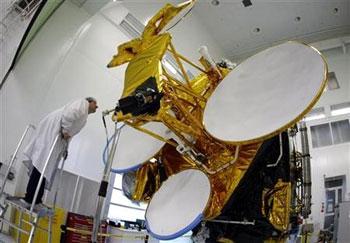 For Hughes Network Systems, one of the largest providers of satellite broadband solutions and services, it has been a long wait in India. In 2010, the US-based company had proposed to set up private satellites that could put India, especially its rural areas, on the digital grid. For five years, there were no takers for the project. Now, its application has finally seen some interest from the Indian Space Research Organisation (Isro), which has begun talks with the company to understand its proposal.
In April 2010, the firm had first filed an application with the Department of Space, seeking an approval to establish an Indian satellite system, termed SURYA, in accordance with the Satcom Policy of 2000. If successful, Hughes will be the first foreign company to set up a satellite over Indian skies. The company's pitch entails an investment of $500 million-$1 billion and could significantly aid the government's 'Digital India' project.
Satellite technology was a good alternative to the existing terrestrial technology (fibre and wireless), which was costly and time-consuming to deploy, Pranav Roach, president of Hughes India, told Business Standard. "Fixed and mobile technology is limited to urban areas and leaves a huge vacuum in rural areas…Relying on existing technology alone will limit the government's Digital India," he said.
Based on 'Ka' band technology, this was being deployed by many countries, said Roach. Hughes claims more than a million consumers access the internet through its satellite system in the US, adding this technology is also used by consumers across Brazil, Europe, Africa, West Asia and Russia.
Roach said for the past five years, his office had been following up on its application but had failed to get a favourable response. After the National Democratic Alliance (NDA) government came to power at the Centre last year, the company's hopes were renewed, given the government's Digital India push. "There has been some movement after a long delay, though talks are at a very preliminary stage right now," said Roach.
Isro did not respond to an email sent by Business Standard.
The 'Ka' band is a step ahead of the 'Ku' band in which Isro currently operates. U R Rao, former head of Isro, said the Ku band might be getting saturated, as there were limited channels available, and it could be a good idea to move to the Ka band, especially as India needed more communication satellites. However, the space for satellites is finite, as all of these have to be directly above the equator and at the same height. "Isro is the most competent to set up satellites…Why should a nation import food when it can produce its own?" Rao asks.
During the United Progressive Alliance regime, the so-called 'policy paralysis', the controversy over allocation of 2G telecom spectrum and the Devas-Antrix deal, in which Isro was directly involved, could have led to delay in processing the Hughes proposal, sources said.
The current government's focus on taking connectivity to the masses has evoked significant interest from global technology giants such as Microsoft and Google. Through the past year, senior executives of these companies have met Prime Minister Narendra Modi and proposed various measures - Google's Loon project and Microsoft's White Space project - that could accelerate broadband penetration in the country.
Pradman Kaul, Hughes's global president and CEO, has written to Modi, detailing the merits of the project and seeking a personal appointment with him. Providing last-mile connectivity is the backbone of the Digital India project, which aims to digitally enable the entire country. The ambitious National Optical Fibre Plan, started in 2011, aims to connect the country's 250,000 panchayats by laying fibre optic cables. But the project has been marred by delays. After the NDA government came to power, it promised to complete the project in a time-bound manner.
Experts say if the government is serious about wiring the entire nation, it will have to explore alternatives to fixed and mobile-based internet connectivity.
Indulekha Aravind from Bengaluru contributed to this story