Karan Choudhury reports on the implications of the strict Real Estate (Regulation and Development) Act and the prosecution of Unitech MDs, Sanjay Chandra and Ajay Chandra, in an alleged fraud case.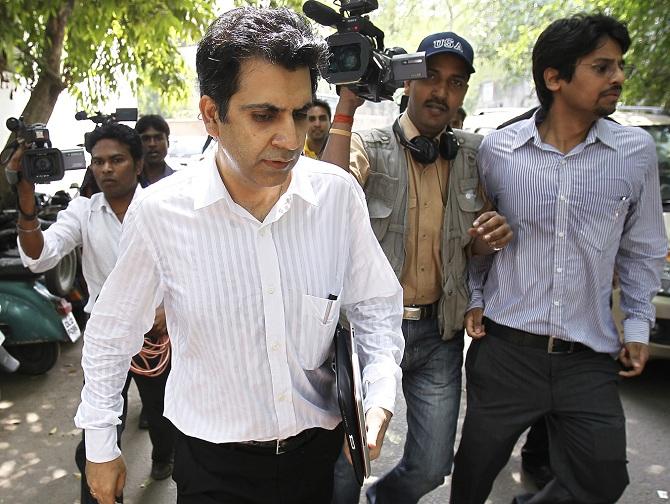 IMAGE: Unitech MD Sanjay Chandra, front, leaves a court in New Delhi in April, 2011 after a hearing in the multi-billion dollar telecoms scandal. Photograph:

Adnan Abidi/Reuters.
Stringent norms under the much-awaited Real Estate (Regulation and Development) Act, 2016, or RERA, are expected to prevent the recurrence of Unitech-like cases, experts say.
The construction firm's managing directors, Sanjay Chandra and Ajay Chandra, were arrested last week by the Economic Offences Wing (EOW) of the Delhi Police for alleged fraud related to a Gurugram-based real estate project. A Delhi court on Monday extended the police custody of Ajay Chandra and Sanjay Chandra by three more days.
According to EOW sleuths, the Chandras allegedly siphoned ₹200 crore off the Gurugram project and stashed it in an offshore account.
They have also been accused of duping buyers who booked flats in their Greater Noida residential project, to the tune of ₹35 crore.
Industry experts said RERA rules, such as keeping 70 per cent of sales receipts from customers in an escrow account, would help prevent such cases.
"The importance of RERA is to bring in discipline. There is a lack of consumer confidence in the market, which has been caused by such cases. Things such as creating an escrow account for every project would help bring back that confidence," said Samantak Das, chief economist and national director, research, Knight Frank India.
Under the Act, cleared by Parliament in March last year, real estate companies, perceived to be a non-transparent lot, would have to submit various details to the regulator. Violations are likely to attract stringent penalties, which are scaring company owners and even prompting directors on their boards to quit.
From small property dealers to board directors of realty firms, all can face punishments under the RERA provisions. Experts said the Act would wipe out the very existence of developers who are inconsistent with deliveries.
Developers, however, said RERA should not be enforced retrospectively, or else builders should be given some time to complete projects.
"While RERA would help prevent Unitech-like situations, it should either not be enforced retrospectively or builders should be given some time," said Parveen Jain, President, National Real Estate Development Council (NAREDCO).
EOW sleuths investigating the Chandras said they are trying to ascertain the expenditure on various projects, as the alleged company has not provided the details.
Police are also trying to recover the project-related original documents and ascertain the money trail.
According to the police, Unitech allegedly collected ₹363 crore from 557 customers and banks. However, the company's account balance is almost nil.
In a reply to the stock exchange, Unitech said it was business as usual for the developer. "We will be availing appropriate remedy in accordance with law. Since the matter is sub-judice, the company cannot comment further at this stage. But we wish to clarify that day-to-day operations of the company are fully functional. It is our endeavour to deliver apartments to our valuable customers as soon as possible," it said.