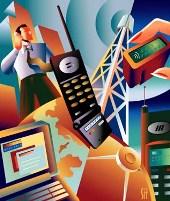 Terming the present state of the Indian telecom sector as a transition phase, National Innovation Council Chairman Sam Pitroda said on Monday the next revolution is expected to be much bigger than the earlier one.

"We are just going through a transition, everybody goes through a transition, sometimes you fall down, hurt your elbow, but its OK," Pitroda who is also advisor to the Prime Minister on public information infrastructure and innovations said on the sidelines of a launch of a book on telecom.

Since the last few years, the telecom sector has been affected by regulatory uncertainty which has hurt the investor sentiment.

This is also reflected in a sharp decline in foreign investments. Foreign direct investment in the sector plummeted by 96 per cent to $70.46 million in April-November 2012 period from $1,987.18
million during the same period a year ago.
Since 2010, many of the sectoral issues were embroiled in legal cases.
He said the first phase of telecom revolution is about to end and a bigger and better revolution is about to come.
". . . its OK to die a natural death and celebrate death. "The point is what's coming next and I see bigger and better revolution on the horizon which will transform India completely," Pitroda said.
"We have already build national knowledge network. . . in addition to it, we are connecting 250,000 panchayats through optical fibre, you will have hundreds of mega bits of bandwidth at village panchayats...this will change the way we govern," Pitroda added.
He said those who say that telecom is on the decline are looking at the sector from an older perspective "but if you see the sector from a new perspective, this is just the start of a bigger revolution".