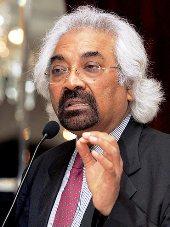 A huge investment of about $20 billion (around Rs 1.09 lakh crore) is needed to computerise all government departments and records and make information available at panchayat level, National Innovation Council Chairman Sam Pitroda said on Thursday.

Pitroda, who pioneered the telecom revolution in India, added that government will open four large data centres to enable the flow of information up to the panchayat level.

"We have today some 10,000 software people working in the government on all these applications.

If you put all these pieces together networks, platforms, applications, we believe government of India will wind up spending about $20 billion.

"Which is huge to provide the kind of infrastructure that you would need to essentially re-engineer the government, to redefine roles, to really create a whole new framework for development. Then you will have access to a great deal of information at the panchayat level," he said.

Pitroda, who is also adviser to the Prime Minister on Public Information Infrastructure and Innovations, was speaking at the Big Tent Activate Summit, which is being held to discuss issues related to the Internet and its impact on economy, politics, culture and society in India.

Emphasising on democratisation of information and opening up of government data to the public, Pitroda said it is time for the government to re-invest itself.

"We are opening four major data centres in the country and these are massive data centres because all of our strategy is based on cloud computing, open source software and low cost terminals.

"And with these data centres all the computing power will be centralised at the Federal level and each state will have their own data centres," he added.

He said there are sections in the government who are not willing to share the data with the public domain.

"They think it is government data. There is huge resistance to opening up the system," he added.

Stressing on the role being played by the United Progressive Alliance government, Pitroda said that had Rs 1 lakh crore have been allocated for creating public information infrastructure.

"Basically we are re-designing the government," he noted.

He said the National Knowledge Network, a step towards creating a knowledge society without boundaries, had connected 1,500 network nodes around the country, of laboratories and R&D institutes, which was only 10 per cent of the capacity.

By the end of this year, around 250,000 panchayats would be connected by optical fibre.

Also the Unique Identification Authority of India platform and the Geographical Information System platforms being created by the government will help in bringing information to the people.

Pitroda said India has collaborated with the US to create a common government information sharing platform (data.gov) and this service is being offered to other countries also.

"Rwanda and Ghana have joined the programme and we have requests for some 20 countries. Besides I met Egyptian officials today who evinced interest in joining it," he added.
Image: Sam Pitroda