When Sanjeev Handa logged on to check his Gmail a week back, he was welcomed by a screen which invited him to join Google Buzz or proceed to check his email. "I was pleasantly surprised, but did not know what the buzz was about," he said, adding: "When I clicked on the link, it asked me if I wished to connect with my Gmail friends. I thought why not?"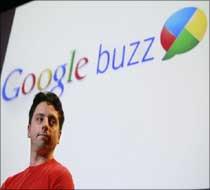 Handa is one of the nearly 176.5 million Gmail users who have impulsively clicked on Google Buzz, scaring the life out of other micro-blogging sites like Twitter and social networking sites like Facebook and MySpace.
"Where else can you get such a massive installed base with a single click? By building Buzz directly into Gmail, the service has an instant audience," says Mahesh Murthy, founder and chief executive officer of search marketing firm Pinstorm.
It is hard to start a social network from scratch, which explains why Orkut has not made much of a dent in markets like the US.
On the other hand, since its launch, Google has been buzzing all across with over nine million posts and comments. There were tweets on "Google Buzz" within every 11 seconds and technology forums were discussing Buzz with over 1,000 posts per day.
Incidentally, there are now more than 200 Yahoo! and third-party sites that feed into Yahoo! Updates. These include Flickr, Twitter, YouTube, Yelp and Yahoo! But the Buzz around Google (like all its other products) is very strong. Why is it so? Buzz can be said to be a stream of status updates, pictures, links and videos from your friends. You can "like" these items and comment on them.
And if you use Flickr, Picasa, Google Reader or Twitter, you can automatically have those items imported into your stream. Buzz also recommends items you may like based on your friends' activities. "The first thing we do when we find something is to share it," reasons Google, adding: "...more sharing happens online".
Google Buzz resonates a lot with FriendFeed but with a massive installed user base - all of which has literally made it the talk of the town (rather world).
"Google Buzz has created a whole new platform for promoting brands to create visibility through Google profiles. It would be bliss for the new age of spammers, because spam would not be in the guise of emails anymore, but in the shape and size of Buzz," points out Moksh Juneja, social media analyst.
Harish Tibrewala, joint chief executive officer, Social Wavelength, agrees: "The inclusion of GPS-tagging for text messages on Buzz is a very interesting feature and complements the social networking tool."
Google had a gap in its offering when compared to Facebook and the introduction of Buzz could help it establish a Google-searchable social network. Users, however, do not see Buzz as a Facebook-killer. Subhash Pais, business head at i9 Communications, would like to see Buzz evolve more.
"Too many people are sceptical about Buzz, and are running it down as a Twitter 'me too'. Buzz needs to be given time."
From Orkut to Lively to Google Friend Connect and beyond, Google has tried to succeed with social products that just haven't caught on. But for Singapore-based automobile designer, Bikram Haldipur, Buzz was the most logical step for Google. "It's built right into my Gmail page, so I don't have to invite a new set of friends from the scratch. I am already following 54 friends and their updates," he says.
Facebook has so far been the social networking leader with nearly 400 million active users worldwide, compared to Gmail's approximately 175 million users - scale, of course, matters in social networking.
Nineteen-year-old Pune University student, Ankita Lunawat, wondered on her Facebook page: "It seems to me that Google Buzz is exactly what Google Wave should have been in the first place." Google Wave, launched last year, was intended to be an online tool for real-time communication and collaboration.
WHAT IS FACEBOOK?
          A social networking site, Facebook allows users to connect with friends and make new friends. It allows users to connect by posting messages, updating their personal profiles as well as upload pictures to keep friends notified about themselves. 
          Founded in 2004, it has 400 million active users across the globe. About 70 per cent of Facebook users are outside the US.
          In India, it is the fastest growing social networking site with 55 million monthly visits and 10.5 million unique users per month. With 23.4 per cent penetration in India, it gets 1,184 million monthly page views.
WHAT IS TWITTER?
          Twitter is a microblogging service that allows users to send short text messages (140 characters) called "tweets" to friends and followers. Since these are small texts, it is easier to access on mobile phones as well. Twitter, as of December 2009, processed more than one billion tweets per month.
          From India, Twitter gets 1.45 million unique users per month. With 3.2 per cent penetration in the India market, Twitter gets 6.83 million page views per month.
WHAT IS BUZZ?
          The latest tool from Google, Buzz, is a new way to share updates, photos, videos and start conversations.
          Buzz is uncannily similar to Twitter, with its main advantage being the tight integration with Gmail. The service is automatically rolled out to 150 million Gmail users worldwide. Buzz is currently integrated with such sites as Picasa, Flickr, Google Reader, Google Maps, Blogger and Twitter.
WHAT IS WAVE?
          Wave is a networking tool from Google with features similar to Buzz.
          It allows users to communicate and work together with richly formatted text, photos, videos and maps. Any user can reply anywhere in the message, edit the content and add participants at any point in the process.
Vikram Shirur, manager (corporate communications) at Victorinox India has not taken to Google's latest social networking tool. "Having one window for social networking and mails is irrelevant. I wouldn't like mixing my business contacts with Buzz without my approval on Gmail."
Shirur is referring to the default settings on Buzz, where people you follow and the people that follow you are made public to anyone who looks at your profile. In other words, before you change any settings in Google Buzz, someone could go into your profile and see the people you email and chat with most.
The user's online identity has evolved beyond the email address and it is unlikely that one's entire social network uses the same email provider, argue users. "One need not know an email address to find someone on Facebook or Twitter, making connecting an easier process than it will be on Gmail," said New Delhi-based Kiran Khemani, social marketing specialist, over a Facebook message.
Khemani believes the social functionality will enhance the Gmail experience but the new product does not appear to provide a compelling reason to switch from Facebook to Gmail for social networking.
WHAT YOU CAN DO WITH BUZZ
* No set-up needed
* Automatically follow the people you email and chat with the most in Gmail
* Share publicly or privately; get responses to your post
* Comments get sent right to your inbox and so it's easy to keep the conversation going
* See thumbnails with each post and browse full-screen photos from popular sites
* Import stuff from Twitter, Picasa, Flickr, and Google Reader
* New posts and comments pop in as they happen. No refresh required.
* Buzz recommends interesting posts and weeds out the ones you're likely to skip
* Point your phone's browser to buzz.google.com, and you will get buzz on your phone
But will Buzz do a Twitter eventually? The number of Twitter users has risen 75 million, but the growth rate of new users is slowing and many Twitterers are inactive, according to a new study by RJMetric Inc, which develops online metric analysis software.
The rate of new user growth peaked last July to about 7.8 million a month. That number has dropped to about 6.2 million new users a month. Twitter, according to the report, has between 10 million and 15 million active tweeters. Earlier, HubSpot - a Cambridge, Mass.-based Web analytics company - revealed that the number of users joining Twitter started to drop off dramatically last fall.
And what about privacy concerns? Google announced some changes to Google Buzz. It will now ask Buzz users, "How do you want to be seen to others?", when they log into the service for the first time.
The default option will be, "Show the list of the people I'm following and the list of people following me on my public profile," but that box can be unchecked and the option is easier to find than the convoluted process that was required to hide that list prior to the update. Tibrewala feels, "Within 24 hours, Google had addressed the privacy concerns and Buzz now distinguishes between followers with public profiles and those with private profiles." Google, though, is yet to Google Buzz to its Privacy Dashboard.
EXCITING STUFF ON GOOGLE BUZZ
* GeoTagging feature built in Buzz for mobile users; competition to Foursquare
* Buzz has good compatibility with the iPhone
* Appears easier to update and tag people, specially for Twitter users
* Brings Friendfeed features of aggregating, which is good
* It's a Google product, it comes with a lot of excitement
* Real-time updates on the Buzz; very similar to Twitter Search
NOT SO EXCITING STUFF ON GOOGLE BUZZ
* Still not ready for BlackBerry but expected
* Aggregation is limited to Google Products, plus Twitter and Flickr. If it takes off, then it would include the others RSS 
FEEDS
* Buzz-ing in email may become addictive. Could lead to blocking of Buzz in offices, like Gtalk 
* With so many updates, it would be like "i missed so much" or "need to switch off before i start any work"