Samsung has priced the S8 competitively at Rs 57,900, while the S8+ is available for Rs 64,900.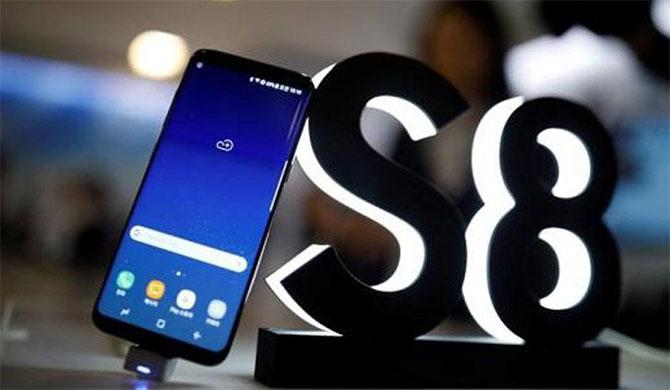 Samsung unveiled the Galaxy S8 and S8+ on Wednesday in India, filling the void for a "flagship device".
Flagship means a high-end smartphone.
Globally, as well as in India, Samsung is known for these high-end models, available for nothing less than Rs 50,000.
Prior to the Note 7 crisis, which saw users of the device plagued with battery explosions, Samsung commanded around 50-55 per cent share in the Rs 50,000 and above smartphone market in India.
Apple, on the other hand, occupied a market pie of around 45-46 per cent in this segment - the super-premium smartphone market - according to Cybermedia Research.
Following the Note 7 crisis, Samsung's share reduced to 17 per cent, according to Cybermedia Research's data for January and February 2017.
Figures for March were not immediately available.
Apple's share grew to 80 per cent in January and February 2017, Faisal Kawoosa, principal analyst, telecom and semitronics, CyberMedia Research, said.
"The addressable market for Samsung, therefore, in the super-premium smartphone segment has shrunk in the last few months, implying the company would have to work really hard to regain its lost ground," Kawoosa said.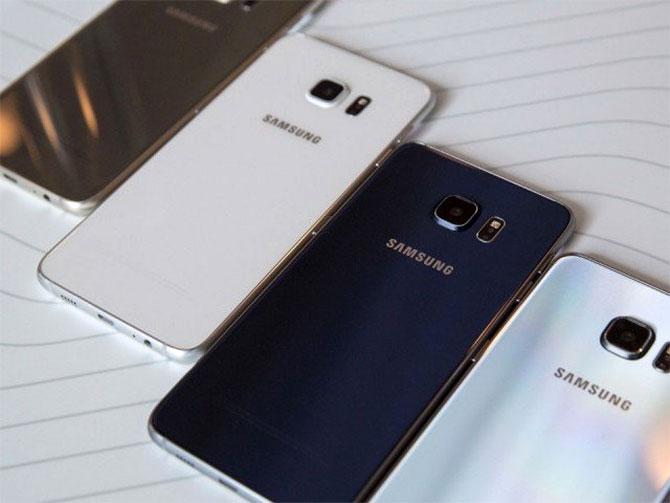 According to experts, the super-premium or Rs 50,000 and above smartphone segment in India is about 4 per cent (or 4.5 million units) of the overall 113-million-unit domestic smartphone market, indicating a tough fight for Samsung.
Apple on Tuesday said it was working on new features for its 10th anniversary edition of the iPhone, hinting it has no plans to abdicate the ground it had gained in Samsung's absence, especially in markets such as India, where it is growing quickly.
But as the new iPhone would be launched only in the second half of 2017, Samsung, experts said, had time to work its way up in the super-premium segment.
"There are some interesting features that the S8 has, such as a curved screen, which has been taken to the next level by the smartphone maker. The S8 offers consumers infinite display and this could be a big hook in India, where display plays a key role for buyers," Niel Shah, analyst at Counterpoint Research said.
Samsung has also priced the S8 competitively at Rs 57,900, while the S8+ is available for Rs 64,900.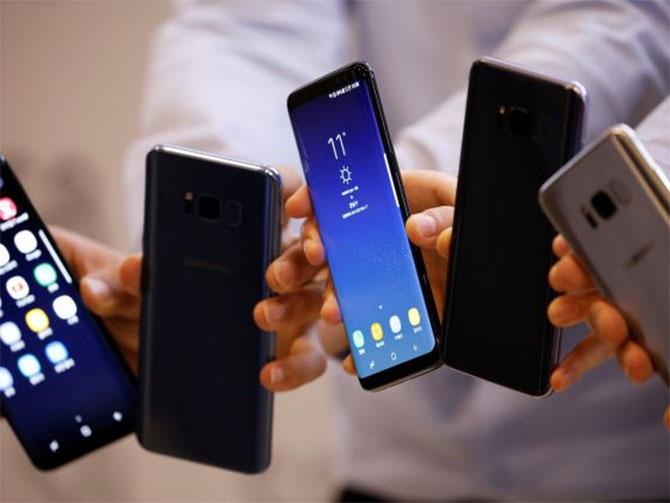 The iPhone 7 was launched in October last year at Rs 60,000 for a 32GB variant. The 128GB version was available for Rs 70,000, and the 256GB for Rs 80,000.
The iPhone 7 Plus was available for Rs 72,000 for the 32GB variant; Rs 82,000 for the 128GB version, and Rs 92,000 for 256GB.
According to Shah, while buyers of super-premium phones are not price-conscious, Samsung's attempt to keep the S8's pricepoints within the Rs 57,000-65,000 bracket would help to improve sales.
Photographs: Reuters